The last Friday of the month marks Todd Hancock's "Friday Nights" at the Railway Stage and Beer Café.  I had so much fun last month, that I talked my husband into coming out for this month's event. Neat, on the rocks, or from the beer taps, the drinks were flowing.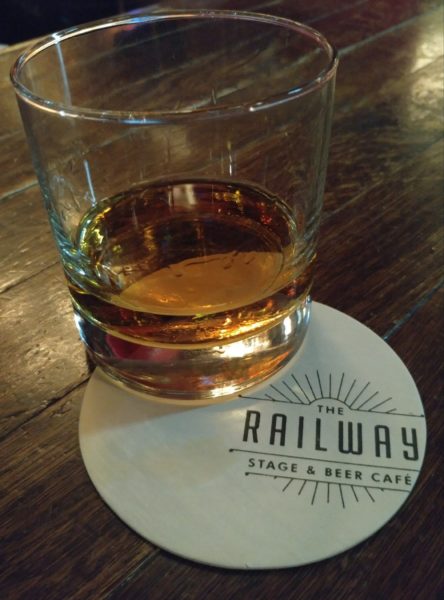 Our evening's entertainment included Myles Murphy, Kadooh and headliners, Me and Mae.
Myles Murphy opened the night and packed a lot into his half hour time slot.  He opened with his song, "What She Needs" to warm the audience up.  Then he moved on to a new song which he co-wrote with Gerry Francis and Jordan Obrek, called "Thinking About You".  It was his first time performing the song but you'd never guess, as it sounded just as polished as his other music.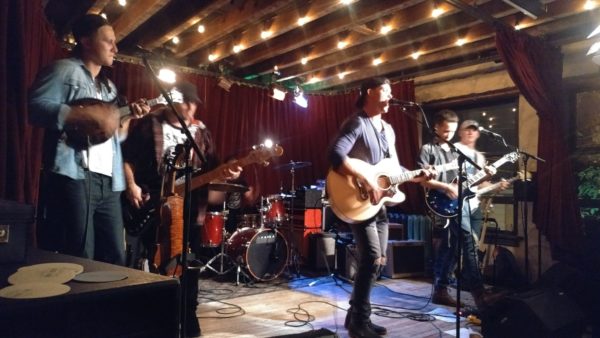 His cover of Luke Combs' "When it Rains", was a fitting homage and he ended his set on a high note with a song about growing up in Abbotsford, called "My Big Hometown".  Audience participation was encouraged and we all sang along to the chorus, "In this town, we get down, my town gets down, my big old town gets down." What a great way to end his energetic set.  If you'd like to catch his next gig, he's headlining the Rock n' Live Long Weekend Sundays at The Yale Saloon on October 7th with support from band, The Promise.  You can get your tickets here.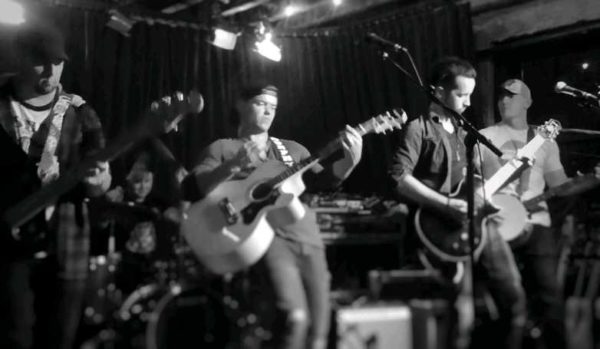 After a quick equipment turnaround, Kadooh hit the stage strumming.  Lead singer and songwriter, Kadooh, released his first single, "24 Reasons" this past summer while his debut EP is due out in November. Not new to the music business this man knows how to put on a show.  From the moment he started singing, conversations around the Railway Stage and Beer Café came to a halt.  Kadooh's foot stomping tunes and sense of humour kept us entertained throughout his set.  The entire band was full of smiles, comradery and looked to be having a great night on stage.  Their cover of Guns n' Roses "Paradise City" had everyone up and dancing!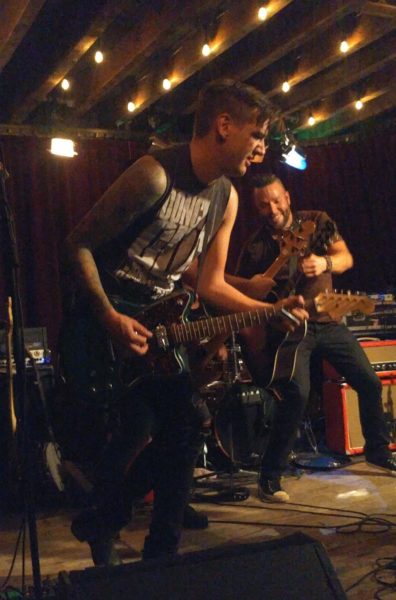 About mid-way through, Kadooh mentioned, "This show is brought to you by Buckley's Cough syrup" as he took a long swig of the stuff.  You would not have guessed he was suffering a sore throat or a cold with his vocals remaining strong throughout the night; proving there's no stopping this guy.  He belted out many of his originals, some of which you'll find on his new album.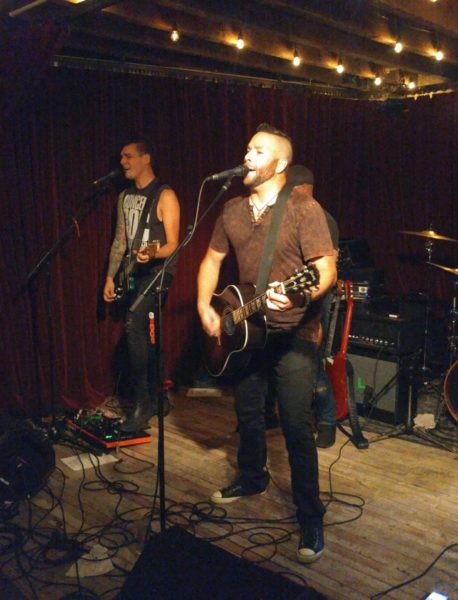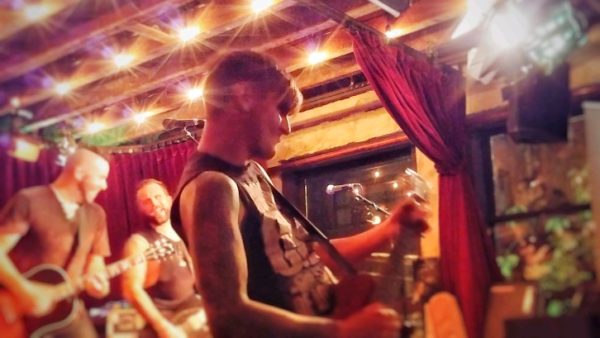 A number of times during the set, Kadooh gave thanks to Todd Hancock and the Railway for supporting live music in BC. He was super stoked to announce his new song, "24 Reasons" is getting air time on JRFM as he introduced it to the crowd who loved its sweet sound and relatable lyrics.  Then he went right into a cover of Imagine Dragons' "Thunder" and everyone united in song, singing, "Thunder, feel the thunder, lightning and the thunder." Keep an eye on this guy, he's just getting warmed up; can't wait to see where the new album takes him.  For upcoming events you can check out his website here.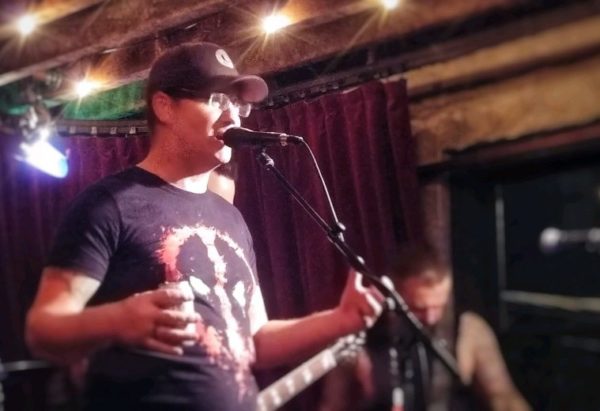 Headliners Me and Mae entertained us until the wee hours of the morning, but their energy seemed endless!  It was pretty exciting to have them in town as part of the TODDCast Podcast Friday Nights event this month. They look like a fun group to hang out with; joking with one another, and super supportive of each other.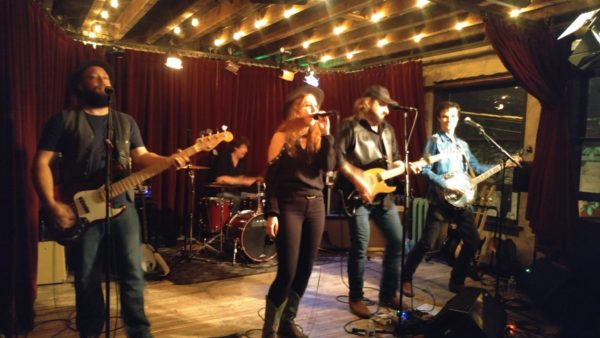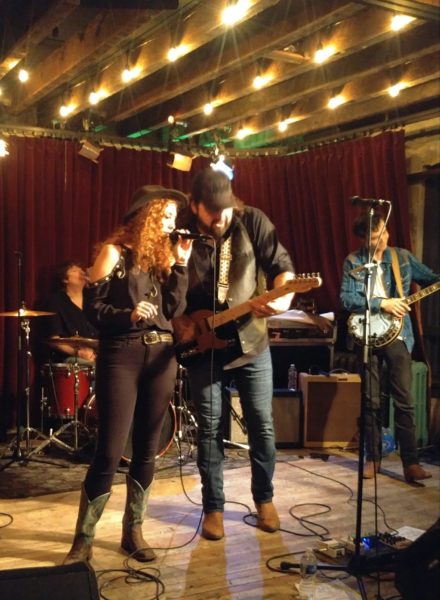 The first song, "Tailgate Party", is all about getting the party started on a Friday night, how appropriate. Their music drifted out onto the streets through the open windows of the Railway Stage and Beer Café and at one point we saw two random people dancing along the sidewalk to the song, "Dance With Me".  A personal favourite, was "To Hell With the Devil" with lyrics we can all relate to.  With everyone up and dancing, it was hard not to join in the fun.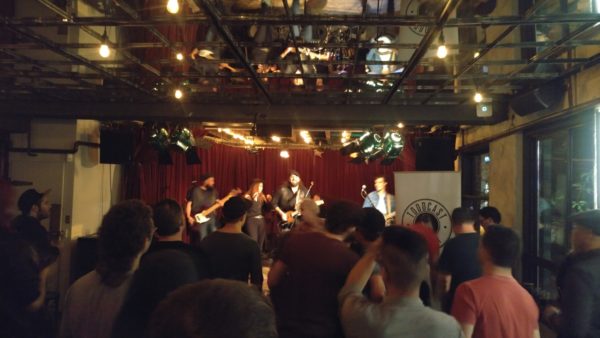 Their cover of Johnny Cash's "Ring of Fire" got the crowd singing as we all went "down, down, down into the ring of fire".  "Summerland", a new single released earlier this year, was another audience favourite.  No wonder, as it is the perfect summer jam and goodness knows we are all missing summer.  It reminded me of summers spent hanging out in Summerland, B.C. and cruising Marine Drive in White Rock in my youth.  To end the night, Me and Mae had us dancing and singing to James Brown's "I Feel Good".  After a night with Myles Murphy, Kadooh and Me and Mae, how could we not feel good? Keep an eye on Me and Mae's website for their upcoming shows!
Next month, TODDCast Podcast brings Year of the Wolf, Mr. Crippin and The Rock Band Called Time to the Railway Stage and Beer Café.  Mark your calendars for October 26th.  You can get tickets in advance at Showpass or get them at the door.  See you there!
(Photos by Melinda Gill unless otherwise noted.)