Featuring sublime choral works to console and inspire on Saturday, November 10th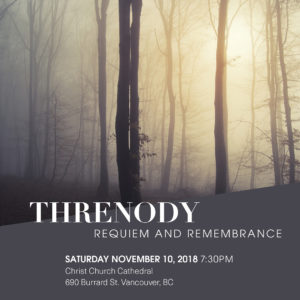 Vancouver Cantata Singers launch their 2018-19 season, Light and Darkness, with Threnody: Requiem and Remembrance on Saturday, November 10th, 2018 at 7:30pm at Christ Church Cathedral. The concert features the Vancouver Cantata Singers performing Howell's Requiem, hailed by a BBC review as 'one of the most beautiful and searingly moving works in the entire English sacred musical canon.' Other prominent choral works will be performed including Sir John Tavener's Song to Athene and Edward Elgar's Lux Aeterna (Nimrod) along with works by two Vancouver composers, Jean Coulthard and Stephen Chatman.

The Vancouver Cantata Singers, under the artistic direction of Paula Kremer, will provide listeners with a beautiful delivery of choral music and poetry that speaks to universal topics of mourning, loss, consolation and reflection. Many of the featured composers were inspired by losses of loved ones. Sections of Herbert Howell's Requiem were first composed in 1932, although it wasn't until 1980 that the full work was published. Howell's was deeply affected by the loss of his nine-year-old son, Michael, who died of polio in 1935. This pain was too personal for Howells to consider offering the work to the public until decades later. John Tavener's Song for Athene was written in 1993 as a tribute to Athene Hariades, a young half-Greek actress who was a family friend killed in a cycling accident. The work received international attention when it was performed in Westminster Abbey, September 1997, when the late Diana, Princess of Wales' funeral was held and broadcasted on television. Canadian composer, Jean Coulthard wrote Threnody, a choral work composed in memory of her mother. These deeply personal works will resonate with a wide audience as nearly 40 voices bring musical brilliance to each work.

The Vancouver Cantata Singers Light and Darkness season presents repertoire that both ignites our intellect and calms our being. Each Vancouver Cantata Singers concert brings audiences a unique experience that offers them a chance to reflect and listen, inspired by the ideas evident in the powerful union of words and music through the highest musical standards and excellence.
DETAILS
Dates and Locations
Saturday, November 10, 2018 at 7:30pm
Christ Church Cathedral
690 Burrard St. Vancouver BC
Tickets
Tickets: $10 Youth (Under 18) | $15 Students | $35 Adults
Available at the door and online: https://threnody.eventbrite.com
BIOGRAPHIES
ABOUT ARTISTIC DIRECTOR, PAULA KREMER
Paula Kremer, a native of Vancouver, studied music at Vancouver Community College and the University of British Columbia. Since 1997, she has been on faculty at VCC, where she teaches choir, voice and aural skills. She conducted the Vancouver Bach Choir's Sarabande ensemble and the Vancouver Bach Youth Choir from 2009 to 2017. A seasoned soloist and ensemble singer, Ms. Kremer has sung in this capacity locally and abroad with high-level ensembles, including her 19 years in VCS under James Fankhauser (conducted 1973-2000) and Eric Hannan (2002-2012). Kremer was the VCS' Guest Conductor for four concerts, which included the acclaimed performance of Brahms' German Requiem in 2011. She became the Artistic Director of VCS in the summer of 2013.
ABOUT VANCOUVER CANTATA SINGERS
Vancouver Cantata Singers recently celebrated its 60 anniversary and has become one of Canada's preeminent, award-winning choral ensembles. Vancouver Cantata Singers is known for technical virtuosity, fine blend and exceptionally high performance standards encompassing 500 years of choral repertoire. The Cantata Singers have been awarded the Canada Council's top prize in choral singing, the Healey Willan Grand Prize, more than any other choir in the country. VCS also commissions new works from critically acclaimed composers which have led to extremely successful and innovative collaborations with regional and international artists and ensembles.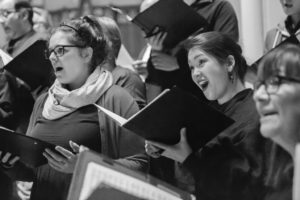 Feature image: Credit: Jesse Read.