WArd/waRD-Ann Van den Broek
The Black Piece
The many qualities of the colour black – from elegant and seductive, to frightening and sinister – are examined in Dutch-Flemish choreographer Ann Van den Broek's thrillingly audacious The Black Piece. Five charismatic dancers and a camera operator lure the audience into the darkness for a sensory adventure filled with haunting sounds and images. The camera unveils what would otherwise remain unseen, conjuring up a shadowy film noir world punctuated by sudden bursts of frenzied movement. This startling, award-winning work by one of Europe's most provocative and original creators expertly taps into our deepest emotions.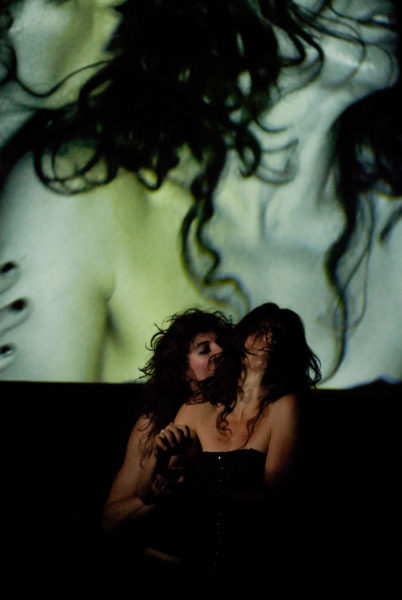 Ann Van den Broek completed her dance education at the Rotterdam Dance Academy, and then danced with the Elisa Monte Company in New York, Dansgroep Krisztina de Châtel, Galili Dance and Charleroi/Danses. In 2000, after an active and successful career as a dancer, she decided to dedicate herself to choreography and founded WArd/waRD which has Dutch and Flemish branches, in Rotterdam and Antwerp. Since then she has built an outstanding reputation on the international dance scene, touring across Europe and to Canada, China and Taiwan. Her work has received numerous awards, including the prestigious Swan Award for best dance production for The Black Piece from the Dutch Association of Theatre and Concert Hall Directors in 2015. www.wardward.be
The Black Piece
Concept & choreography: Ann Van den Broek
Cast: Louis Combeaud, Frauke Mariën, Nik Rajšek, Wolf Govaerts, Marion Bosetti
Live camera/lightning design: Bernie van Velzen
Music: Arne Van Dongen
Vocal performance: Gregory Frateur, recorded by Nicolas Rombouts
Set design: Ann Van den Broek, Bernie van Velzen
Styling: Ann Van den Broek
Advice: Marc Vanrunxt
International booking: A propic, Line Rousseau and Marion Gauvent
The Black Piece is a co-production of WArd/waRD (NL/BE), Korzo Producties (The Hague, NL) and ccBerchem (Antwerp, B). With financial support from the Fonds Podiumkunsten (NL) and the Prins Bernhard Cultuurfonds (NL).
Global Dance Connections Contemporary dance series 2018-2019
November 6-8 WArd/waRD-Ann Van den Broek
January 21-22, 28-29 Company 605
January 24-26 Kuan-Hsiang Liu
January 31-February 2 Victoria Hunt
April 4-6 Simon Mayer
May 23-25 Davida Monk
The Dance Centre was established in 1986 as a resource centre for dance professionals and the public in British Columbia, and has evolved into a multifaceted organization offering a range of activities unparalleled in Canadian dance. Its goal is to support the development of dance and to develop an environment where it can thrive. The Dance Centre offers programs and resources supporting the professional development of artists, presents public performances and events, manages Scotiabank Dance Centre, Canada's flagship dance facility, and works to promote BC dance.
Facebook.com/thedancecentre | Twitter.com/dancecentre | Instagram.com/thedancecentrebc
Tuesday-Thursday November 6-8, 2018 at 8pm
Post-show talkback November 7
Scotiabank Dance Centre, 677 Davie Street, Vancouver
Tickets $33/$25 students and seniors: Tickets Tonight: 604.684.2787 www.ticketstonight.ca Info www.thedancecentre.ca
Cover Photo: WArdwaRD Ann Van den Broek photo by Maarten Vanden Abeele