Donnelly Group may be better known for pubs, craft beer, and cocktails, but over the past 18 years its employee-led Toy Drive has raised hundreds of thousands of dollars in toys and holiday funds and donated them to deserving local families.
Each year, the goal is to find ways to donate even more money and toys to the cause and involve more people in the process. To that end, this year, Donnelly Group has teamed up with Red Truck Beer to brew the first-ever "Goodwill Lager" which will be released on November 1st and sold at all Donnelly Group establishments and the Truck Stop Diner at Red Truck Beer.
Each Goodwill Lager sold will result in an additional $1 being donated to the Toy Drive over and above the average $100,000 given annually through Donnelly Group's pubs and cocktail clubs in Vancouver and Toronto.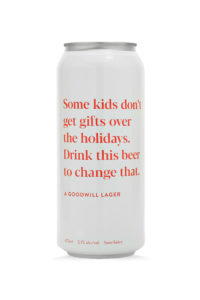 Brewed with the season in mind, Goodwill Lager (5.1%/ 16 ibu) is a medium bodied, malt-forward Vienna-style lager. Made with slow-roasted caramel malts, it offers a smooth and rich flavour that will make it a holiday season go-to.
"We love the holiday season," said Donnelly Group's Damon Holowchak, "but the reality is that every year, there are kids who might not get toys under their tree. Matching our love of local craft beer with our Toy Drive seemed like the most natural way to raise more money for toys and brighten up the holidays for a bunch of local families."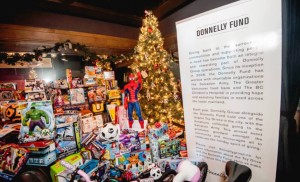 Visit your closest Donnelly Group pub or cocktail club during November to buy a beer and help put more toys under more trees during the holiday season. Visit http://donnellygroup.ca/toydrive for more information.