A selection of premium Tuscan wines including new listings and best-selling classics hosted by the Italian Chamber of Commerce in Canada – West and ITA – Italian Trade Commission in collaboration with BCLS.
On Monday, October 22 a group of British Columbia Liquor Store (BCLS) staff and a select number of media representatives attended the Taste of Tuscany Educational Wine Seminar. The wine seminar was conducted by Michaela Morris an international wine educator.
The purpose of the wine seminar was to acquaint BCLS staff, primarily those that work in your local BC liquor store, and members of the media that write about wine with the wines and wine regions of Italy.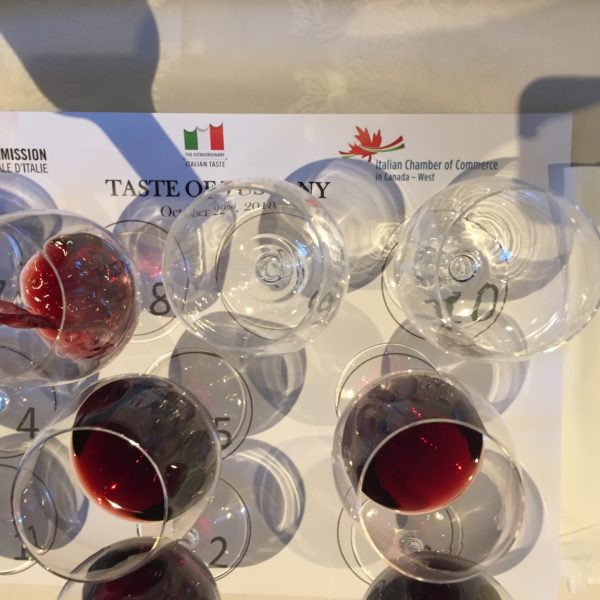 The wine seminar explained the Italian wine designations such as IGT, DOC, and DOCG; wine varietals grown in which regions; the sytle of the wine; and influences of terroir.
There were ten wines poured and here is what we tasted:
Monte Antico, IGT Toscana 2013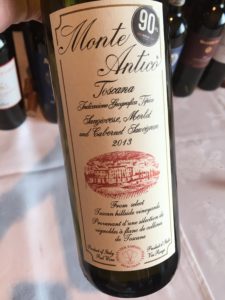 I found this wine had a slightly yeasty odour. Made with 85% Sangiovese, Cabernet Sauvignon and Merlot. It exhibits consistency, and expression with little new oak and neutral barrels. Light with receding bitterness. Pairs well with bread and heavier tomato salads. Makes the Spectator top 100. Not for me.$
Dark ruby in colour, this medium-bodied Tuscan red is a blend of Sangiovese, Cabernet Sauvignon and Merlot. Its bouquet of leather, earth, herbs, black cherries and plums is confirmed on the palate – round, spicy, elegant and attractively fruity.
Examples of great pairings: Cured or smoked meats, country pate, pasta with meat sauce or meat filling, duck confit or roasted duck, grilled pork or veal, tacos, burritos, fajitas, pizza, hamburgers. $16.99 SKU: 587113
Poggio al Tufo Rompicollo IGT Toscana 2015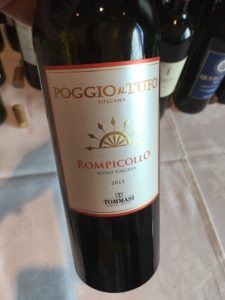 "Break Your Neck" is produced by the Tomasi family. This wine expression will change year to year but is consistently fresh. Grown in coastal vineyards, lower gentle hills with a milder climate and earlier ripening. Less differential in day and night temperatures. 60% Sangiovese, 40% Cabernet Sauvignon. Could drink this wine alone. A pleasant, sweet finish, tastes light. It was recommended that newer releases are best. Good for Cabernet Sauvignon fans. Pairs with salumi, porchetta. I would drink this wine.
Intense bouquet of mature red berries fruits. Well-balanced with good structure and nice length with fruity flavours. A great wine for Italian pasta with red meat sauce, white meats, fresh cheeses. $12.99 SKU: 780585
Ruffino Modus, IGT Toscana 2014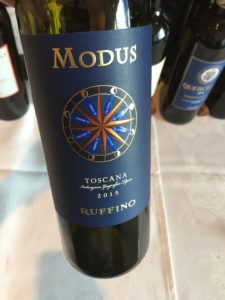 2014 was not a great year. A blend of 1/3 Sangiovese, 1/3 Merlot and 1/3 Cabernet Sauvignon coming from 2 vineyard areas. Aromatic, elegant, French and American oak 1/3 new, 1/3 2nd, 1/3 3rd. A very nice wine, fruity, rich, smoky flavours of tobacco and oak, not a sweet finish. The trend is to less new oak. A Super Tuscan. This was my #2 pick of the wines.
93 Points, James Suckling – "Firm and silky red with blueberry, walnut and black tea undertones. Medium body, fine tannins and a fresh and clean finish. Sangiovese, cabernet sauvignon and merlot blend. Drink in 2018." $30.99 SKU: 614354
Il Fauno di Arcanum, IGT Toscana 2012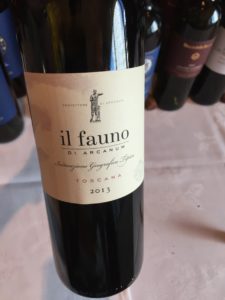 Internation grape varieties, Bordeaux blend of 72% Merlot, Cabernet Franc, Cabernet Sauvignon, 4% Petit Verdot, with no Sangiovese. Rich aromas, lighter than I expected. Nice, pleasant sweet finish, fruity, very good. Started as my #1, went to #2 and finally settled at #3 of my picks.
93 Points & Top 100: 2016, Rank: 19, Wine Spectator – "A polished, flavorful red, boasting floral, black currant, raspberry and spice flavors. Firm yet harmonious, with the fine aftertaste lingering with fruit, iron, tobacco and tea elements. Merlot, Cabernet Franc, Cabernet Sauvignon and Petit Verdot. Drink now through 2024." (June 2016) $37.99 SKU: 694216
 Quercione Fattoria le Calvane Chianti DOCG 2015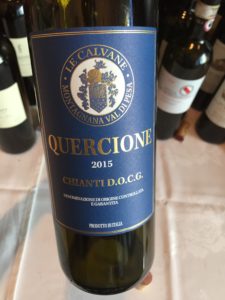 95% Sangiovese with 5% canaiolo softens and creates less acidity. It has acidic aromas, can be drunk earlier, grown on an old property from the 1400's. The wine had a sweet finish, fruity, dense and very good. This vineyard has changed hands often in the last 40 years or so and is apparently owned by a person from Toronto who has turned the villa into a 5 star property.
On the palate, it is very smooth, warm and polished. Delicately structured wine with suave tannis and good acidity. Pairs well with simple fair like pizza and pasta. $19.99 on sale for $17.99 until November 24 SKU: 405258
Rocca Dellle Macie Chianti Classico DOCG 2016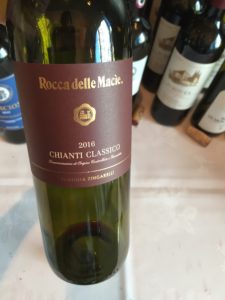 This is an annata or a wine that is aged for only 12 months. About 200 hectares is devoted to this grape. The wine had a dusty aroma, was light, flat with a sour finish. Not for me. Pair with simple food such as a heavy soup or pasta with a creamy tomato sauce.
This Chianti has a lively, ruby red colour and an intense and persistent nose with hints of wild berries that combine well with the aromas released by the wood of the barrels. Savoury and full-bodied on the palate, it highlights the exceptional persistence of the bouquet. $19.99 SKU: 308510
Rocca di Montegrossi Chianti Classico DOCG Organic 2016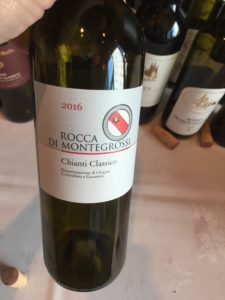 Grown on stoney soil, 350 – 500 m above sea level. Could be a Reserva entry level wine. Annata – 15 months aging. Fruity, medium body but bitter. This one is okay, just not for me.
This Chianti has a lively, ruby red colour and an intense and persistent nose with hints of wild berries that combine well with the aromas released by the wood of the barrels. Savoury and full-bodied on the palate, it highlights the exceptional persistence of the bouquet. $19.99 SKU: 308510
Fondoti Chianti Classico DOCG 2015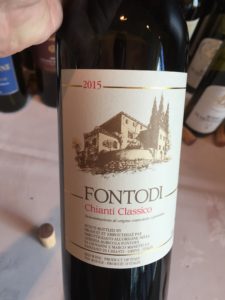 100% Sangiovese could be a Reserva, nice aromas, slightly smokey, rich, fruity, sweeter very pleasant finish a very good wine. The area is known as the Golden Shell with little rain. If the groves of Olive Trees in the area are displaced for vineyards the olive trees must be moved and kept. 90% organic in this bio district. Suggested pairing of grilled meats served rare. This is a high quality wine area. Very good, my #1
92 Points, Vinous – "Fontodi's 2014 Chianti Classico is one of the most finessed vintages of this wine in recent memory. The combination of the cool growing conditions and a move toward larger oak casks has resulted in a deep yet translucent wine of notable pedigree and class. There is plenty of the typical Panzano richness, but less of the overt weight that has characterized some recent vintages." (January 2018) $37.99 SKU: 533315 (please note we tasted a 2015 and the BCLS lists a 2014)
Altesino Rosso di Montalino DOC 2015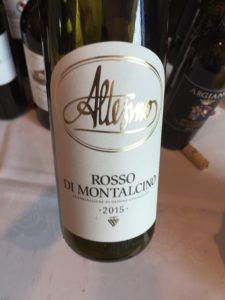 An aromatic blend with aromas of cinnamon, cloves, allspice and tobacco. Spicy, fruity and rich with wonderful aromas with a nice acidity. 100% Sangiovese with 1 year aging. Pairs nicely with Pecorino cheese. My #2 by a nose.
92 Points, James Suckling – "Ripe strawberries, treacle and hints of herbs on the nose. Full body, plenty of black fruit, round tannins and a fruit-forward finish. Drink now or hold for a year." (September 2017) $27.99 ($26.99 until November 24) SKU: 769141
Argiano Brunello di Montalcino DOCG 2013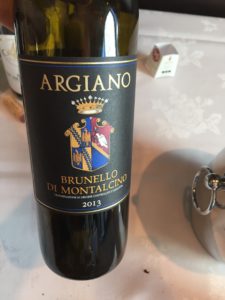 Aged 48 months or 5 years for a Reserva with 2 years of 48 months in wood. First year in a French puncheon, 2.5 years in wood, 1.5 years in the bottle. This wine was light, bitter, sour with an oaky aroma. Much too oaky for my taste. Pair with a pasta such as pappardelle with boar. Not organic, conversion started in 2012.
96 Points, James Suckling – "Fantastic aromas of orange peel and dark berry with plenty of plum and cherry. Sweet tobacco and mushrooms. Full body, juicy and fruity with firm tannins and a fresh finish. Complex and gorgeous. Fine and very long." (November 2017) $68.99 SKU: 581553
Comments are my own or from my notes taken during the presentation. 
Tasting notes are from the BCLS website.
Tuscany is an area with a central mountain range on the Mediterranean side of Italy. Apennine Mountains and hilly terrain with a diurnal difference between night and day with a concentration of sunlight. Temperate climate varied soils, calcium rich marls, well draining with reserved moisture.
Sangiovese is the most planted varietal followed by Morellino di Scansano, Brunello, and Prugnolo Gentile. The wine may be blended and has recently been blended with both Merlot and Cabernet Sauvignon. High acid with chalky tannins, aromatic and flavourful.
The Chianti Classico region was established in 1716 in central Tuscany between Florence and Siena. The balance of the Tuscany region is Chianti with DOC established in 1967, 7 sub zones DOCG established in 1984. To be labelled a Sangiovese the wine must be 80-100% Sangiovese, 20% local and international and 0% white. A Blend can be 70-100% Sangiovese, 15% Cabernet Sauvignon and/or Cabernet Franc with a maxium of 10% white grapes allowed.
Aging : Annata – one year; Reserva – 24 months, Gran Selezione – 30 months.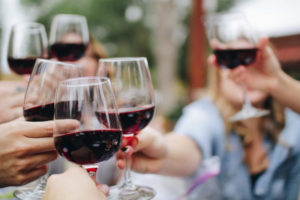 Taste of Tuscany – November 9th, 2018


A selection of premium Tuscan wines including new listings and best-selling classics brought to you by the Italian Chamber of Commerce in Canada – West and ITA – Italian Trade Commission
During this stand-up reception, 10 featured wines will be paired with
authentic Italian appetizers
Altesino Rosso di Montalcino DOC – 2015
Ruffino Modus – 2014
Argiano Brunello di Montalcino – 2013
Il Fauno di Arcanum – 2012
Rocca di Montegrossi Chianti Classico Organic – 2016
Monte Antico – 2013
Chianti Quercione Fattoria Le Calvane – 2015
Poggio Al Tufo Rompicollo – 2015
Chianti Classico – 2015
Chianti Classico DOCG – 2016
November 9th, 2018 from 3pm to 5pm