Local Artist Works to Enhance Event & Raise Funds
for PHS Community Services Society
For the ninth consecutive year, the Woodward's community will host a hot dinner — a second Thanksgiving meal for people in-need in Vancouver's Downtown Eastside. More than 1,000 people are anticipated to attend the Woodward's Harvest Dinner in the Woodward's Atrium beginning at 5 pm on Sunday, November 4.
Joining this year's event is artist Aurelia Bizouard (@aureliabizouard) who will be on site to create a live community painting using glass as a medium. A light will be placed behind her work and projected onto a canvas, and attendees are invited to play a part and assist in colouring the canvas! This public engagement project (@kulturelia) provides an immersive experience by enabling people to connect and be part of the art creation that represents the Woodward's community. The painting will then be placed in the atrium of Woodward's. The original glass art piece will be auctioned off and the funds will go towards Woodward's charity partner, PHS Community Services Society.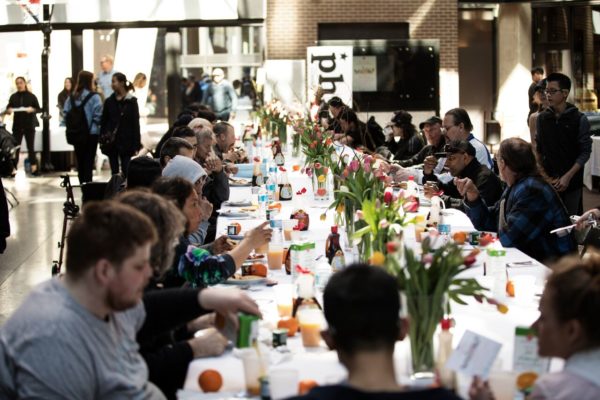 Invitations were printed and distributed to residents of Woodward's affordable housing component, and to people in the neighbourhood through the PHS Community Services Society, Blade Runners, and Carnegie Community Centre.
WHO: The Woodward's community is generously supporting this event through the donation of goods, services and volunteers, most notably on this occasion: Nesters Market, JJ Bean, London Drugs, and Fairmont Pacific Rim.
WHY: The Woodward's Harvest Table began in 2010 to provide a hot-meal and create a sense of community in the public spaces of Woodward's for many in-need on Vancouver's Downtown Eastside.
"This began as a direct and meaningful way to give back to residents and neighbours," said Palak Ghambhir, Westbank Project Manager for Woodward's. "It has grown into so much more for both attendees and partners. Each year we receive messages about what a positive experience it has been and we continue to add components that enrich the experience — this year, the art by Aurelia Bizouard."
WHERE: The Woodward's Harvest Dinner will be set up in the Woodward's Atrium, accessible via 111 West Hastings Street.
WHEN: Sunday, November 4, 2018
1 – 4 pm — Set up in Atrium
5 pm — Dinner served
DONORS:
Nesters — All food; turkey dinner with all the trimmings
Fairmont Pacific Rim — Meal preparation, cooking & catering services
London Drugs — Plates, cutlery, bottled water
JJ Bean — Coffee and hot chocolate
Charles Bar — Aprons
Simon Fraser University — Chairs and tables
ABOUT PHS COMMUNITY SERVICES SOCIETY
PHS Community Services Society is a charitable non-profit organization operating in Vancouver's DTES for more than 25 years. General donations help to achieve their mission in supporting the community with housing, healthcare and harm reduction. To donate online visit phs.ca/donate.