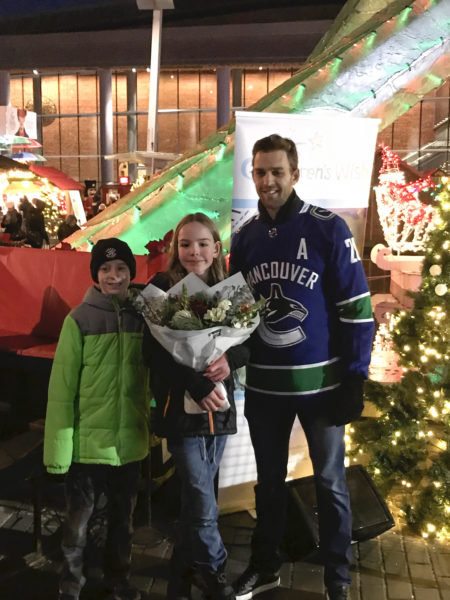 The Vancouver Christmas Market, in collaboration with the Children's Wish Foundation, has raised $10,000 this holiday season during Children's Wish Weeks, where donations were collected from market visitors at festival events, such as Foodie Tuesdays, Shopping Day and Free Carousel Fridays, from November 23 to December 7. The two-week fundraising campaign was capped by a visit from Canucks forward Brandon Sutter, who went head-to-head with visitors and fans willing to make a donation to the cause.
The money raised at the Vancouver Christmas Market will go to Children's Wish recipient, nine-year-old Maddi, whose greatest wish was for a holiday trip to Disney World with her family. Diagnosed with Sotos Syndrome, a rare disease that causes overgrowth and delayed development in children, as well as cancer, all before the age of three, Maddi has been in and out of hospital for most of her life. Now, with her cancer treated and her Sotos Syndrome safely managed, Maddi will enjoy a sunny vacation with her family to the happiest place on Earth.
The Vancouver Christmas Market continues to delight visitors from near and far with authentic German-inspired festivities at its home at Jack Poole Plaza (1055 Canada Place) until December 24, 2018. Open daily from 11:30am to 9:30pm (until 6pm on Christmas Eve), the Vancouver Christmas Market offers more than 80 vendor huts stuffed with savoury bites and sweet treats, as well as a vast array of delightful Christmas gifts from wines, ciders and charcuterie to candles, greeting cards, ornaments, and much more. Enjoy festive entertainment and a Christmas cocktail in the Vancouver Christmas Market's newest addition, the WunderBAR – a warm and cozy spot to soak in the Christmas spirit.
For more information and tickets, visit vancouverchristmasmarket.com
Media release and image provided by Angela Poon, Murray Paterson Marketing Group.