Welcome to the 4th Annual Vancouver Foodster Curry Challenge. Restaurants from all over the city were invited to enter their curry creations into this challenge, most have created a special curry creation just for this challenge. Each restaurant will be featuring their curry on their menu from March 7-31, 2019.
Here are some of the unique curry creations in this challenge:
BCD Culinary Academy & Bistro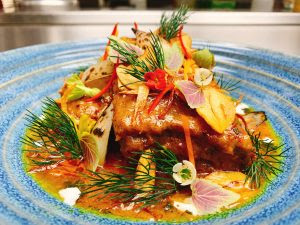 Gaeng Singhol Ribs
Price: $16
Created by: Chef Parinya Loptson and Chef Sadapphin Phothong
Description: Aromatic curry dish originating from Sri Lanka (Singhalese) and brought to Thailand during the Rama 2 Period. Over the years, the strong flavors have been modified to blend in better with Thai cooking techniques. Not commonly made nowadays, our paste was made from scratch and used to marinate the pork ribs before sous-vide cooking to enhance the flavors and tenderness. This curry dish is served with pandan leaf infused jasmine coconut-rice.
Offered: Lunch only.
Bcd Academy
20542 Fraser Hwy #107, Langley
Tel: (778) 242-1344
Instagram @bcdacademy
Tasty Indian Bistro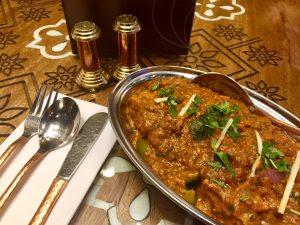 Chicken Tikka Masala
Price: $18
Created by: Chef Satnam Singh
Description: Savoury Tandoori grilled Chicken pieces that have been traditionally marinated in a blend of Indian spices for a bright pop of flavour. Simmered in a rich tomato gravy with ginger, onions, peppers and Indian spices. Topped with cilantro and fresh ginger.
Here's 3 photos please choose whatever suits best for your media!
Offered: Lunch and Dinner
Tasty Indian Bistro
1261 Hamilton Street, Vancouver
Tel: (604) 423-3300
Twitter: @IndianBistro
Instagram @tastyindian
And
Tasty Indian Bistro
8295 120th Street, Delta
Tel: (604) 507-9393
Twitter: @IndianBistro
Instagram @tastyindian
Davie Dosa Company
BC Wild Sockeye Salmon Curry
Price: $22
Created by: Chef Emerson Periyasamy
Description: Served with kuchumber salad, flaky bread and cumin rice
Offered: All the time
Davie Dosa Company
1235 Davie Street, Vancouver
Tel: (604) 669-5899
Web: http://daviedosacompany.com/
Twitter @daviedosa
Instagram @daviedosacompany
Thai New West
Panang Chicken
Price: $17
Created by: Chef Vara Intrasuksak
Description: A thick peanutty flavoured coconut curry with pineapple, kaffir, bell peppers and broccoli.
Offered: lunch and dinner
Thai New West
424 E Columbia St, New Westminster
Tel: (604) 544-7997
Web: http://www.thainewwest.com/
Twitter: @thainewwest
Instagram @thainewwest
Here are the complete details for this challenge including the Media judges
http://vancouverfoodster.com/2019/03/07/vancouver-foodster-curry-challenge-3/
We will announce the winning restaurants and their Curry creations on April 1, 2019.
About Vancouver Foodster
Vancouver Foodster is is Vancouver's premier online "Essential Food & Drink Intelligence" guide. Launched in 2009 by Richard Wolak, the blog explores the local food scene through reviews, tastings, interviews, and more.  VancouverFoodster.com features new stories daily, as well as restaurant reviews, and articles. Vancouver Foodster also runs a series of food and drink challenges with restaurants, chefs and bartenders throughout the year!  As well. we present a series of tasting tours in neighbourhoods throughout the city of which include Tasting Plates, Noodle Mania, Food Talks, Brunch Crawls and others. All are a division of CMI Chat Media Inc.
Media release and images provided by Richard Wolak, Vancouver Foodster.
[wdi_feed id="2″]