Massey Theatre
presents
 A Fight With a Stick Production
A Vista
A Vista, a new work by Fight With a Stick Performance, is an ever-changing sequence of painted theatrical backdrops,bringing the background to the foreground.   This performance works towards the limits of age-old theatrical technology, manual labour and hand painted scenic drops.   A Vista integrates notions of the obsolete with the contemporary. In this work, the labour and animations are much more about juxtaposition and collectivity than making or setting up a scene.
During the three-day event, a "crew" of performers and designers will animate approximately 45 backdrops, 15 each night, working to partner with the collective movement possibilities of the hemp house rigging system and the drops it holds. Each evening will focus on a different formal elements of the painted backdrops: Weds. Mar. 20th – Full Drops, Thurs. Mar. 21st – Portals, and Fri. Mar.  22nd  –  Legs.  The drops are openly handled and revealed in an ever-changing performance in which no transition or backdrop is given more attention than any other.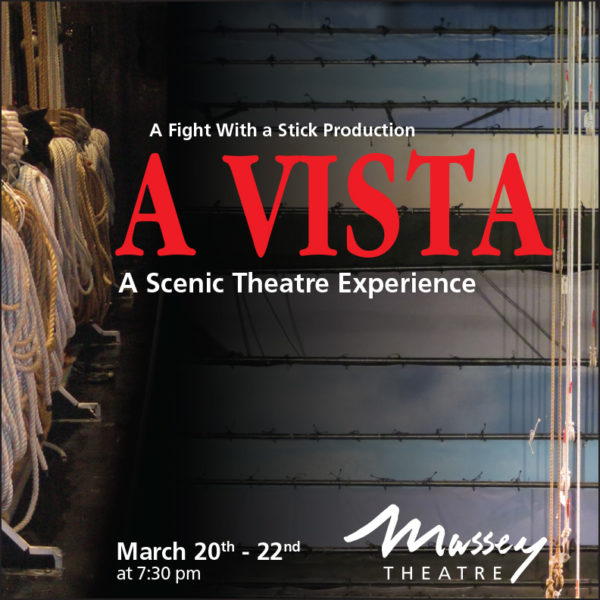 Venue:             Massey Theatre, 735 Eighth Ave, New Westminster
Dates:             March 20 – 22  @ 7:30pm – 9:30pm
Ticket prices:  $35 adult / $25 senior / $15 students and groups (plus service charges)
 $60  –  3 Day Show Pass
Tickets:           ticketsnw.ca
Media release and image provided by Bonnie Allan, Bonnie Allan PR.
Something is wrong.

Instagram token error.