VANCOUVER ARTIST GINALINA NOMINATED FOR 2019 JUNO AWARD 
Kids' Knowledge Network Artist Ginalina Nominated For Second Time for Canadian Children's Album of the Year
 Ginalina's Juno-Nominated Album "It Takes a Village" Supports Local Charitable Organization,  Journey Home Community
Gina Lam, known for her stage name and character Ginalina, is a West Coast singer-songwriter and has been nominated for a 2019 JUNO award in the category of Children's Album of the Year for her album "It Takes a Village". Her first JUNO nomination was in 2016 for "Forest Friends' Nature Club", which features educational music that airs regularly on Kids' Knowledge Network television. Ginalina is popular for her multi-lingual songs inspired by nature, healthy families and strong communities.  This year, the 48thAnnual JUNO awards will take place in London, ON, on March 16 and 17. The JUNO Awards are presented annually to Canadian musical artists, bands and professionals to acknowledge their artistic and technical achievements in all aspects of music.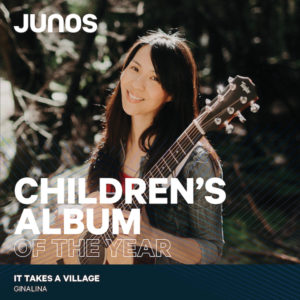 Ginalina creates and performs original songs in English, French, and Mandarin. Her respect for young audiences and her folky-roots musical arrangements appeal to diverse audiences, cultures, and ages.  In her career, Ginalina has received consistent recognition from reputable national and international industry bodies, including: Western Canadian Music Awards (2017 Winner, Children's Artist of the Year), Canadian Folk Music Awards (2017 & 2015 Nominee, Children's Album of the Year), Canadian Children's Book Centre (2017 & 2015, Recommended CD), Parents' Choice Awards (2013, 2015 & 2017 Honours), and the Canadian Juno Awards (2016 Nominee, Children's Album of the Year).
Ginalina donates a percentage of her nominated album, "It Takes a Village", to a local organization called Journey Home Community, which provides practical and relational support to refugee claimants arriving into Canada.  Ginalina was moved by stories of struggle and courage from newcomers to Canada, and wrote the song, "Welcome to the Neighbourhood", as a warm reception especially for them.  Ginalina's album, "Home is Family", is themed on healthy families, and she donated a portion of sales to provide homes and transition assistance through More Than A Roof Organization.  Her album, "Forest Friends Nature Club", was inspired by real adventures with her family in West Vancouver's Pacific Spirit Park, and raised awareness and money to plant trees through A Rocha Canada, an environmental stewardship organization. 
"I have been writing music all my life about experiences, adventures, and people who have impacted me. I have also always worked closely with children, and feel a joyful responsibility to encourage and inspire them with positive thoughts and fresh ideas.  I am honoured and excited to be recognized this year for 'It Takes a Village'," said Ginalina. "To be honest, my own four children inspired my albums … and our family's projects at the time inspired the themes.  I always invite them to have a special role in the recording studio, and am very happy and honoured that others can enjoy our work!  As a professional artist, my goals are to remain curious and creative, collaborate with my community, and create excellent, honest, and fun music that bring out everybody's best." 
Ginalina has performed nationally and internationally for music festivals, children's theatres, and environmental events such as World River Day, art celebrations, schools, libraries, fundraisers, and more.  For concert listings and additional information, visit www.ginalinamusic.com.   Music can be heard here.  @ginalinamusic
About Ginalina
Toronto-born, Vancouver-based, Taiwanese-Canadian singer-songwriter, Ginalina, wrote her first family album in 2012, on a shoestring budget, to capture the delights of childhood.  Quietly released in living rooms and basements, she had no clue back then, that this would lead to national music awards, including two Juno-nominations, one Western Canadian Music Award's Artist of the Year title, three Parent Choice Awards, CBC playtime, headlining performances, international children's festivals, and a TV series, Ginalina's Music Club, which airs on Kids' Knowledge Network TV, and which will air soon on a major US Network!
She has four themed albums filled with songs in English, French, and some Mandarin.  Heartfelt and catchy, fast and fun, sweet and sentimental, Ginalina's pure vocals, infectious energy, and rollicking folk arrangements get all ages excited, dancing, and singing along to music that brings out the best in everybody.
Media release provided by Kari Kylo, Soma Works.
[wdi_feed id="2″]