After 2 years in the making we are proud to introduce Blak, our new Collection of all dark chocolate indulgence! Blak was inspired by our desire for more simplicity — creating chocolate and keeping it pure in its ingredients, simple in its understanding yet sophisticated in its execution. We capture the essence of flavours, textures & shapes and are most excited that it will be an ever-changing line which will reflect the seasons. 
Blak is for dark chocolate lovers only! The range of cocoa mass used in our recipes varies from 64% – 91% with the majority of the flavour profiles near 70%. We are proud to use our custom bean to bar 69.3% dark chocolate produced in partnership with Cocoa Barry and the Or Noir laboratory in Paris. 
Enjoy! 
Our Blak Collection features: 
• BLAK Bars, dark chocolate bars, seasonally inspired and delicate in texture ($15, 4 bars);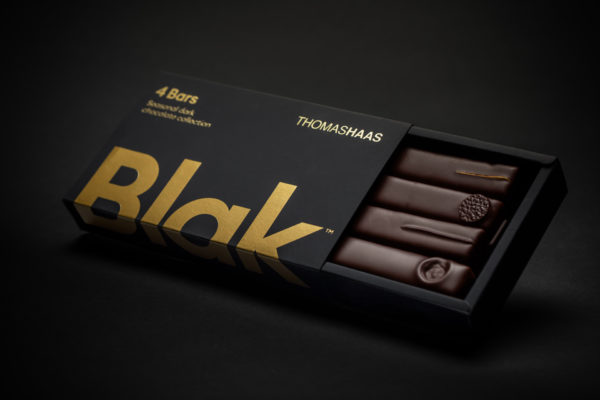 • Blak Domes, artistically crafted domes centered with a rich and creamy dark chocolate caramel ($14, 6pc);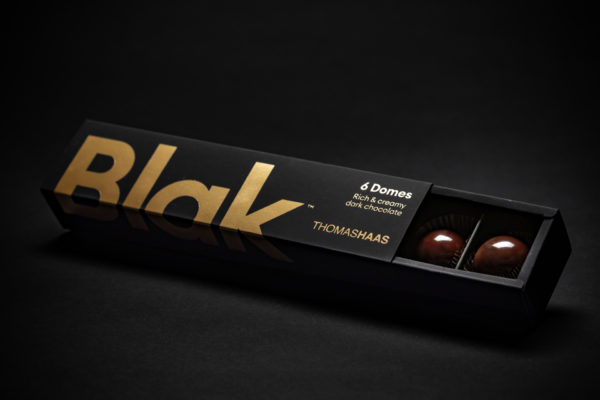 • Blak Truffles, our bold and bittersweet signature dark chocolate truffles – classic and decadent ($14, 6pc);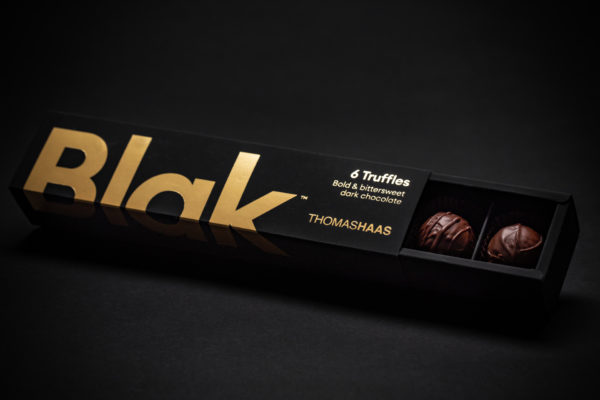 • Blak Cubes, undressed, delicate and silky smooth truffle cubes ($14, 6pc);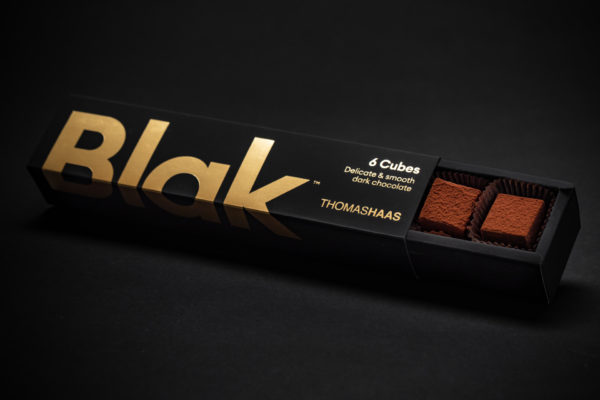 • Blak Cake, our ever-changing dark chocolate cake – European in its artistry, sophisticated in its taste ($6.20, individual/$36, 6 servings/$48, 10 servings). The cake can be adorned with a custom multi-petalled dark chocolate flower cake topper ($19).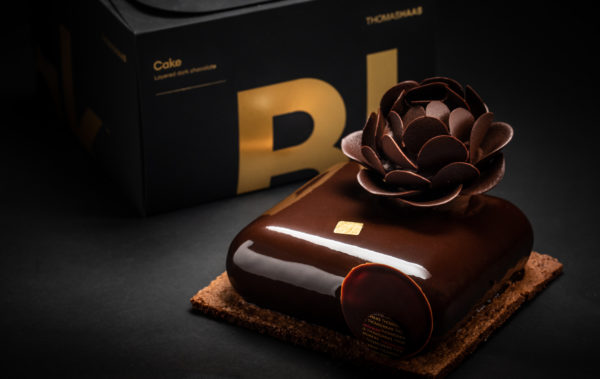 All Blak Collection products will be available at both Thomas Haas cafés in North Vancouver and Kitsilano, with a limited selection also available at high-end retailers such as Whole Foods and Urban Fare. A variety of items may also be ordered online at www.thomashaas.com and shipped across Canada. 
ABOUT THOMAS HAAS CHOCOLATES & PÂTISSERIE | An internationally acclaimed, fourth-generation pâtissier, Thomas Haas gained his experience in high-end patisseries and Michelin-starred restaurants in Europe and North America before settling in Vancouver and opening his own namesake chocolaterie, patisserie and café in 2005. Haas — Vancouver Magazine's Pastry Chef of the Year in 2011 and 2013 through '18 — uses only the finest raw ingredients sourced both locally and from around the globe and, in keeping with family custom, eschews the notion of assembly lines and mass-production techniques, instead trusting in a talented team of pastry chefs and chocolatiers whose finesse and sensitivity is lovingly expressed in every handmade confection. 
Thomas Haas products are exclusively available at both his Kitsilano and North Vancouver cafés as well as select leading hotels, retailers and restaurants across North America. www.thomashaas.com 
North Shore | 128 – 998 Harbourside Dr. | North Vancouver, BC V7P 3T2 | 604-924-1847 
Kitsilano | 2539 West Broadway | Vancouver, BC V6K 2E9 | 604-736-1848 
Hours: Tuesday through Saturday from 8 a.m. to 5:30 p.m. (closed Sunday and Monday) 
Good Friday April 19 from 8 a.m. to 5:30 p.m. (both locations) 
Twitter: @thaaschocolates | Instagram: @thaaschocolates | Facebook: /thaaschocolates 
Press release and images provided by Ginette Chambray, Thomas Haas Chocolates & Patisserie.
[wdi_feed id="2″]