Give Thanks, Get Spooky and Give Back with Thanksgiving, Halloween and Exclusive Moustache-themed "Movember" Creations
Harvest the flavours of fall with a cornucopia of new handmade chocolate creations and pastry selections from Thomas Haas Chocolates & Pâtisserie that celebrate Thanksgiving and Halloween, as well as unique "Movember"-themed treats in support of men's health.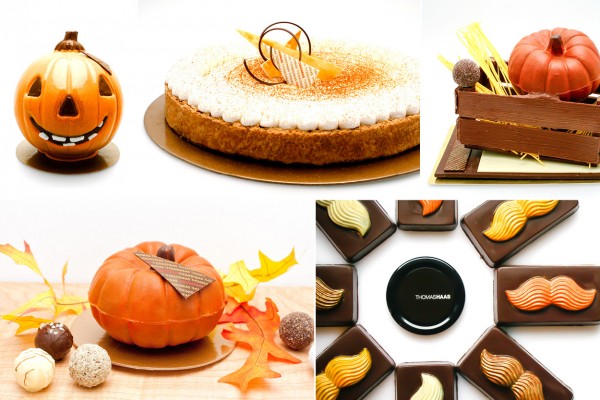 THANKSGIVING
This Thanksgiving, Thomas Haas has handcrafted a range of festive offerings, including: a Pumpkin Crate, airbrushed with cocoa butter and filled with handmade truffles in a chocolate crate lined with white-chocolate hay ($39); a Small Pumpkin, airbrushed with cocoa butter and filled with handcrafted truffles ($24); a limited-edition Thanksgiving Truffle filled with cinnamon-spiced pumpkin ($1.40); and a Pumpkin Pie nestled in a butter crust and topped with cinnamon Chantilly cream, available in both Classic Pumpkin and with Caramelized Apple ($5.90 individual; $34 for 6-7 servings; $44 for 10-12 servings).
HALLOWEEN
This Halloween, Thomas Haas marks the trick-or-treat season alongside ghostly ghouls and wicked witches with a Chocolate Jack-O-Lantern filled with an assortment of 30 chocolate treats ($45) or a Small Pumpkin airbrushed with cocoa butter and filled with delicate handmade truffles ($24).
MOVEMBER
For the month of November, Thomas Haas is pitching in to help raise awareness of men's health as well as funds for the Movember Foundation — a global charity committed to helping men lead happier, healthier and longer lives — by donating 10 per cent of proceeds from an assortment of exclusive moustache-themed confections, including: Chocolate Movember Lollipops ($2.90); a Movember Moustache Bar featuring Guinness ganache and a stout-malt wafer ($12.50); and a Movember Dark Chocolate Cake available in three sizes and featuring delectable dark whisky ganache, malt wafer and moustache décor ($5.90; $34 for 6-7 servings; $44 for 10-12 servings).
All of Thomas Haas' fall offerings are exclusively available at his two pâtisseries in North Vancouver and Kitsilano.
Stay tuned for more exciting news from Thomas Haas throughout the fall as the renowned pâtissier and chocolatier celebrates a special series of career milestones by giving thanks to his loyal customers, fans and friends with exclusive events, giveaways and specials. It's been 20 years since Haas was first lured to Vancouver as Executive Pastry Chef at the Four Seasons Hotel, where he met his partner in life and business, Lisa. It's also been 15 years since the duo launched the eponymous business, and in 2015 their flagship North Shore chocolaterie, pâtisserie and café marks its tenth anniversary, while their sister café in Kitsilano moves past its fifth year in business.
About Thomas Haas Chocolates & Pâtisserie
An internationally acclaimed, fourth-generation pâtissier who received an early education in the delicate art of hand-crafting pastries and chocolates in the kitchen of his family's café in Germany, Thomas Haas went on to apprentice and work in Michelin-starred restaurants in Europe and North America before settling in Vancouver and opening his own namesake chocolaterie, patisserie and café. Haas — Vancouver Magazine's Pastry Chef of the Year in 2011, '13, '14 and '15 — uses only the finest raw ingredients sourced both locally and from around the globe and, in keeping with family custom, eschews the notion of assembly lines and mass production techniques, instead trusting in a talented team of pastry chefs and chocolatiers whose finesse and sensitivity is lovingly expressed in every hand-spun confection. Thomas Haas products are exclusively available at both his Kitsilano and North Vancouver cafés as well as select leading hotels and restaurants across North America. http://thomashaas.com
North Shore | 128 – 998 Harbourside Dr. | North Vancouver, BC  V7P 3T2 | 604-924-1847
Kitsilano | 2539 West Broadway | Vancouver, BC  V6K 2E9 | 604-736-1848
Hours: Tuesday through Saturday from 8 a.m. to 5:30 p.m. (closed Sunday and Monday)
Twitter: @thaaschocolates  |  Instagram: @thaaschocolates  |  Facebook: /thaaschocolates  |  thomashaas.com