Smoke's Poutinerie Kick-Starts Spring Exams With Caffeine-Fueled RED EYE POUTINE!
An All-New Limited Time Gastronomical Creation Has Arrived to Help Students
Push Through All-Night Cram Sessions with a Poutine Packed with Energy
Students. Poutine Lovers. All Plaid Nation Fans in search of a caffeine-fueled kick of energy to help power up your late-night cram sessions, look no further, Smoke's Poutinerie is serving up an all-new, limited time gastronomical concoction, the RED EYE POUTINE!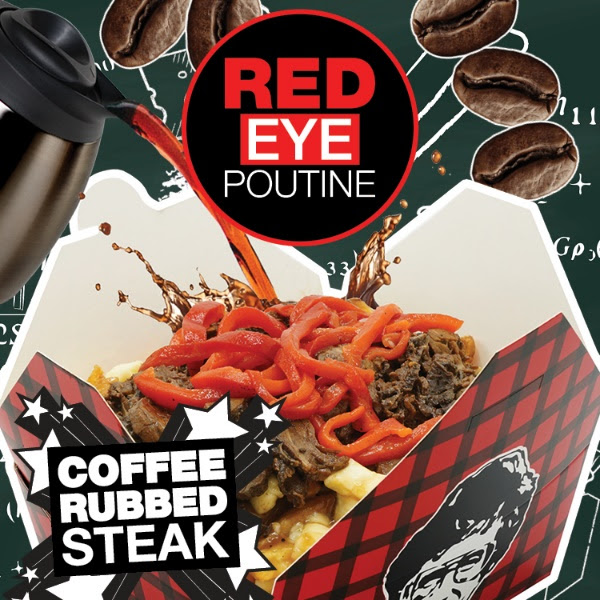 This exam time temptation takes the traditional fresh-cut fries, squeaky cheese curds, and piping hot gravy to a powerful new level by loading it with Roasted Red Peppers and Coffee-Rubbed Flat Iron Steak – it has hints of coffee, cinnamon & chili!  The RED EYE POUTINE offers the perfect caffeine fix so that students can focus on the facts, while Smoke's Poutinerie focuses on the fuel.
"This year, Smoke is focused on bringing WEIRD, WILD & WACKY Poutine concoctions to our Plaid Nation Fans through unique flavor combinations and food mashups," says Ryan Smolkin, Founder and CEO (Chief Entertainment Officer) of Smoke's Poutinerie, "The Red Eye Poutine unites Poutine and coffee in one energy packed meal. It's the perfect solution to getting our student fans through all-nighters so they ace their exams this spring!"
Fans can order up the Red Eye Poutine from April 8 to May 5, available in all local North American Smoke's Poutinerie restaurants and through many of your favorite delivery services in Canada.
@smokes_poutinerie on Instagram
@poutinerie on Twitter
Smoke's Poutinerie on Facebook
About Smoke's Poutinerie
Founded in 2009 by creative genius Ryan Smolkin, Smoke's Poutinerie is the World's Largest & Original Poutinerie. Representing 80's Canadiana culture, known for the signature lumberjack plaid, and glam rock music, Smoke's Poutinerie serves over 30 varieties of its famous poutine. With 150-plus locations across North America and international expansion into the Middle East, Europe, and the UK, the brand is on course for GLOBAL DOMINATION!
For more information about available franchise opportunities, contact Mike Graham, Vice President of Franchise Development, at mike@nullsmokespoutinerie.com or call (905) 427-4444, ext. 205.