Got Craft? Spring Edition: Shop local this spring at Vancouver's Raddest Handmade Market
Give the gift of local, handmade goods this Mother's Day
On May 4th and 5th, Got Craft? celebrates its 25th event and 13th year as Vancouver's raddest handmade market. Hosted at The Maritime Labour Centre in East Vancouver, over 85 handmade makers and small shops will fill the space, including many fresh brands to discover. Find the perfect Mother's Day gift and pick up a little something for yourself. You'll find everything from clothing and apothecary, to jewelry and artisanal food, art, ceramics, greeting cards, and so much more! Attendees will also enjoy food trucks, The Rolling Cashew, H2 Eats Vietnamese, and Varinicey Pakoras as well as limited edition swag bags for the first 50 people each day.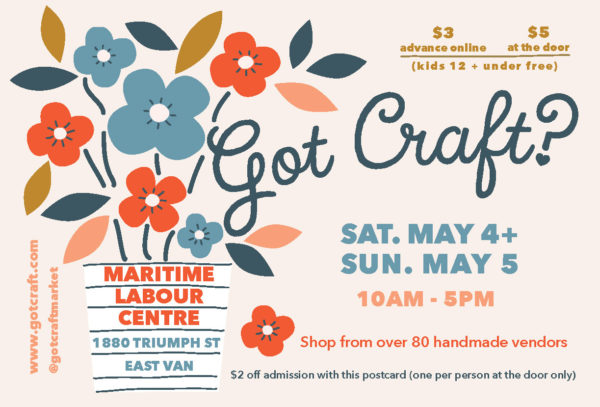 Tickets available in advance for $3 or at the door for $5. Tickets can be purchased, here.
With vendors coming from all over B.C., Got Craft? showcases the best in independent craft and design.
Supporting small business and locally made goods, Got Craft? makes shopping fun again by connecting makers with savvy shoppers! When you shop with us, you get to discover and meet the people who design and make the goods directly!
EVENT DETAILS:
Saturday, May 4th & Sunday, May 5th, 10am – 5pm
The first 50 people at the event each day will get amazing swag bags with goods from vendors. Each limited edition tote bag is printed by local maker, Robbie Vergara Screenprinting and illustrated locally by The Beautiful Project.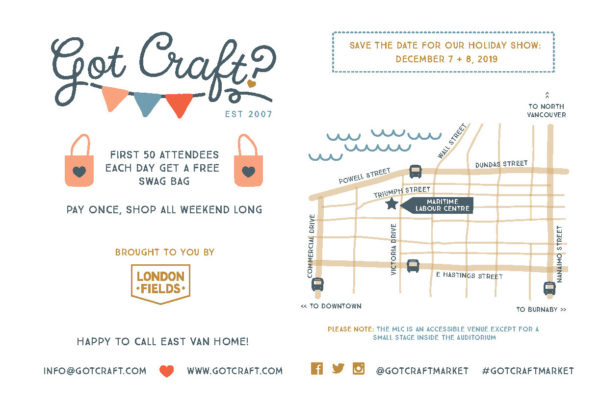 Got Craft? returns to East Van with access to convenient free parking and nearby public transport.
Experience a lovely day out with your friends or partner and shop for unique, locally handmade goods for you and your home.
WHERE: Maritime Labour Centre, 1880 Triumph Street, Vancouver, B.C.
TICKETS: Available online in advance for $3 or at the door for $5. Tickets can be purchased, here.
SOCIAL: @gotcraftmarket #GotCraft
ABOUT GOT CRAFT?:
Got Craft? was created in 2007 by local makers, Andrea and Robert, after participating in too many craft fairs that featured pinecone art. Inspired to create more options for independent designers, they hosted their own market, which has grown into the largest indie market in Vancouver. Got Craft? is held twice a year in May and December and welcomes over 5000 attendees a year. When Andrea and Robert are not busy with Got Craft?, they can be found at their shop, London Fields Shoppe, on East Hastings.
Media release and images provided by Andrea and Robert, Got Craft?
[wdi_feed id="2″]