Inspired by the belief that one day can change your whole life, Four Seasons Hotel Vancouver is welcoming Vancouverites and guests to their fourth floor rooftop garden oasis to connect with their mind, body and soul. Leading up to Global Wellness Day, the Hotel will be hosting a week of complimentary outdoor fitness classes and wellness workshops.
"Vancouver is a city that radiates health and wellness, and this week is the perfect opportunity for us to connect with our community and reconnect with ourselves," says Martin Sinclair, General Manager at Four Seasons Hotel Vancouver. The schedule features an all-star roster of Vancouver's top experts such as Lululemon, RSVP 33, Eastwood, Barre Fitness, New Balance Vancouver, Money Maker Class, SoulCycle, Fuelled by Feeling, Saje Wellness and several notable names in fitness including Daniela Dib and Dr. Geneive Burley for this week of no-charge events.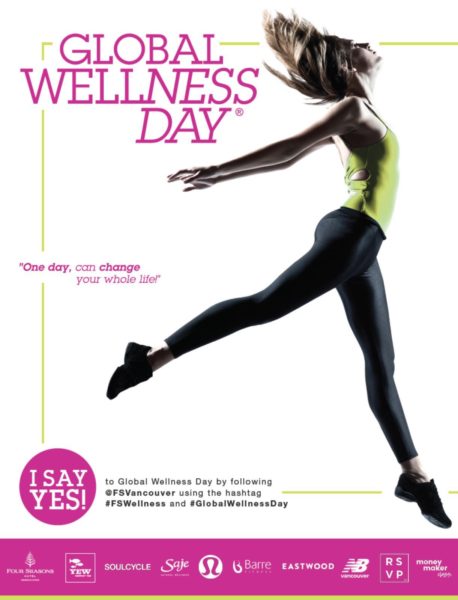 Wellness Week Schedule: (BYOM = Bring Your Own Mat)
Monday, June 3
5:30: YOGA with Jasmina Egeler and COOL IT by Eastwood (BYOM)
Lululemon and Eastwood kick the week off with yoga and meditation. Instructor Jasmina Egeler will lead a yoga session, followed by Eastwood's Amanda Gutmanis who will encourage attendees to stretch their bodies, observe their minds, and calm their nervous system with some meditation, movement, and breathwork. Register here.
Tuesday, June 4
5:30pm & 6:45: RSVP 33 Double Header
Join the movement. Back by popular demand, the fiercely fun RSVP 33 returns to this year's line-up. Feel confident and empowered, and connect with the community through dance. RSVP 33 will be celebrating the summer vibes with their signature choreography class at 5:30pm. Their brand new Freedom class will follow at 6:45pm – it's a cardio-focused class with no choreography. The energy is high in this class as attendees don't stop moving. Register here.
Wednesday, June 5
5:30pm & 6:45pm: Barre Fitness Double Header
This tiki-themed double header by Barre Fitness will feature two classes. Using a fusion of ballet, pilates and flexibility training, Barre Fitness focuses on transforming and sculpting bodies. Open to all levels, this class starts at 5:30pm. Register here.
Barre HIIT will follow at 6:45pm. This intermediate class combines Barre Fitness with high intensity interval training. Register here.
Thursday, June 6
6:00pm: THE MONEY MAKER by Brooke & Marissa with New Balance Vancouver (BYOM)
Brooke + Marisa have spent years teaching in the boutique fitness industry. Past professional dancers and cheerleaders, these two really know how to heat things up (literally). They are experts in full body toning, core strength, and their favourite, booty building. Participants will join these two at their Money Maker Class along with New Balance Vancouver as they guide along to the beat of the music and keep smiles going through the sweat. Cool down after the class with a 10 minute meditation session led by Katie McKenzie, Master Trainer at Lagree West. Register here.
Friday, June 7
6:00pm: MOTIVATION THROUGH FITNESS with SoulCycle's Daniela Dib
This motivational workshop led by Daniela Dib (accomplished dancer, performer, yoga teacher and fitness instructor at SoulCycle) incorporates fitness, movement and words of affirmation to bring attendees a centered and inspiring approach to tackle obstacles in their lives. Register here.
Saturday, June 8
9:00am: SUNRISE YOGA by Lululemon & BREATHING THROUGH BARRIERS by Fuelled by Feeling (BYOM)
Set a great intention for the weekend ahead by joining in rooftop yoga with Dr. Genieve Burley, supported by the Lululemon Athletica's Robson flagship store on Global Wellness Day. Attendees will flow through a yoga practice that moves outside the box, inviting movement of the whole body to ignite the soul.
Following Sunrise Yoga, Gabby Villasenor will share Fuelled by Feeling's signature class, Breathing Through Barriers. The class is designed with the intention to bring attendees back to their strongest tool when they move: breath. As intensity revs up, guests can count on experiencing two things: how "in their body" they will become when they focus on breathing while moving, and how powerful it feels to regulate movements based on what their body is asking for. Register here.
Saje Natural Wellness Lounge Pop-up – Various Dates
The Saje Natural Wellness Lounge pop-up will be in full effect during select classes throughout the week so guests can breathe deep and discover the natural healing power of plants. The Saje team will be supporting events by spreading wellness to those needing a relaxing deep breath or a healing touch.
A Taste of Wellness
Featuring a full vegan menu, mood-boosting juices and tasty salads, YEW seafood + bar is the perfect place to find premium proteins and well-balanced bites. As a thank you, Global Wellness participants during Wellness Week will receive a voucher to enjoy a complimentary appetizer at YEW with the purchase of a dinner entrée to nourish their body with innovative and healthy options that celebrate the best of the North West.
Staying Well
Global Wellness week is a great excuse to celebrate well-being and share some of the initiatives that Four Seasons Hotel Vancouver offers all year long.  Unplug in private comfort with one of RedCedar Boutique Massage Suite's relaxing and rejuvenating treatments.  Guests won't miss a workout beat at the Hotel's top notch Club Four Fitness Facility, featuring personal training by Type A Athletics and the city's only indoor/outdoor pool.
Media release and images provided by Krisann Hamazaki, Four Seasons Hotel Vancouver.
[wdi_feed id="2″]