Cultivate Wellness Returns to Raise Funds for Wilma's Transition House and BC Women's Health Foundation
Spend an Uplifting Morning of Health and Wellness at the Third Annual Retreat at Chilliwack Corn Maze ~ June 23, 2019 
Cultivate Wellness Retreat
returns for a third year to the beautiful Fraser Valley. This magical mini retreat takes place on June 23rd, surrounded by the beautiful corn fields and apple orchards of the Chilliwack Corn Maze. Genieve Burley and Danielle, Vanessa and Mariah of
Cultivate & Co.
 have teamed up to bring an uplifting morning of all things health and wellness, benefitting 
Wilma's Transition House
and
BC Health Foundation
.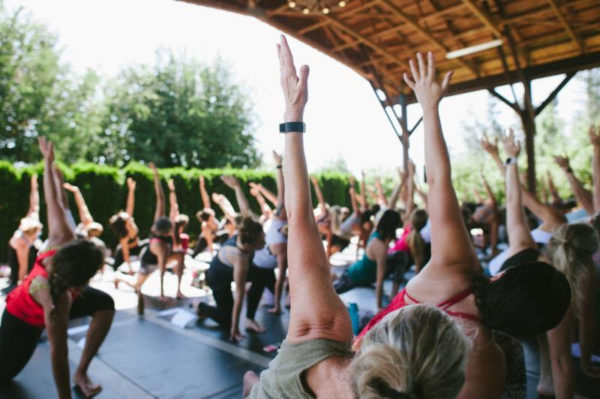 The morning starts with participants being guided through THE CLASS by Taryn Toomey led by
Dr. Genieve Burley-Howes
, DC, ERYT 500. The Class by Taryn Toomey is a practice of self study through physical conditioning. Through simple, repetitive calisthenics and plyometrics, participants challenge the body to engage the mind. With guided instruction and carefully curated music, this Class invites students to witness their resistance to discomfort. The result is an expansive, heart-opening, body-strengthening release. This music-driven, mat-based Class will challenge and enlighten you all while building an incredibly strong, lean, resilient body.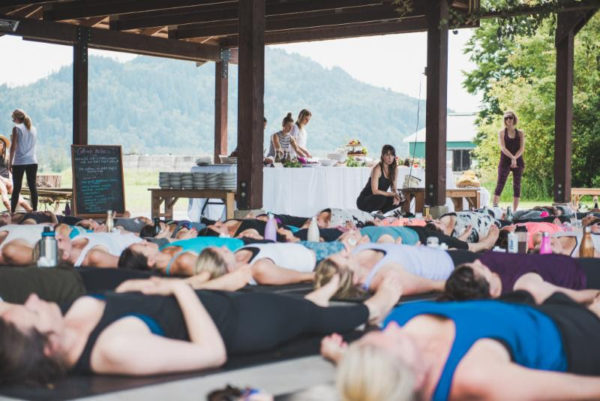 Followed by an uplifting session of yoga, meditaiton and kundalini by Peter + Cecily Elmas of
BeGuided
. Be Guided was created to support life's journey. Peter + Cecily stand powerfully and peacefully with participants as they explore passions and create a life that matches visions and goals. They help guide retreat goers to be fully expressed and identify how they can be the best version of themselves through a holistic support approach through coaching, yoga and mindfulness.
After a morning of connecting with mind, body and soul, retreat goers will share a nourishing and wholesome post-workout brunch by The HABIT Project, hear from some incredible speakers, and enjoy a contemporary dance performance titled "This Woman's Work" representing the complicated relationship and struggles that women alone experience.
Cultivate Wellness Retreat
Date and Time:
Sunday, June 23, 2019
9:00 AM – 1:00 PM
Location:
Chilliwack Corn Maze & Pumpkin Patch
41905 Yale Road West
Chilliwack, BC V2R 4J4
Tickets:
Tickets are $150 each and can be purchased
here
.
There will be a raffle with some incredible giveaways by some very supportive brands.
About Cultivate & Co. 
Cultivate & Co.'s vision is to gather communities through the celebration of local food and bring agricultural awareness from farm to plate. Cultivate & Co. aims is to invest in the future of food and to educate others as to why, where and how to eat as locally, seasonally and sustainably as possible. Their purpose is to lead by example and be ambassadors for local businesses and farmers in the Fraser Valley. Cultivate & Co believes The Fraser Valley has deep agricultural roots and is known for its rich, fertile land; supporting our local farmers is imperative to keeping this agricultural area sustainable.
About BC Women's Health Foundation 
BC Women's Health Foundation is dedicated to advancing the full spectrum of women's health in BC so that all women, across all life stages, have equitable access to the highest quality healthcare when, where and how they need it. To find out more about our bold and dynamic vision of 
healthy women everywhere, capable of anything
, visit 
bcwomensfoundation.org
.
About Wilma's Transition House
Wilma's Transition House offers safe and temporary housing, support and advocacy for women and their children. The transition house operates a seven bedroom facility, offering a free, temporary safe haven for women and their children who are victims of family violence. They are guided by a vision to create a violence free society by being an integral part of the greater worldwide vision to end family violence, by cultivating opportunities for empowerment, independence and self-discovery. For more information about the transition house please visit
xolhemetsociety.org
.
Media release and images provided by Krista Lochhead, Colley Communications Inc.
[wdi_feed id="2″]