Oyama Sausage Co. was recently awarded by Westender Magazine a first place (GOLD) in the categories of Best Deli as well as Best Stall at Granville Island Market.  Below is a brief listing of Oyama's special features for the upcoming month.
Saturday, Feb. 4th & Sunday, Feb. 5th – Football Weekend
Oyama's party trays and savoury favourites are the easy solution for entertaining a hungry crowd.  Addictive options include smokies, salami, pepperoni, and cheeses, all of which will have everyone's guests asking for an instant (culinary) replay.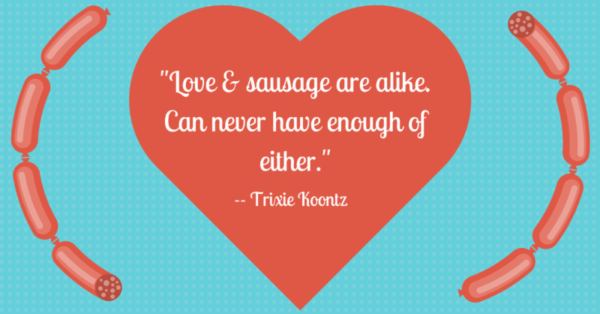 Friday, Feb. 10th to Tuesday, Feb. 14th  – Family Day Long Weekend & Valentine's Day
Granville Island is a great place to visit on the Family Day long weekend, as there's fun for kids (and parents) of all ages.  Oyama will offer kid-pleasing favourites including 6 types of pepperoni and 3 types of hot dogs.  Their sausages make a convenient and nutritious take-home dinner option.  The Public Market will be open 8:30am to 7pm all weekend.
For those who desire a taste of the exotic to be part of their Valentine's Day celebrations, add Oyama's White Chocolate Elk sausage and Raspberry Duck Pâté to your romantic menu.
Thursday, Feb. 16th to Sunday, Feb. 19th – Viva Italia
Oyama will celebrate traditional Italian cuisine by making over a dozen types of fresh sausages, such as Tuscan Chicken with Basil, Italian Duck, and Marsala Pork.  They'll also prepare mouthwatering Italian charcuterie including Culatello, Prosciutto di Parma, and Finocchiona salami.
Friday, Feb. 24th to Sunday, Feb. 26th – Boudin Noir and Morcilla
Reserve handmade French and Spanish blood sausages by calling 604-327-7407 or emailing orders@nulloyamasausage.ca
Oyama & Wine Pairing
 with Tim Pawsey

It's tough to find the perfect smoked pork chop but Oyama's kassler have just the right amount of assertive, smoky flavour to make them deliciously interesting. The key is not to overcook and keep them moist. What goes with pork? Well, Riesling, of course, and more Riesling!  Tantalus is consistently one of BC's best. It sports a crisp clean, citrus and green apple core with a hint of mineral and tropical notes.
Don't serve it too chilled (take it out of the fridge 10 minutes before pouring) and you'll discover the perfect match for your kassler pork chop, especially with a little apple sauce or sauerkraut on the side.
Tim Pawsey (a.k.a. The Hired Belly) writes and shoots at hiredbelly.com as well as for the North Shore News, WHERE Vancouver, Quench, BCLS Taste, Montecristo and others. He's an original judge for The BC Lieutenant Governor's Awards for Excellence in Wine, and a founding member of the British Columbia Hospitality Foundation.
You can pick up the Kassler smoked pork chops at our counter. 
The Tantalus Riesling is available at select private wine stores, and the winery website.
Oyama Sausage Co.
1689 Johnston Street #17, Granville Island Public Market, Vancouver
Open Daily 8:30am – 7:00pm
About Oyama Sausage Co.:
Oyama Sausage was founded by John and Christine Van Der Lieck in 2001.  Located in Granville Island's Public Market, the shop carries a wide selection of fresh sausages and handmade pâtés, as well as cured salamis and hams.  John, whose ancestry includes five generations of Dutch and German charcuterie makers, has cultivated partnerships with local farmers and suppliers to ensure he works with only the best ingredients.  He experiments with fusions between traditional charcuterie (including recipes that have been in his family for generations) and international cuisine, drawing from the rich diversity of food cultures in Vancouver to create modern and exciting flavour combinations that reflect the multicultural mosaic of the city.
Follow Oyama on Facebook and Twitter.