Monstercat announces first annual Compound Educational Panel
Vancouver music professionals, experts and artists share industry insight with career-focused panel ahead of annual free block party on Saturday, August 24
Today, Monstercat announced that the Vancouver-based independent record label will host the first annual Compound Educational Panel, Careers in Music: Follow your Career Compass, on Saturday, August 24, from 12 p.m. – 2 p.m. Happening at The Pace studio in Railtown, Vancouver, the panel will host speakers including experienced industry experts who will facilitate an informative and insightful discussion about working in the music industry. The free panel is geared towards students, and those interested in exploring a career in music. The panel is set to take place ahead of Monstercat's annual free block party, Compound, a celebration of music, community, and the city it calls home also taking place on Saturday, August 24.
The full line-up of speakers include:
"After two years of Compound, we are beyond pleased to introduce the next level of the annual street party with this panel," says Monstercat founder, Mike Darlington. "Compound is all about engaging our local community, sharing our love for music and music education, so this new panel is the perfect way to kick off the celebrations." Monstercat's mission is to empower a creative and passionate community through innovation. In the first ever Compound educational panel, Monstercat is putting words into action, opening up a discussion with a variety of experienced industry professionals.
Hosted in partnership with Nimbus School, MusicBC, Creative BC & The Province of British Columbia, speakers will share their perspective on working in the industry locally and inspire talented individuals across all fields to consider a career in music. The panel will be moderated by Kristina Lao, community and business development manager at Nimbus School. "We speak with so many young people who are looking for career options in music and they just don't know how expansive the options are," says Kristina, "This panel is an amazing opportunity to highlight just some of the wide range of the jobs available in this field and to hear directly from local, successful professionals in our community."
What: Compound Educational Panel
Where: Pace Studios, 520 Alexander Street, Vancouver
When: Saturday, August 24, 12 p.m. to 2 p.m.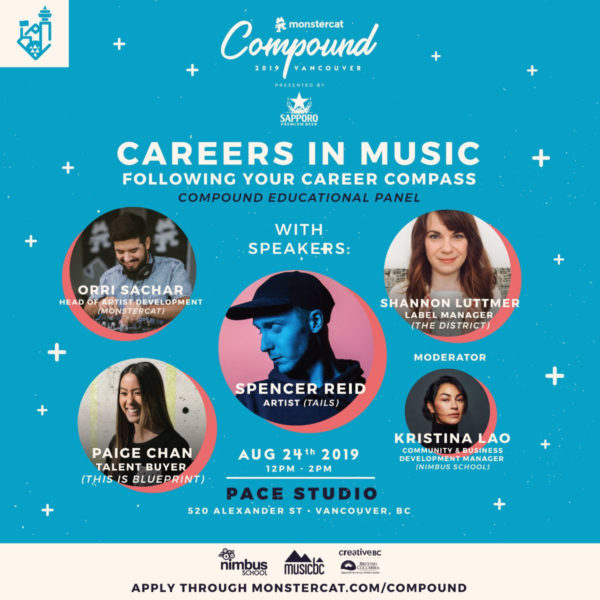 When the panel finishes up at The Pace studios at 2 p.m., attendees can head around the corner to Monstercat HQ at 380 Railway Street, Vancouver, for Compound, happening from 2 p.m. to 9 p.m. Compound will stretch down Railway and Dunlevy streets with live performances from Drezo, Conro, Tails, Grant, and Disero, live art, video games, music education, merch, food & drinks and much more. Those planning to attend can RSVP for free in advance here and for those seeking an enhanced experience, a limited run of premium passes are available now. Subscribe to Monstercat's email list to be the first to get the latest news about Compound 2019 here. Details about the full line-up can also be found here: https://www.monstercat.com/compound/
Social Media: Follow Monstercat on YouTube, Instagram, Facebook, and Twitter for the latest news and updates.

About Monstercat: Monstercat is one of electronic music's most influential independent record labels. Founders Mike Darlington and Ari Paunonen established the label in 2011, and since moving to Vancouver, British Columbia, have built a roster of world-renowned artists. Notable achievements include over 7.8 million YouTube subscribers between its Uncaged and Instinct channels, millions of singles sold to date, and over 3 million streams per day on Spotify. Backed by enthusiastic employees, driven artists, and the dedication of supporters worldwide, every chapter of Monstercat's story is worth a listen. Learn more at https://www.monstercat.com.
About Nimbus: Nimbus exists to change lives through music. We are passionate about music, mentorship and community.  We value excellence and character. We are committed to creating a sense of belonging regardless of race, religion, gender, or orientation, for our students, alumni, staff and the larger community.  We provide hands-on technical training and life-skills delivered by current industry professionals. Learn more at http://nimbusrecording.com
Media release and images provided by Claire Henwood, Reformation
Something is wrong.

Instagram token error.