Monstercat Compound presented by Sapporo returns to Vancouver on Saturday, August 24
Free block party features music, art, video games, music education, merch, food & drinks, and much more
Monstercat Compound, an annual free block party produced by the Vancouver-based independent record label, returns for its third year on Saturday, August 24. Happening at Monstercat HQ in Railtown, the festivities will include live electronic music on two stages. The official artist line-up will be announced next month.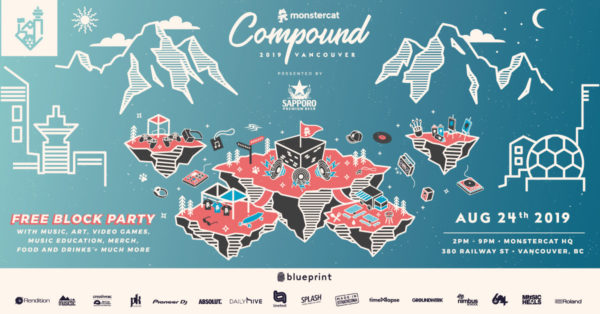 Visitors can expect performances from Monstercat fan favourite artists on the main stage, plus the best underground sounds on the Groundwerk Stage powered by MusicBC. Much more than just a day of music, the festivities will also include live art, video games, music education, merch, food & drinks, and much more totally free of charge, thanks to the generous support of sponsors including Rendition Developments, Creative BC & The Province of British Columbia, PK Sound, Pioneer DJ, Absolut Vodka, Linetest, Splash Spiked Sparkling Water, and the Strathcona Business Improvement Association.
What: Monstercat Compound 2019
Where: Monstercat HQ, 380 Railway Street, Vancouver
When: Saturday, August 24, 2 p.m. to 9 p.m.
Free RSVP: Click here
Compound launched in 2017 in tribute to the city Monstercat calls home. More than 2,500 fans attended Compound in 2018; this year, producers are looking to expand the event footprint down Railway and Dunlevy streets and more than double attendance. For those seeking an enhanced experience, a limited run of premium passes will be released for sale this summer. Subscribe to Monstercat's email list to be the first to get the latest news about Compound 2019 here: https://www.monstercat.com/compound/
Social Media: Follow Monstercat on YouTube, Instagram, Facebook, and Twitter for the latest news and updates.
About Monstercat: Monstercat is one of electronic music's most influential independent record labels. Founders Mike Darlington (CEO) and Ari Paunonen (CSO) established the label in 2011, and since moving to Vancouver, British Columbia, have built a roster of world-renowned artists. Notable achievements include over 7.8 million YouTube subscribers between its Uncaged and Instinct channels, millions of singles sold to date, and over 3 million streams per day on Spotify. Backed by enthusiastic employees, driven artists, and the dedication of supporters worldwide, every chapter of Monstercat's story is worth a listen. Learn more at https://www.monstercat.com.
Media release and images provided by Claire Henwood, Reformation. Feature image: Monstercat Compound 2018 – Brandon Artis Photography.
[wdi_feed id="2″]