The Okanagan Wine Festival may have been drawing to a close, but the party was still hopping at Sensations – the finale of the fall festival. The theme for this Valley First event was a "celebration for the senses". And it was just that.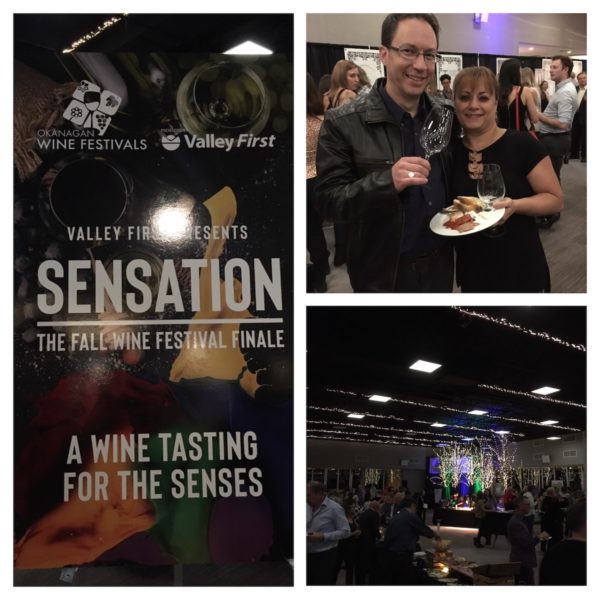 About thirty BC wineries gathered at the Penticton Lakeside Resort for an intimate experience with guests. With a new vision for the festival in place, this event became a more interactive experience. Wine, of course, was a focal point, but with the refreshed concept the night was an evening of exploration.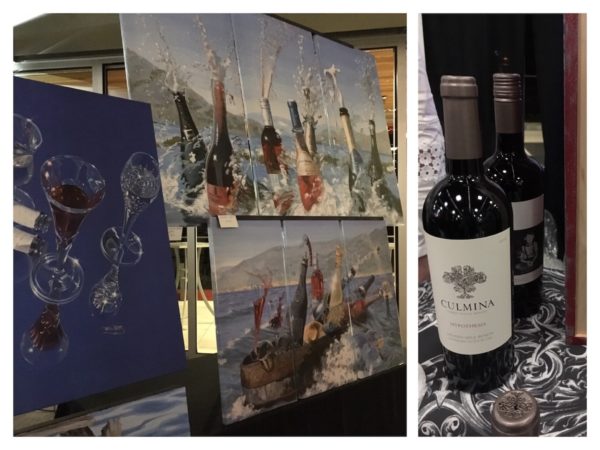 Local artists worked on wine and grape-themed paintings while attendees perused finished pieces. A DJ played a range of jazz, lounge, and electronic music to craft a chill vibe. Across the ballroom, guests crowded around the sensory booth – the spot to be if you wanted to verify how well you could blindly identify smells. This area was jam-packed all evening as wine lovers tested olfactory senses of family, friends, or colleagues. The rule was "eyes closed" – no peeking! To be honest, I could have stayed there all night going through over one hundred jars with everything from previously-lit matches to dried fruit or fennel seeds. It was quite the adventure!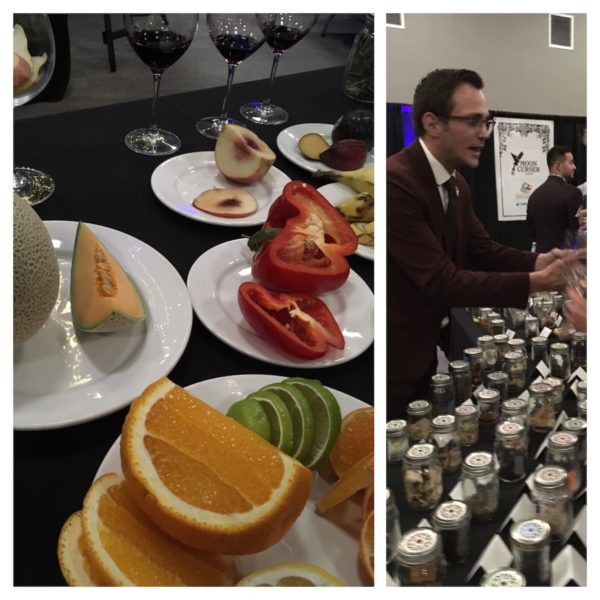 There was a definite buzz around the hall all evening long, and festival goers eagerly hopped around tasting wine samples. With not enough time to visit every winery booth, one had to be selective. However, I decided to try a few new wineries and visit a few which I was already familiar. Wineries in attendance were from up and down the valley and of various production sizes; it was lovely to have a range of local wines to sample.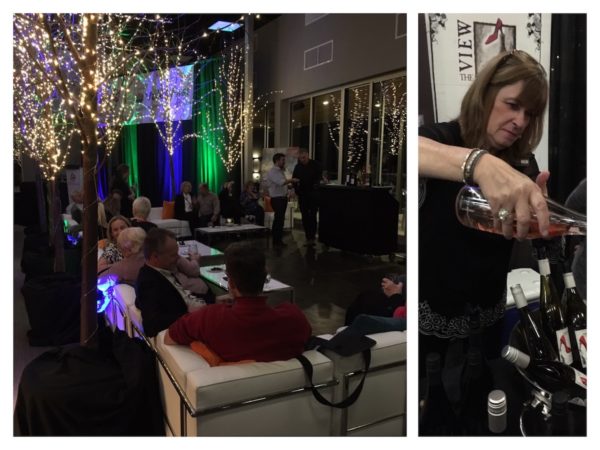 Some stand-out wines of the evening included the 2018 Wild Goose Winery Gewurztraminer – drier this year than last – and the 2017 Moon Curser Touriga Nacional. DaSilva's 2015 Syrah Malbec was one of the most interesting wines of the evening; it was coming from a super BC vintage and exuded a beautiful balance of fruit and spice.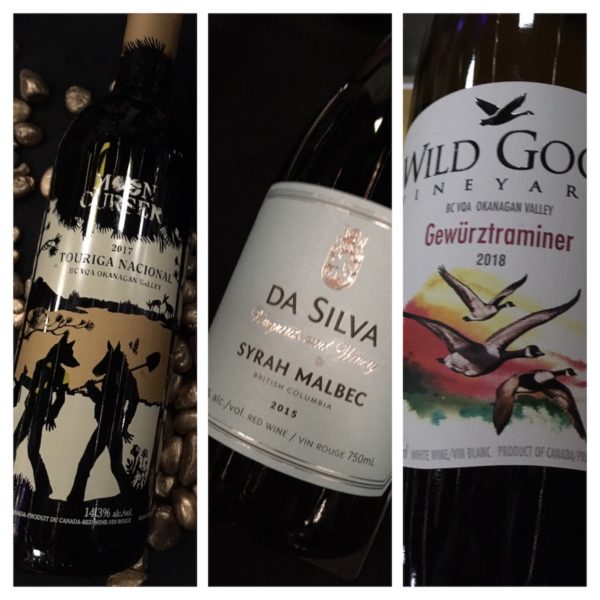 Between tastings, guests noshed on the most delicious finger foods. Beyond the extravagant charcuterie that would just blow your socks off – a range of cheeses, cured sausage with hazelnuts, European mixed olives, artisan crackers, cornichons and more – you could have found me at either the roast beef with Yorkshire pudding booth or the smoked tomato soup with bacon crouton station. Without hesitation, I can vouch that the drunken prawns were a massive hit, too. One more to make you drool – pan fried escargot in a butter crust tart – and now I'll stop.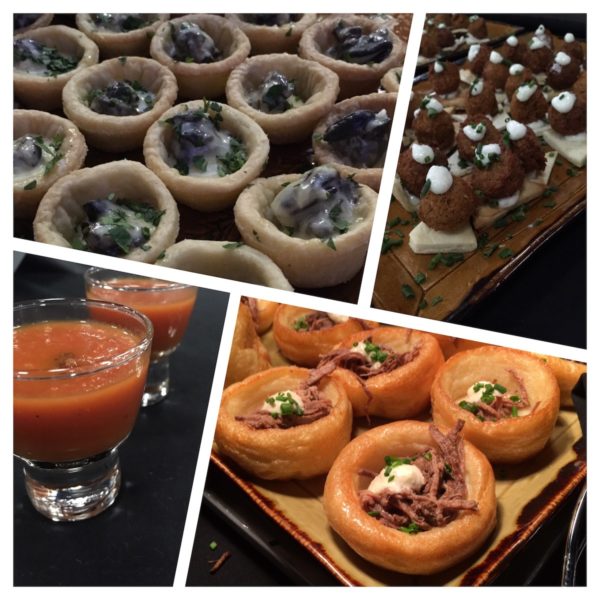 Having attended, I willingly admit that I preferred the more intimate setting, the smaller crowd, and the ambiance this year. It was evident that festival goers enjoyed the multidimensional evening, and from the comments I heard after the lights had turned on, I'm sure they will be back next year.
Review by #guestblogger Valerie Stride, Demystified Vine for MyVanCity. All images, except as noted, Valerie Stride. MyVanCity received complimentary admission in order to facilitate this review.
About Sensation:
Wine + Food + Culture. A wine tasting event for the senses, Sensation is a festival that pairs B.C. wine with only the very best in art, music, food, and culture. As you explore the beautiful Penticton Lakeside Resort and Conference Centre see how different wines of the region have been paired with equally elevated experiences; big bold whites are paired with a local author's vivid reading; moody reds are paired with a dramatic string trio; crisp, lively bubbles are paired with an energetic live art demonstration. Around every corner the best of Okanagan culture and the arts meets the best of B.C. wine through this sensational event.
About The Okanagan Wine Festivals Society:
The Okanagan Wine Festivals Society is responsible for producing four seasonally inspired Okanagan Wine Festivals in Winter, Spring, Summer, and Fall. It is also responsible for Signature Wine Events including Sensation, the fall wine finale by Valley First, the WestJet Wine Tastings, and more. It produces and runs two annual wine judging competitions: the British Columbia Best of Varietal Wine Competition, and the province's most prestigious and oldest wine competition, the British Columbia Lieutenant Governor's Wine Awards. For more information visit, www.thewinefestivals.com.
[wdi_feed id="2″]