This is our first Big Melt Challenge featuring 6 restaurants and delis in Vancouver, Burnaby and North Vancouver, that runs from November 4-30, 2014.
Participating restaurants and delis are showcasing Big Melt creations that were created just for this challenge and all will be offered in all of these establishments during the challenge period .
For our Challenges, we have 2 sets of winners. The People's Choice winners will be selected by the public who are invited to visit any of the participating restaurants and order the Curry creations and then decide on which ones they think are worthy of winning the challenge by casting their votes.
For this challenge we have 3 media judges and they are:
Alyssa Dawson
Lifestyle host and producer. Host at Novus TV, blogger.
Twitter: @AlyssaCDawson
Aaron Alexander
Writer and Creator of BC BuzZ….Plus a film fanatic, music lover & lover of the arts!
Twitter: @aaronmalexander
Jay Minter
Writer of food and the arts for On The List, Vancouver Presents and other publications.
Twitter: @jminter
These are just some of the unique Big Melt creations in this challenge
Jacksons Meats & Deli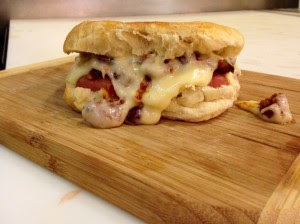 The Top Dawg
The Top Dawg
Price: $9.25
Created by: Chris and Shayna Jackson
Description: Toasted Ciabatta Bun with Aged White Cheddar, Nathan's NY Hot Dog, Jackson's House Made Chorizo Chili and Jackson's House Made Aged Provolone Cheese Sauce
Offered: All day, everyday
Jacksons Meats & Deli
2214 West 4th Avenue
Tel: 604-738-6328
Web: http://www.jacksonsmeatanddeli.com/
Twitter:@Jacksons4thAve
Beyond Bread Artisan Bakery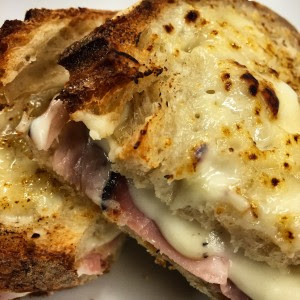 Monsieur Fondu
Monsieur Fondu
Price: $9.50
Created by: Pastry Chef – Daryl Lim
Description: Our version of the Croque Monsieur. Local caramelized onions deglazed with Riesling, See You Later Ranch – Okanagan Valley (Estates Wine Shop). Garlic confit with local rosemary and thyme. Praha ham (Oyama Sausage Co.) with a mornay sauce featuring Gruyere and Emmental cheeses (Benton Brothers). Our creation is completed with a torch to gratin a finishing layer of gruyere cheese on top of our organic sourdough Country Bread.
Offered: Monday – Friday from noon until 2pm
Beyond Bread Artisan Bakery
3686 West 4th Avenue
Tel: 604 733 3931
Twitter: @beyondbreadcafe
The Meatery
The Duckwich
The Duckwich
Price: $12.99
Created by: Grant Mckay and Mark Jackson.
Description: Coffee cured and braised duck legs with Triple cream brie, Herbed orange aioli, Pickled onions, Arugula, Fennel slaw on Cranberry nut sourdough.
Offered: 11 am to 6 pm (7 days a week)
The Meatery
3108 Edgemont Blvd
Tel: 604-980-1125
Twitter: @MeateryB2B
The full list of participating restaurants can be found here
http://vancouverfoodster.com/2014/11/04/vancouver-big-melt-challenge/
Voting: The public is invited to order these Big Melt creations at the participating restaurants keeping in mind this criteria – originality, creativity, uniqueness,  traditional, non-traditional, price, value and most importantly taste. People can vote the same day after trying the Big Melt creation and they can vote once a day throughout the promotion. People will be encouraged to Vote for their favourites from November 4-30, 2014
http://vancouverfoodster.com/big-melt-challenge/
With a smartphone, customers will be able to vote from their table in the restaurant right after they have eaten the Big Melt creation.
We will announce the winning restaurants and their Big Melt creations on December 1, 2014.
About Vancouver Foodster
Founded in 2009 by Richard Wolak, Vancouver Foodster is Vancouver's premier online "Essential Food & Drink Intelligence" guide. The site offers expert advice on the hottest restaurants, parties, and openings this city has to offer, as well as the most interesting dining trends and newest cuisines and food around the region. Vancouver Foodster also runs a series of food challenges with restaurants and chefs throughout the year!