MyVanCity.ca is very pleased to announce our new weekly feature "Taste of Thursday". We have recruited some great BC Chefs who will provide us with unique recipes to share with our readers. Whether you're a gourmand or a gourmet you are going to enjoy this new weekly feature. Each week a different chef will publish his or her own recipe complete with a picture to entice you to try it in your own kitchen. These are top notch chefs sharing incredibly delicious recipes and we couldn't be more excited. Our first recipe will be published later today.
First we would like to introduce you to this group of obliging, award winning chefs.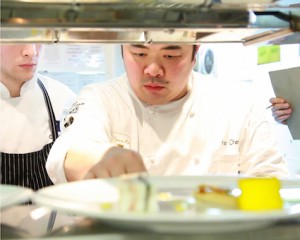 Alex Chen, Executive Chef, Boulevard Kitchen & Oyster Bar
Twitter: @blvdyvr @ChefAlexChen
Instagram: @blvdyvr
Facebook: /blvdyvr  /chefalexchen
Website: boulevardvancouver.com
Alex Chen's culinary vision is an inspired recipe of family tradition and classical technique and training, combined with creative hints of international influences. From his childhood roots in Malaysia to his time in both Vancouver and California, the Pacific Rim and West Coast regions have helped form the basis for Alex's innovative signature style, as well as his love for seafood. So, too, has his emphasis on sourcing the best fresh, local and in-season ingredients.
Alex joined Boulevard Kitchen & Oyster Bar as Executive Chef after charting a top-10 finish representing Canada at the prestigious Bocuse d'Or culinary competition in Lyon, France in 2013. Before spending six years as the Executive Chef of the legendary Polo Lounge at the Beverly Hills Hotel, Alex apprenticed at Vancouver's Wedgewood Hotel, and held the roles of Senior Sous Chef at the Four Seasons Hotel Chicago and Chef de Cuisine at the Four Seasons Hotel Toronto.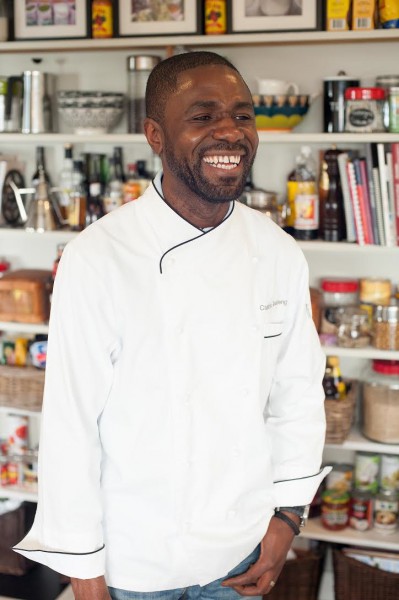 Castro Boateng, Fine Catering & Private Chef, was born in the West African country Ghana, the land of the gold coast. Immigrating to Toronto when he was nine years old, he and his younger brother were raised by his father who taught respect, family values and a good work ethic – encouraging them to strive for their dreams and goals. At a young age Castro had to overcome many obstacles but he was determined and become an Executive Chef before he was 30. After graduating from culinary school in Toronto, Boateng worked under European Master Chefs Stewart Cameron and Colin Watson at the prestigious Turnberry Resort, Scotland. He then worked at The Fairmont Southampton Princess in Bermuda where the successful New Port dining room became the first Caribbean restaurant to receive the five diamond award. Returning to Canada, Castro has been Chef de Cuisine of Eden, the five diamond restaurant at the Rimrock Resort Hotel in Banff Alberta, and Executive Chef at the Aerie Resort in Victoria B.C. Castro now lives in Victoria with his wife Charlotte and two young sons Kaeden & Noah.
Chef Boateng is pleased to share his passion for food & wine through Castro Boateng Fine Catering & Private Chef Services.
Fine Catering & Private Chef
Facebook Castro Boateng Fine Catering & Private Chef
250-588-9398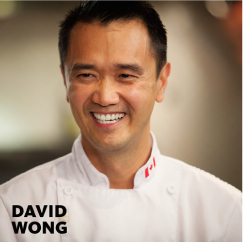 Chef David Wong; Home town Vancouver, originally from Nanaimo, BC
Chef David Wong works full time in the Earls Restaurant Test Kitchen. He is an award winning chef from Vancouver, most recently as Executive Chef of the Fairmont Pacific Rim and the award winning restaurant ORU. Dave has too many awards and medals to even list but we would say that his Gold Medal win as part of Culinary Team Canada in Basil, Switzerland and representing Canada at the  Bocuse d'Or held in Lyon, France – are two of the most prestigious culinary awards in the world.
David's culinary skill encompasses a number of Asian cuisines as well as seafood and shellfish. 
Website: Earls Kitchen + Bar
Jean-Francis Quaglia   Chef/Owner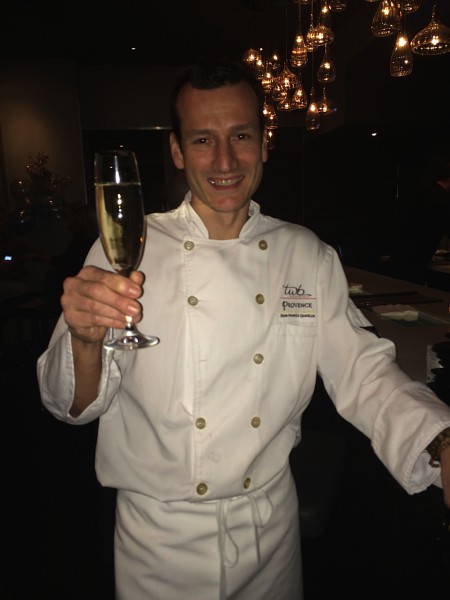 A native of Marseille, France, Jean-Francis comes naturally to the culinary world as his mother is acclaimed Chef Suzanne Quaglia of Marseille's famed Le Patalain and one of the very first female chefs in France. At age eight, he made his first 'Tarte au Citron' from his mother's recipe. This same tarte is now featured on Provence's menu. When Jean-Francis was 16, Chef Suzanne opened her first restaurant and Jean-Francis decided that he too wanted to become a chef, enrolling at the École Hôteliere de Marseilles.
Hôtel Sorbitel in Marseille was the location of his first apprenticeship following graduation. From there he had a brief stint in his mother's restaurant before heading off to the Côte d'Azure and Monte Carlo where he started as Commis de Cuisine under the direction of Chef Bruno Caironi (formerly Sous Chef to Alain Ducasse). Jean-Francis then went on to work with Chef Elie Mazot at Relais et Chateau's Le Chateau de la Chevre D'Or in Eze.
As Chef de Partie Tournant, Jean-Francis mastered every station in the kitchen while working under the direction of Chef Dominique LeStanc at Hôtel Negresco in Nice (2 Michelin stars). Hôtel Negresco was to be a turning point in his life as it was there, in 1990, that he met a young Canadian, Alessandra Mossa, who later became his wife. In 1991 Jean-Francis (with Alessandra) returned to Marseille to work as Sous Chef in his mother's Le Patalain. The next year he and Alessandra moved to Canada and were married.
Jean-Francis' Canadian career began as Sous Chef under Bruno Born at Le Coq D'Or in Vancouver's Kitsilano neighbourhood. During Jean-Francis tenure there, the restaurant won the coveted award of Best French Restaurant at the annual Vancouver Magazine Restaurant Awards. In 1994, Born closed Le Coq D'Or to head up food and beverage for the soon-to-be-opened Sheraton Wall Centre Hotel. He took Jean-Francis with him to be Chef de Cuisine at one of the hotel's two restaurants – Azure Seafood Restaurant.  When the hotel's owner later decided to consolidate food services in one restaurant and closed Azure, Jean-Francis was picked to become Chef of the hotel's remaining restaurant – Indigo Bistro Moderne.
Pursuing a life-long dream, Jean-Francis left the Sheraton Wall Centre to open a place of his own.  The result – Provence Mediterranean Grill – opened its doors in the Point Grey neighbourhood of Vancouver on December 17, 1997. In 2002 he and Alessandra took the plunge, opening a second location – Provence Marinaside, on the sea wall in Yaletown. Marinaside, as locals affectionately call it, focuses its menu on seafood featuring a fresh seafood bar, catch of the day as well as a wide selection of fish and shellfish. When the sun shines, and with the view of the adjacent marina, you'd swear you were on the Côte d'Azure. In 2007, to mark Provence Mediterranean Grill's 10th anniversary, Jean-Francis and Alessandra co-authored the book New World Provence – Modern French Cooking for Friends and Family.
Early in 2012, there was another celebration as Provence Marinaside celebrated its 10th Anniversary on February 23rd, 2012. Later in the same year (mid-December 2012) the Provence 'family' expanded once more when Jean-Francis developed and opened TWB-The Wine Bar adjacent to Provence Marinaside. The casually elegant Wine Bar serves 50 wines by the glass and serves light tapas-style plates called 'Bites.' It has rapidly become a neighbourhood favourite for its value-priced great food, good wine and fabulous people-watching.
Provence Mediterranean Grill (Point Grey): 4473 West 10th Ave., 604.222.1980
Provence Marinaside (Yaletown): 1177 Marinaside Crescent at the foot of Davie St., 604.681.4144
TWB-The Wine Bar (Yaletown): 1167 Marinaside Crescent next door to Marinaside., 604.681.4144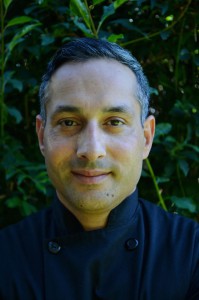 Chef Kunal Ghose, co-creator/owner of "Red Fish Blue Fish", and now the new Victoria tartinery and fish curry house "Fishhook", sleeps well at night knowing that success came via sustainable practices. When the opportunity came up to do it right in Victoria, he jumped on it. The Ocean Wise program aided him in creating his 100% sustainable menus . Well studied and passionate about the issues that face our oceans, Kunal is acutely aware that hand selecting the finest and most ethical seafood for his kitchen serves a great purpose for the longevity of his businesses and for our oceans. Kunal has had some TV appearances that include "Eat St." and being a chef'testant on  "Top Chef Canada", as well as other media in "Reader's Digest", "Western Living", "Yam ", "Boulevard" and "Eat" magazines . His recipes and tips have been also been published in "The Oceanwise Cookbook", "A Good Catch" the, "Eat St. Cookbook" and soon to grace the latest Oceanwise volume. On Twitter follow him at @ChefishBluefish and @fishhookvic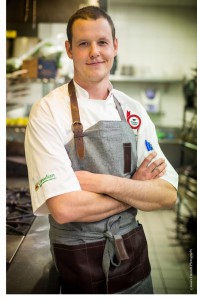 Chef Paul Moran is from Kelowna, British Columbia, Red Seal certified, fluent in both French and English with a passion for ingredients, connecting with his surroundings and cooking to please and peak the interest of clients. Chef K2 Heli Ski Lodge
2013 Winner of the first annual Hawksworth Young Chef Scholarship award, judged by Canada's top chefs at a national level
Executive chef at the Outpost, a West Coast Fishing Club lodge. Managing and executing five star dinning for guests on a three to four day stay basis. Including all meals for 15 live in Staff.
S. Pellegrino Young Chef 2015 first selection of finalists for the 20 world areas. Chef Paul will compete against 9 other Canadian Young Chefs.
2012 – 2013 Restaurant consulting at TABLE in Paris and SOURCE in Vancouver.
2010-2012 Executive sous chef, restaurant SATURNE (Omnivore prize 2011&2012) Paris.
2009-2010 Tournant, restaurant LAURIE RAPHAEL Montreal.
2008-2009 Chef de Partie, HOTEL NEGRESCO Nice, France
2008-2009 Chef de Partie, JUMEIRAH BEACH HOTEL Dubai.
2004-2008 Junior sous chef, WEST Restaurant Vancouver. Formal Education
2013 Invited chef for BON APPETIT BANFF at the Juniper Hotel and Bistro, Banff
Recipient of over 10 medals in Local and International Culinary Competitions. Including a Vancouver Rising Star gold medal.
Invited chef for SECONDS ARE FIRSTA dinner high lighting sous chefs of outstanding restaurants.
In attendance for Rene Redzepi's MAD food camp 2011 and 2012,
Invited chef Omnivore Festival 2011 and 2012,
Bocuse Dor in 2010, Alba truffle festival in 2009
Co star for "Morel Episode" on Food Networks Glutton for Punishment food series.
Paul is an extremely passionate Traveler and Outdoorsman, who enjoys Mountaineering, Snowboarding, Tennis, Wine, Swimming, Farming, Fishing, Hunting and Foraging.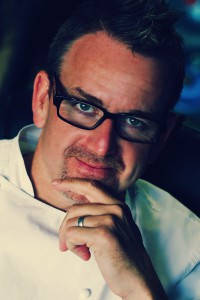 Chef Rob Feenie, Executive Chef, Cactus Restaurants Ltd.  
The driving culinary force behind Cactus Restaurants Ltd., the award-winning collection of 26 casual fine dining restaurants in BC, Alberta and Saskatoon, Rob Feenie is also one of Canada's most recognized and celebrated chefs.
At Cactus Restaurants Ltd., Chef Feenie leads the culinary team, blending his talent for creating elegant, globally-inspired cuisine with his passion for simple dishes using fresh, sustainable ingredients.  Chef Feenie's innovative approach to cooking has continued to drive the evolution of Cactus Club Cafe's menu selections and its commitment to sourcing the best fresh, local and sustainable products wherever possible.  
Growing up in Burnaby, BC, Chef Feenie first developed a curiosity for international cuisine over countless traditional family dinners at his Japanese neighbours' home. This early experience was followed by a high school exchange program where he was first introduced to European chefs and techniques.  At 20, Chef Feenie attended the Dubrulle Culinary Institute in Vancouver and upon graduating, became a Sous-chef in some of Western Canada's top restaurants, notably Le Crocodile and Cherry Stone Cove in Vancouver and The Rim Rock Café in Whistler. 
While at Le Crocodile he began a series of work and educational trips, or stages, throughout Europe and North America, starting in Alsace with Chef Emile Jung at Au Crocodile and Chef Antoine Westermann at Le Buerehiesel, both Michelin three-star rated restaurants. In North America he worked with Chef Charlie Trotter, at Trotter's Restaurant in Chicago, and Chef Jean-Georges Vongerichten at Jean-Georges in New York.
In 1995 Chef Feenie opened the internationally celebrated Lumière Restaurant in Vancouver, followed by Lumière Tasting Bar and then Feenie's, a more casual Canadian Bistro, next door to Lumière, in 2003.  Throughout his career, Chef Feenie has secured international culinary recognition, including the coveted Relais Gourmand and Traditions et Qualitè designations, in addition to the Mobil Travel Guide four-stars designation and the AAA Five Diamond Award.  In 2009 and 2011, Chef Feenie won the Vancouver Gold Medal Plates competition.
Chef Feenie has published four cookbooks: Rob Feenie's Casual Classics, Rob Feenie Cooks at Lumière, Lumière Light and Feenie's. He also starred on New Classics with Chef Rob Feenie on Food Network Canada for five seasons.  In 2005 Feenie became the first Canadian to win on the popular television show Iron Chef America by defeating Chef Masaharu Morimoto.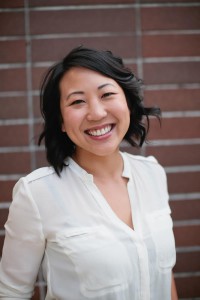 Chef Taryn Wa, Savoury Chef Foods
Facebook: /SavouryChef
Twitter: @SavouryChef
Instagram: @SavouryChef
Website: www.savourychef.com
As co-founder and culinary director of Savoury Chef Foods, Taryn Wa's abiding passion for food and commitment to culinary excellence is every bit as authentic as the enduring family recipe from which it's derived.
Born in Vancouver, Taryn found third-generation inspiration half a world away in South Africa's multicultural mosaic and further accentuated a palate already steeped in Asian tradition with subtle hints of Indian, British and Portuguese influences.
Since its inception in 2006, Savoury Chef has carved out a niche as one of Vancouver's premier catering and full-service event coordinators. Taryn and her staff have entertained an array of celebrities, royalty and two former U.S. Presidents, and acted as exclusive caterer to the Cirque Du Soleil tours in Vancouver as well as Canada Northern House during the 2010 Vancouver Olympics. Taryn won the People's Choice award for "Best Food" at Taste BC 2012 and both People's and Judge's Choice awards at the Chef's Table Society Curry Cup in 2014. She is also an active member of Les Dames d'Escoffier.
Executive Chef Todd Bright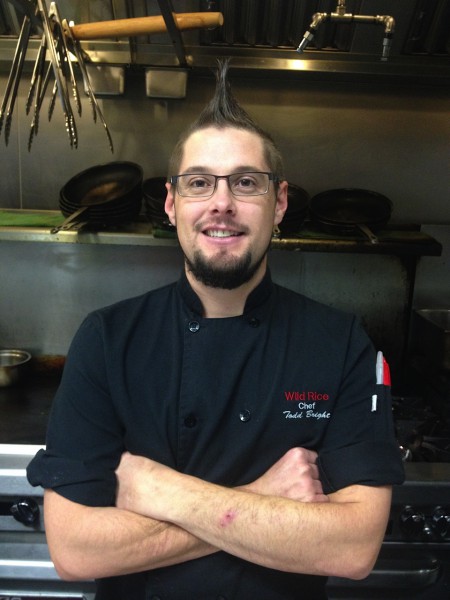 Todd Bright began his career at age 17 in Australia as an apprentice at Ming Jade Restaurant under Cantonese Chef Kevin Lowe. At the age of 22, he travelled widely through Europe, completing stages with many renowned restaurants and finally settling down as Sous Chef at a high-end gastro-pub in Oxford, England. Upon returning to Australia his valuable experience overseas led to a position at Vino's, the largest, and multi-award winning, fine-dining restaurant in Queensland, Australia. After seeing Europe, Todd was bit by the travel bug again and in the winter of 2007 ventured to Vancouver, Canada. His talents were immediately discovered by Wild Rice where, after one year, he rose to the position of Restaurant Chef. Chef Bright's menus reflect his passionate commitment to creating local and sustainable dishes while never compromising on flavor or creativity.
In April of 2009, Todd took a hiatus to learn about wine and winemaking in the Okanagan. While there he completed his intermediate certificate with WSET and worked with Cellar Art Wines where he assisted with wine-making as well as creating the food and wine pairings for the winery's tasting room.
Todd returned to Wild Rice as Executive Chef in January of 2010 where he immediately jumped into preparing special menus for Chinese New Year's and the Olympics.
John Henderson, restaurant critic for The Denver Post, wrote of Chef Bright's food in a February 2010 syndicated feature, "The menu is as visionary as the new China… I spent a month in China in 2008 and except for Peking duck in one Beijing dive, this seafood ravioli was the best Chinese dish I've ever had."
Also in 2010, Chef Bright became the first non-Asian finalist in the Chinese Restaurant Awards Chinese Restaurant Chef of the Year the competition. While he did not win or place, Chef Bright was honoured to included in this prestigious group of eight chefs and won many accolades from the older, traditional chefs for his dishes. "It was an amazing opportunity and I am so pleased to have been part of the competition. As a result, I now have a network of Chinese chef colleagues. "
In 2011, Chef Bright joined Wild Rice owner Andrew Wong as a business partner to open Wild Rice's second location in New Westminster's River Market. In 2014, Mr. Wong and Chef Todd closed their Vancouver location and to concentrate their efforts on the over-whelmingly successful New Westminster location. At the same time it was rebranded as Wild Rice Market Bistro.
Not bad for a gwei lo boy from Australia.
Wild Rice Market Bistro,  New Westminster:  122-810 Quay