South East Asian-Inspired Spot Prawn Dumplings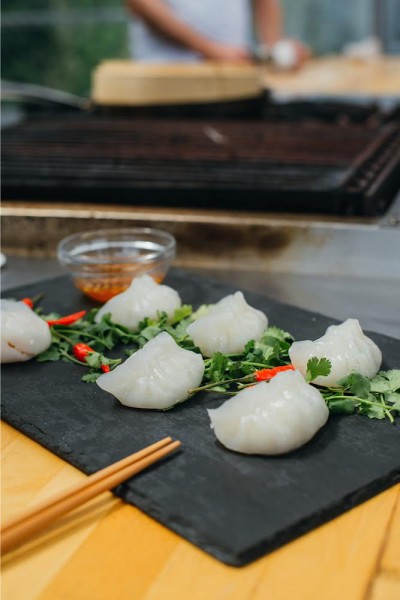 Ingredients
Dumpling Filling
1 lb live spot prawns
½ tsp ginger, minced
½ tsp garlic, minced
3 tbs coconut milk
½ piece Thai chilli
1 tsp palm sugar
3 tbs fish sauce
¼ tsp cornstarch
½ tsp cilantro stems, minced
½ tsp green onion, minced
¼ lime, zest and juice
salt and pepper (to taste)
Method
Mix coconut milk and palm sugar until sugar has dissolved, set aside. Remove heads from spot prawns and peel off shells, use heads and shells for another use. Puree 1/4 of prawns in a food processor to make a paste, put in a mixing bowl. Roughly chop the remaining prawns and put in the mixing bowl. Add the remaining ingredients to the prawns and mix thoroughly, adjust seasoning to taste. Keep mix in the refrigerator while you prepare the dough.
Dough
Ingredients
1 ½ cup wheat starch
1 tbs tapioca flour
¾ cup water
2 tsp vegetable oil
1 tsp salt
Method
Bring water to a boil. Mix dry ingredients in a bowl. Add boiled water and oil to dry ingredients and mix until a dough forms. Knead until smooth.
*dough can be kept overnight in the refrigerator, be sure to wrap well in plastic wra
*can also be mixed in a mixer with a hook attachment.
Sweet & Spicy Dipping Sauce (Nuoc Cham)
Ingredients
1 tbs fish sauce
1 tbs lime juice
1 thai chilli
1 tbs palm sugar
Method
Combine in a small mixing bowl and adjust ingredients to your desired level of salt/spice/sour/sweet.
Dumpling Assembly
Divide dough in half, set half aside. Roll dough into a log about 3cm in diameter. Cut dough into 10 even pieces (approx 15 g per piece). Keep dough pieces in saran while you make each dumpling. Press each dough disc flat with a tortilla press lined with plastic. *can be rolled with a small rolling pin/dowel to approximately 6 cm in diameter.
Put about 1 Tbs filling (20 gm) in the centre of each dumpling. Fold round in half press to seal. Dumplings can now be deep fried or steamed
Deep fry instructions: heat oil to 375F, fry until golden brown and cooked through
Steaming: Prepare a bamboo steamer, lined with parchment or a cabbage leaf.  Bring water to boil, put steamer on the pot and steam over medium heat for approximately 7-8 minutes, or until dumplings are cooked through.
Serve with the dipping sauce or a squeeze of lime juice, and garnish with cilantro.
Note: Store bought dumpling wrappers can be used if you do not want to make your own dough.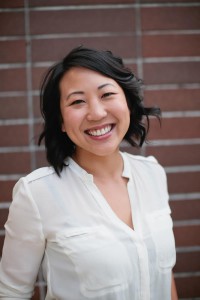 Chef Taryn Wa, Savoury Chef Foods Facebook: /SavouryChef | Twitter: @SavouryChef | Instagram: @SavouryChef | www.savourychef.com
As co-founder and culinary director of Savoury Chef Foods, Taryn Wa's abiding passion for food and commitment to culinary excellence is every bit as authentic as the enduring family recipe from which it's derived.
Born in Vancouver, Taryn found third-generation inspiration half a world away in South Africa's multicultural mosaic and further accentuated a palate already steeped in Asian tradition with subtle hints of Indian, British and Portuguese influences.
Since its inception in 2006, Savoury Chef has carved out a niche as one of Vancouver's premier catering and full-service event coordinators. Taryn and her staff have entertained an array of celebrities, royalty and two former U.S. Presidents, and acted as exclusive caterer to the Cirque Du Soleil tours in Vancouver as well as Canada Northern House during the 2010 Vancouver Olympics. Taryn won the People's Choice award for "Best Food" at Taste BC 2012 and both People's and Judge's Choice awards at the Chef's Table Society Curry Cup in 2014. She is also an active member of Les Dames d'Escoffier.