Vertical Wine Collection Now Available!
Now that we are all done pressing our 2019 reds in the cellar, we've had some time to compose our final exclusive Holiday offer!
We have been awaiting this release for several years now, and the time has finally arrived to share a special vertical collection of the very first wine we ever produced- our Menhir. This has been an outstanding Cabernet Sauvignon-Syrah blend since we began crafting wines from our first vineyard.
Each vintage is unique, and we've been cellaring these beauties in anticipation of one day releasing them for a "taste" of our history.
This is a piece of our heart and soul, captured in bottles that reveal our evolution as a brand, a family and as a business. 
This set comes in a beautiful custom engraved 6-bottle wooden gift box. Gift wrapping of individual bottles is available for $10 (just let us know if you'd like that option), and also be sure to add a gift message if this is for a special family member, friend or colleague. Included in this collector's set for $399 (taxes included) are the following wines-
2012 Menhir (93 cases crafted)
2013 Menhir (205 cases crafted)
2014 Menhir (195 cases crafted)
2015 Menhir (145 cases crafted)
2016 Menhir (270 cases crafted)
2017 Menhir (unreleased, 335 cases crafted)
We are accepting orders now, but will begin shipping on Monday, December 9th.
This offer is available on a "first come, first serve" basis, so we encourage you to place your order as soon as possible since we only have a limited amount.
Feel free to call us with any questions, special shipping instructions, or to simply place your order with us over the phone.
Click here to place your order now!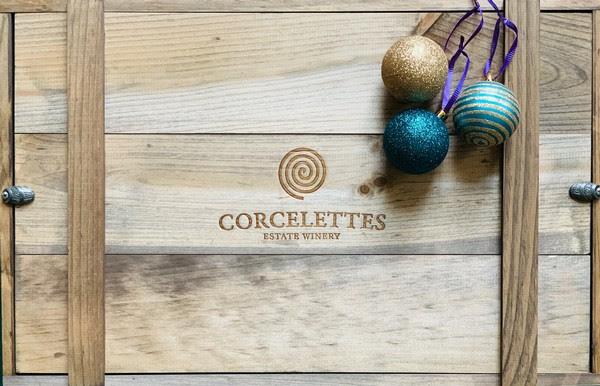 Wishing you a very Merry Christmas, Health and Happiness for the New Year to come!
Jesce Baessler and the Team at Corcelettes Estate Winery
*Due to the exclusive nature of these wines, should any be found as "corked" we have no way of replacing them. Should a corked wine be found, we ask that the wine be returned to the winery and a full refund will be offered. 
Information and images provided by Jesce Basessler, Corcelettes.
[wdi_feed id="2″]