WITH FRESH SNOW COMES FRESH EXPERIENCES AT FOUR SEASONS RESORT AND RESIDENCES WHISTLER
Four Seasons Resort and Residence Whistler has received a whole lot of snow, but snow isn't the only fresh thing to reach the Resort. Guests are invited to enjoy an array of new experiences that reflect the scenic mountain region of Whistler. From creative In-Room Dining menus to be enjoyed with alpine vistas to mountain-inspired treatments at The Spa and a wealth of après options from the team at SIDECUT Modern Steak + Bar, there are new activities to be found in every corner.
A Mountain of In-Room Dining Options
While the snow falls outside the window, guests can enjoy a number of premium dining experiences in front of the fire in the privacy of their own room or residence. From a collaborative menu inspired by memories of home to a magically appearing family-style meal, Four Seasons Resort Whistler is taking in-room dining to new heights.
A Collaborative Menu from the Four Seasons Culinary Team
Whistler lures guests and employees alike from far and wide, inspiring everyone with its vast beauty and sheer peaks. Nevertheless, for those that now call this dramatic region home, there are always reminiscent flavours from their homeland. Inspired by these memories, the creative kitchen team has launched a collaborative in-room dining menu, designed to transport tastes from all over world to the mountains. Guests can savour dishes such as Sajish's Indian butter chicken, Isabelle's warm maple blueberry crumble or Luis's huevos rancheros while surrounded by the Coast Mountain's stunning alpine scenery.
Chef de Partie Luis Alejandro Amaro Jimenez speaks of the flavours he remembers fondly: "More than making this dish, I like eating it. On a cold day, it is the sunshine to your morning, the ultimate comfort. Combining BC and Mexican produce means we can produce the best local taste with traditional flavour."
The in-room dining menu is made to be enjoyed overlooking snow covered pines from the room's bespoke window dining table with each design element of rooms and suites making the most of the Resort's remarkable alpine setting.
Eren's Supper
Exclusive to Four Seasons Whistler Private Retreats, this family-style meal is made to appear, as if by magic, following a day's activities on the mountain. Guests can select from a vegetarian chilli with rainbow tortilla chips, braised beef shortrib stew or Indian butter chicken with tomato. Accompanied by an array of sides and finished with lavish desserts such as the s'mores-inspired chocolate and marshmallow layered pot, this medley will refuel even the most adventurous guests. Ordered conveniently through the Four Seasons App, it truly makes relaxing post mountain effortless.
Wintery Wellness at The Spa
Be inspired by nature at The Spa at Four Seasons Resort Whistler, where elements of the mountains inspire luxurious treatments.
Maple and Stones
Presenting Maple and Stones, a seasonal treatment designed by The Spa's expert team to rejuvenate the body following an exhilarating day on the mountain. Using hand-made maple dowels and warmed basalt stones alongside spa-made essential oils of wintergreen black spruce, fir balsam and anti-inflammatory arnica lotion, this sport-style massage will soothe and warm the body.
A Mani-Pedi Patio
Introducing a newly renovated mani-pedi treatment room, featuring state-of-the-art equipment and covered relaxation patio, where guests of The Spa can now unwind pre and post treatment connected to the natural elements of Whistler. Watch snow blanke- thick pine tree branches while restfully curled up in the adjoining heated patio's cosy lounge area. The experience can be enjoyed as a group, bubbles in hand, or simply as time to oneself.
Après Feasts at SIDECUT Bar
The team at SIDECUT Bar take Après from East to West this winter season.
Blackcomb Mountain Après Tower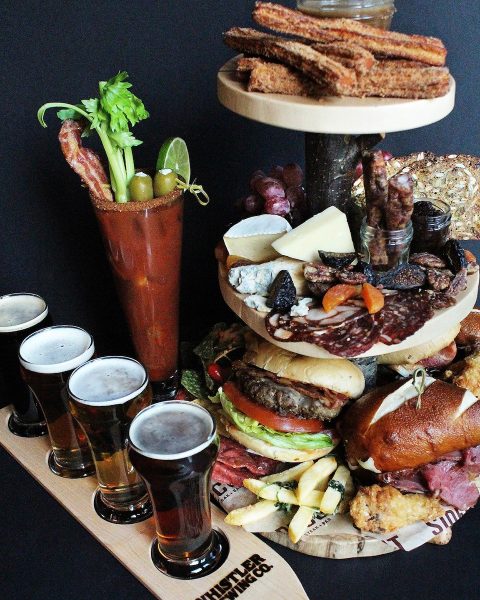 Executive Chef Eren Guryel's Blackcomb Mountain Après showcases the best of Canadian produce on a three-tiered, custo- built tower from Vancouver Island's Live Edge. Start with a base of North American comfort food favourites before moving up to a smorgasbord of farmstead cheeses and cured meats before finishing on a level of sweet treats. The feast for two comes with a choice of beer paddles or Caesars, so guests can can sample the best of British Columbia beer or try an infamously Canadian beverage.
Thali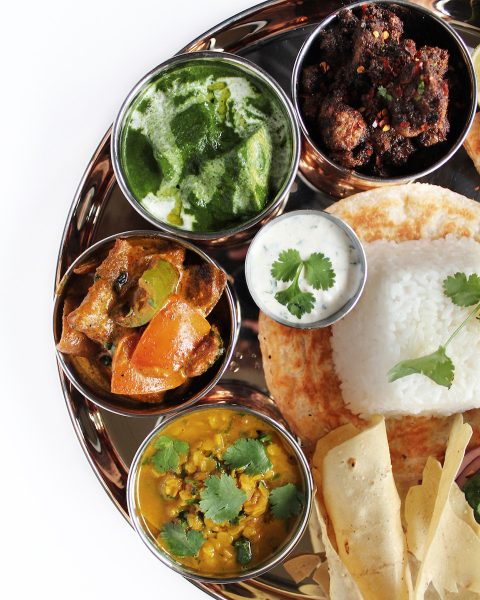 Executive Sous Chef Sajish Kumar brings an array of Eastern flavour to the alpine with his colourful thali. Taking guests on a tasting journey of India, this circular platter contains six unique dishes displaying their own identities, sensations and flavours at the forefront.
Speaking of his creation, Sajish says, "The word thali means 'plate.' It is basically a round platter that serves a selection of each regions favourite local dishes. I wanted to take this idea and creatively combine some if India's best dishes with the freshness and natural tastes of Canadian ingredients, which, of course is the backbone of SIDECUT."
Spirit of the Mountains Winter 20'  
In its third year, the Spirit of the Mountains cocktail program will be back with a Winter 20' collection. The introduction of four new cocktail will come in February adding further editions to the award-winning collaboration between Vancouver mixologist Lauren Mote and the expert bar team at SIDECUT Bar. It is worth staying tuned for the captivating cocktails to come.
A Forest-Inspired Arch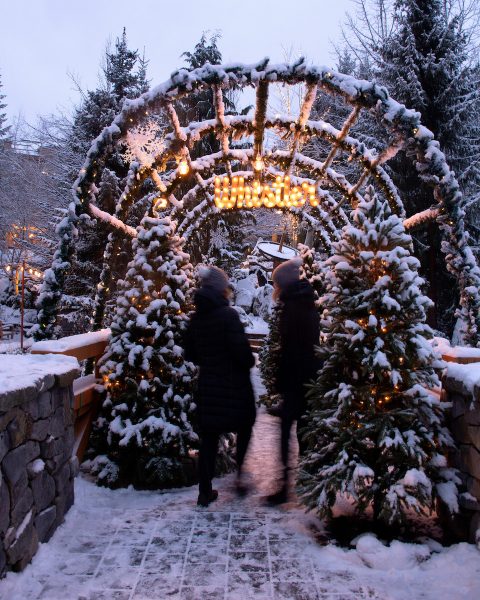 Make magical memories while heading through a Canadian forest of snow-covered pines and twinkling lights. Wander under the Whistler arch from Four Seasons Whistler to Blackcomb Mountain to discover the picture perfect place to capture special moments.
Celebrating winter, Four Seasons Resort Whistler is offering a fourth night free for any booking until April 6, 2020.  Discover the offer here.
Media release and images provided by Krista Lochhead, Colley Communications.
[wdi_feed id="2″]