You Can Get Mini Egg Ready-to-Eat Cookie Dough
It's safe to eat raw and available for a limited time
 from Well Seasoned
Back by popular demand, Well Seasoned Gourmet team is excited to be re-releasing their Mini Egg Ready to Eat Cookie Dough, just for Easter. Available from March 2nd – April 14th ONLY, for $6.99 each, and can be shipped anywhere in Canada.
Angie Quaale, owner of Well Seasoned, is here for the people. "It seems to be a resurgence," she says. "We launched in 2017 and people may remember how much buzz there was, so now I guess people want it back."
Pre-orders can be made online
now
and they will be ready to ship on Monday, March 2nd.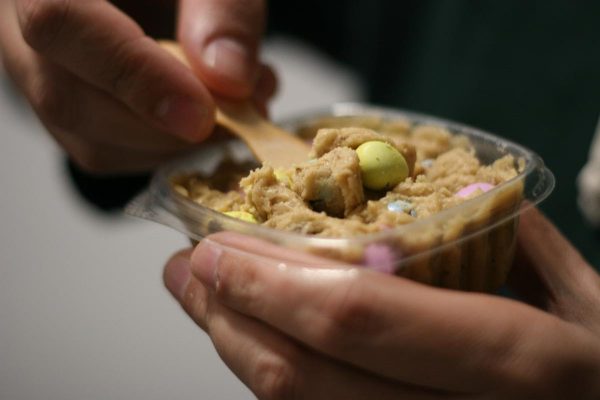 People who love it, LOVE IT!
"I've heard about cookie dough waffles, ice cream, adding it to breakfast cereal," says Angie. "BUT mostly I hear from people that eat it in the car on the way home and have actually turned around for another tub because they ate it all before they actually made it home!"
The 
ready-to-eat 
cookie dough is a classic chocolate chip dough with the addition of those seasonal mini eggs that everyone loves. Well Seasoned ready-to-eat cookie dough is made pasteurized ingredients, so you it is totally safe to eat, your only limitation is your sweet tooth!
This sweet treat doesn't actually bake into cookies, it is packaged in a single-serve container ($6.99 each) with a super handy wooden spoon. The cookie dough will last up to two weeks at room temperature, six weeks in the refrigerator, or up to one year in the freezer.
Maybe you don't live in Langley but you still want a fix for your next Netflix binge?  No problem. You can buy tubs of delicious dough online and have it delivered right to your door!  Shipping via Canada Post to anywhere in Canada means cookie dough is at your fingertips!
Better hurry though! These sweet spoonfuls of yum are only here for Easter.
Well Seasoned is located at #117-20353 64 Ave and is open Monday to Saturday 9 – 6 and Sunday from 10 -5. Or, you can order the Mini Egg Ready-to-Eat Cookie Dough online 
here
.
About Well Seasoned 
Well Seasoned, owned by Angie Quaale, is a Langley-based gourmet cooking school and food store specializing in international and local hard-to-find specialty ingredients, spices, cookware, and condiments.
With a passion for fine food, Well Seasoned is a food lover's one-stop paradise for fresh culinary delights featuring local artisan producers, weekly in-store cooking classes with renowned chefs, educational seminars, and insights into the most cutting-edge food trends and products. Well Seasoned's 
website
 also offers weekly new recipes for every home cook.
For more information on Well Seasoned, please visit 
wellseasoned.ca
, or call 604-530-1518.
Media release and images provided by Giiulia Sa Barreto, Town Hall Brands
[wdi_feed id="2″]