Hello to ALL!
Canada National #TakeOutDay is Wednesdays!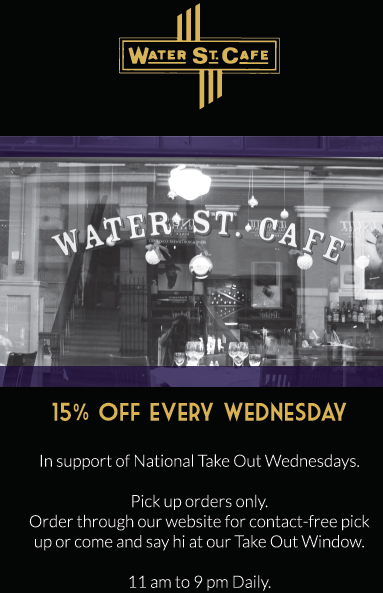 We hope this message finds you well, safe, healthy and in the company of loved ones. Your Café is always moving forward with new efforts to survive the business hardship of COVID 19 and thank you for your support. Thank you for your ongoing support for us and all local family owned and operated businesses.
In support of National #TakeOutDay your Cafe well be offering 15% OFF all food, beer, wine and beverages for our contact-free Take Out service ordered directly from our TakeOut Window or from our Webpage.
DISCOUNT ORDER CODE: TAKEOUTDAY
Please know…you are appreciated.
We look forward to hosting you for in-room dining as soon as we are able.
For many more ongoing promotions including our Brunch Box for 2 please visit our website.
Water St. Cafe
The 2nd Floor Gastown
 Share the love: #TakeOutDay  #waterstreetcafe  #2ndfloorgastown
For more information on the Canadian National Take out Day and how to support CLICK HERE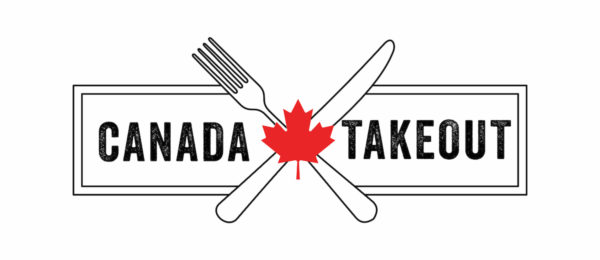 To Go Orders
Prepaid pickup for parties of 1-20

Water St. Cafe in your Home

A la Carte To Go Brunch, Lunch and Dinner 7 Days a week from 11:00 am to 9:00 pm! Enjoy your favorit Water St. Classics in the comfort of your home.

Dinner for 2 – April 16th, 17th, 18th

Roasted Rack of Lamb
-New Zealand grass-fed 6 bone rack of lamb, rosemary dijon mustard, salsa verde, served medium.
Spaghetti Pomodoro
– Roasted roma tomatoes, baby heirloom tomatoes, garlic…

Prepaid pickup for parties of 2
Vegetarian Brunch Box for 2!
Back By Popular Demand! Brunch Box for 2 served Saturday and Sunday weekly!
As we all do our part during this time to ensure our family and community safety, we can still enjoy the Vancouver…
Prepaid pickup for parties of 2

$50

package fee
Water St. Cafe
300 Water Street Vancouver, BC V6B 1B6
(604) 689-2832