Great meals from OpenTable restaurants can help battle the winter blues
Blue Monday (January 20th) is just around the corner. Combat the winter blues with some local mood-boosting meals from OpenTable restaurants for delivery through Uber Eats.
The holidays have come and gone and now Canadians are bracing for "Blue Monday" on January 20th – recognized as the saddest day of the year – with a long, cold winter to follow.
During these winter months, it's common to notice a shift in mood. In fact, about 15 per cent of Canadians are affected by the "winter blues", which can involve changes in energy, appetite and overall mental health1.
The good news is that there are ways to remedy these symptoms, and a healthy diet is one of them. Research has linked a healthy diet – including a high intake of fruits, vegetables, whole grains, fish – to a range of health benefits.
To help Vancouver residents combat the winter blues and start 2020 on the right track, OpenTable is sharing some of the local restaurants that offer nutritious, mood-boosting meals right from its site and available for Uber Eats delivery. Vancouver residents can enjoy high-quality, healthy meal options from the comfort of their home or office on even the dreariest of days.
Below are some Vancouver restaurants with healthy meal options available on OpenTable:
We're all about dining out, but we know that even die-hard diners have moments when they're craving the comforts of home and a great meal. So, we're thrilled to announce that OpenTable has integrated with Uber Eats to offer delivery and pick-up options at select restaurants in more than 10 metros, including Calgary, Edmonton, Montreal/Quebec, Ottawa, Saskatoon, Toronto, Vancouver, and Winnepeg, on OpenTable's newly updated iOS and Android apps. Plus, if you act now, you can enjoy 20% off your next 5 orders with Uber Eats delivery when you use the promo code 20off5eats (offer expires at 11:55PM EST on 10/21/2019).*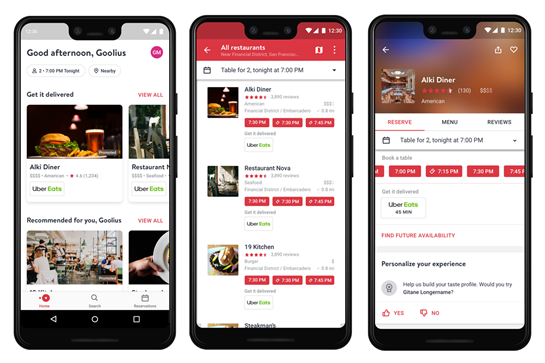 In the mood for the calamari from Moxie's Grillades et Bar in Montreal? Or the gnocchi from Cibo Wine Bar in Toronto? How about the butter chicken from Sula Indian in Vancouver?
Whether you're looking for a night out with friends or you want to relax at home, you can use OpenTable to make reservations or to select from multiple delivery providers to order these and other dishes at restaurants near you in a few simple taps.
To find restaurants for delivery, look for the "Get it delivered" carousel on the homescreen, or find restaurants with the UberEats logo on search results and select restaurant profile pages. When you choose the delivery option from our app, you'll be directed to UberEats to place your order and complete the transaction. Please note that delivery options will only be shown in metros where OpenTable and UberEats have overlapping restaurant partners.
And, you can now get more relevant, personalized options to help you find the right restaurant when you download the latest version of the redesigned OpenTable iOS and Android apps. The new homescreen provides dynamic, data-backed recommendations just for you based on past bookings, favorites, and more to provide a personalized in-app experience. Plus, you can help the app get to know you even better by voting restaurants up or down to improve recommendations and make the app smarter over time. To try it out, download the latest version of the app in the App Store or Google Play.
Let us know your experience with delivery on OpenTable here in the comments or over on Facebook, Instagram, Pinterest, or Twitter. Also, remember to snap + share your pics with us on Instagram using #MyOpenTable for a chance to win in our monthly giveaway.
* Disclaimer: Offer expires at 11:55PM EST on 10/21/2019. The offer is valid for up to 20% off your next 5 orders while supplies last. Taxes and a 10% Service Fee still apply. A Small Order Fee of $2 applies to orders under $12. You must apply the promo code in the app before completing your order. Offer may not be combined with other offers. See the Uber Eats app for details.
1 https://mindyourmind.ca/illnesses/seasonal-affective-disorder
Media release provided by Sherline Joe, Media Profile.
[wdi_feed id="2″]