Okanagan Falls is truly the Heart of Wine Country and perhaps one of the jewels in the crown would have to be Liquidity Winery.
With never ending vistas and one of the most artsy tasting rooms anywhere this is one winery you want to be sure to visit this year.
Guests at Liquidity Winery, located in Okanagan Falls, can enjoy stunning views and eclectic artwork during three different tasting experiences, including a "Wine & Wander," walking tour of the Estate vineyard with a focus on sustainability.
A Taste of Okanagan Falls
A FLAWLESS VINEYARD AND WINE EXPERIENCE
Reserve your seat and enjoy a guided flight of five of our single varietal wines from Okanagan Falls. This experience is the best way to take in the views of the southern valley while discovering the quality and craftsmanship behind Liquidity wines.
$20 PER GUEST
Time: 45 minutes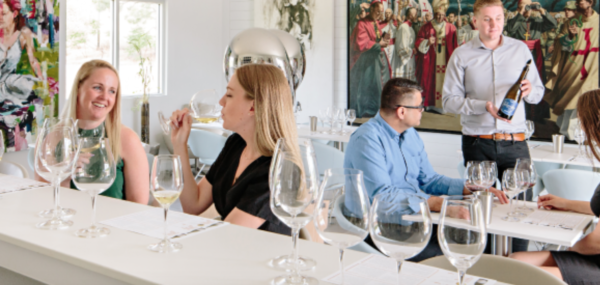 A Taste of the Classics
TASTE OF OUR AWARD-WINNING LIBRARY WINES
Designed for both the connoisseur and the curious, our Taste of the Classics is a chance to discover our library of award-winning wines through a guided, vertical tasting. This tasting includes six signature library wines including our 2017 Chardonnay and 2014 Pinot Noir. Reservations highly recommended.
$35 PER GUEST
Time: 60 minutes

WINE & WANDER
A WALKING TOUR OF THE ESTATE VINEYARD WITH A FOCUS ON SUSTAINABILITY AND VINEYARD CARE
Not all who wander are lost! Roaming between the rows of the Liquidity's Vineyards is perhaps the best way to get a sense of our mindful and holistic approach to viticulture and the quality of the Okanagan Falls terroir. Add this guided adventure to any Liquidity Winery Experience and discover what makes Okanagan Falls such a unique microclimate and world-class grape growing region.
COMING SOON – $15 PER GUEST
Time: 30 minutes
Our doors are open! For your safety, our experiences must be booked in advance.
Welcome to Liquidity Winery in Okanagan Falls
Located in the heart of Okanagan Falls, Liquidity Winery is the intersection  of two distinct growing regions. Our stunning wines, spectacular views, and collection of artwork make for a fresh and approachable experience.
CREATING INTERNATIONAL AWARD WINNING WINES FOR MORE THAN 20 YEARS
We're accepting reservations now for our exciting, new estate experiences.
Reservations required, these experiences will sell out quickly so please contact us at the winery to book your experience. (Maximum group size 6)
Discover more at liquiditywines.com.
Media release and images provided by Morgan Sommerville, Serena PR.