We love it at Road 13! Great spot with friendly, knowledgable folks making a visit all about you and their wines. Always one of our favourite places to stop and with all these "new normal" activities we think you've going to love it!
Be sure to book ahead.
Reimagined summer tastings and tours + culinary experiences
Every tasting experience has been tailored to showcase what makes the winery shine. Guests can tour the cellars and vineyards, learn about the terroir, and enjoy thoughtful food pairings, all while raising a glass to summer in the Okanagan at the winery (available by reservation):
Road 13 Vineyards, located in Oliver, it's "all about the dirt."  Here, guests can enjoy two different seated wine tastings (with the option to add a charcuterie board to the experience). Plus, check out the "Dog Days" tastings (Tuesdays only), featuring gourmet organic hot dogs alongside your wines.
EXPERIENCE ROAD 13 VINEYARDS
At Road 13, it's 'all about the dirt' and this menu of seated wine tastings and vineyard experiences is your chance to dig right in. Seating is limited so choose your own adventure and save yourself a seat. We can't wait to give you a taste of this magic place.
GOLDEN MILE TASTING // $25 PER GUEST
AN IDEAL EXPERIENCE FOR ANY WINE LOVER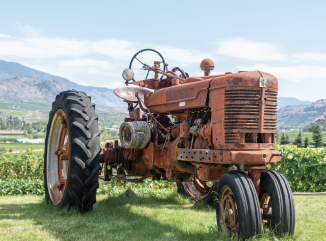 Take a behind-the-scenes tour of the Road 13 winery and get to taste the fruits of our labour. This tasting kicks off with a tour of our cellar followed by a seated tasting of our five most notable wines. Service with a smile and a million-dollar view, guaranteed.
Time: 60 minutes
Add a charcuterie board // $28
Club 13 Members have access to 6 complimentary tastings annually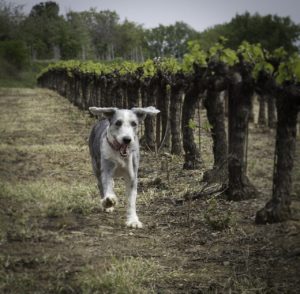 DOG DAYS // $28 PER GUEST
TUESDAYS ONLY
Join us from 11:00am – 4:00pm on Tuesdays and enjoy a gourmet hotdog alongside a taste of our award-winning wines.Freshly baked buns, organic beef, and seasonal toppings are a perfect match for our award-winning, South Okanagan wines and sunshine.
FIELD DAY TASTING // $25 PER GUEST
AN OUTDOOR TASTING WITH A FARM FOCUS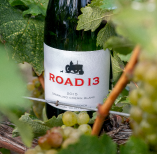 If you know Road 13 Vineyards, you know it's all about the dirt. Discover firsthand how we farm one-vine-at-a-time on a guided walk through our estate vineyard – home to some of the oldest vines in Canada. This walk is followed by a seated wine tasting of four estate wines in our courtyard, located on the vineyard's edge.
Time: 60 minutes
Add a charcuterie board // $28
Road 13's wine making philosophy is to grow great fruit in the vineyard, maintain this fruit character through careful steps in the wine making, and finally, to perfect the texture of the mouthfeel of the wine with the use (or not) of barrels and fining.
Great wines are grown in the vineyard, period. Grapes brought in from the vineyard at a certain level of quality cannot be made into a higher quality wine. Thus, we use good growing practices and low cropping yields to ensure that the vines and fruits receive the correct amount of sunshine, water and nutrients to put them in a position to make great wine.
We like to use oak barrels. All reds and certain whites are aged in oak barrels for varying lengths of time, looking for the perfect balance between fruit intensity and oak extraction. While the taste and effect of oak barrel aging are pleasing, they should never dominate the fruit flavour of the wine but rather complement it.
The final blend is painstakingly arrived at, whether it is several lots of Chardonnay to make a varietal Chardonnay wine, or Cabernet Sauvignon, Merlot and Cabernet Franc lots to make a blended red wine. As all grape lots that are received at the winery are kept separate thoughout their processing and ageing, there are many blending options available to make a wine that is much greater than the sum of its parts. Blending is primarily about bringing complexity; it's about building layers. A single varietal wine can present itself louder, but do you hear the trumpet or do you hear the symphony?
Discover more at road13vineyards.com. 
Media release and images provided by Morgan Sommerville, Serena PR.