Vancouver Restaurateur Launches 50/50 Plant-and-Meat-Blended Food Company, Holy Cow!
Paul Rivas, owner of popular Vancouver food spots including The Parlour and Bodega on Main, launches Holy Cow! to cater to a growing demand for 50/50 transitional foods
Holy Cow!, the leader in 50/50 plant-and-meat-blended foods, announces its official launch. Holy Cow! products are available in select stores across the Lower Mainland and Vancouver Island, including City Market and Stong's in North Vancouver. Holy Cow! products meet a growing demand for 50/50 transitional foods as British Columbians aim to reduce their meat consumption for health and environmental benefits, without sacrificing taste or flavour.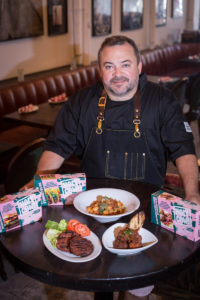 "Holy Cow! is for anyone who wants to reduce their meat consumption to reap the benefits of a plant-based diet, but doesn't want to give up meat entirely," said Paul Rivas, Co-Founder and President of Holy Cow!. "Most plant-based meat alternatives are filled with chemicals to boost the flavour. Holy Cow! has a naturally rich flavour from locally-sourced meat, so we don't use any enhancements from chemicals or preservatives. My rule of thumb is if you can't pronounce it, then you shouldn't be eating it, and that's exactly what we've stuck to with Holy Cow!."
Rivas is a celebrated Canadian restaurateur, whose legacy includes world-renowned restaurants such as The Parlour, Bodega on Main, Gran Reserva and Cold Tea Restaurant. At an early age, Rivas became a fixture at his father's iconic restaurant, La Bodega, where he gained exposure to fresh ingredients, complex flavours, and his father's love for hospitality. In 2013, Rivas launched The Parlour restaurants in Vancouver and Toronto, which quickly became a popular late night staple. In 2015, Rivas built upon a celebrated family legacy by developing the La Bodega concept into the critically acclaimed and widely awarded Bodega on Main. More recently, Rivas opened Gran Reserva, a staple on Main Street, and pan-Asian eatery, Cold Tea Restaurant on Granville, which has a large following for its all-day dim sum. Rivas' lifelong passion for excellence in quality and flavour is the driving force behind the entire Holy Cow! line of products.
Upon launch, products available from Holy Cow! include a 50/50 crumble, 50/50 burger patties, and 50/50 meatballs. All Holy Cow! products are gluten-friendly and soy-free. Holy Cow! uses locally sourced all-Canadian meats and does not use any chemicals or preservatives, unlike the majority of meat alternatives, making them a healthy alternative to meat and other meat substitutes.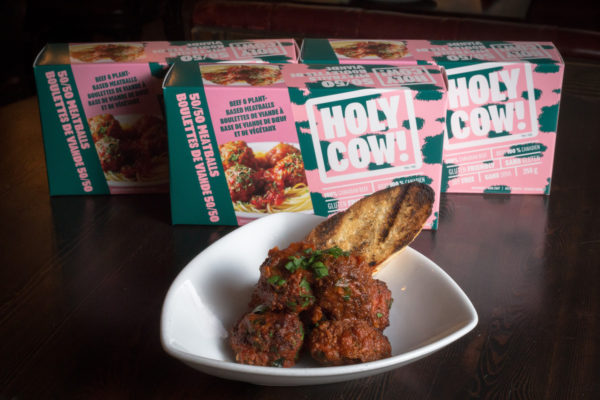 For more information and for a full list of store locations, visit originalholycow.com..
About Holy Cow!
Holy Cow! makes delicious and healthy 100% plant-based and 50/50 plant-and-meat-blended foods that satisfy any appetite, whether it be for a plant-based diet or transitioning to reduce meat consumption. Holy Cow! uses natural, locally-sourced meat, blending high-quality animal proteins with plant-based deliciousness for 50/50 transitional offerings, and a great-tasting way to improve human health and the future of our planet.
Media release and images provided by Meredith Blok, Talk Shop Media.