For nearly two decades, the return of pumpkin at Starbucks has signaled the start of the fall season and inspired a cultural phenomenon around fall flavours and products. Starting Tuesday, August 24, pumpkin returns to Starbucks stores across Canada and the U.S., including the favourite fall duo, Pumpkin Spice Latte and Pumpkin Cream Cold Brew, in addition to seasonal fall bakery items: the Pumpkin Cream Cheese Muffin, Pumpkin Loaf and Pumpkin Scone.
P.S. Starbucks will also be announcing a NEW beverage coming to its fall menu this year. Stay tuned for more details coming soon!
Starbucks Brings Back its Fall Favourites
The Pumpkin Duo is Back
Pumpkin Spice Latte
Made with real pumpkin, the handcrafted beverage combines our signature espresso and steamed milk with the celebrated flavour combination of pumpkin, cinnamon, nutmeg and clove. Enjoy it hot or iced, topped with whipped cream and real pumpkin pie spices.
Pumpkin Cream Cold Brew
Returning to the menu for a third year, the Pumpkin Cream Cold Brew is crafted with Starbucks® Cold Brew, sweetened with vanilla syrup, topped with a pumpkin cream cold foam, and dusted with pumpkin spice topping.
Pumpkin Scone
A spiced pumpkin scone topped with sweet icing—a marvelously flavourful fall treat.
A Slice of Fall Feels

Pumpkin Cream Cheese Muffin
This moist, perfectly spiced pumpkin muffin—topped with a sweet cream cheese filling and a sprinkling of chopped, spiced pepitas—offers a delightful balance of salty and sweet.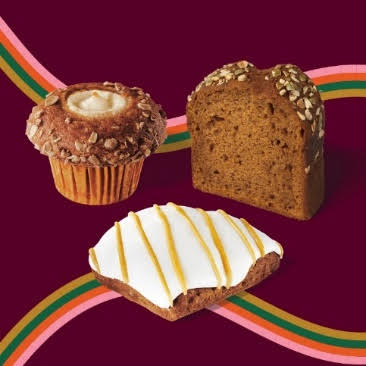 Pumpkin Loaf
This gently spiced bread with pumpkin flavours and pepitas gives you a tasty way to celebrate a seasonal favourite.
Fall in Love with Fall-At-Home
Starbucks Coffee Enhancers
Starbucks seasonal flavours can also be enjoyed at home with the new Starbucks® Pumpkin Spice Coffee Enhancer, and the return of limited-edition fall coffees where groceries are sold nationwide, including: Starbucks® Pumpkin Spice Flavoured Ground Coffee K-Cup® Pods; Starbucks® VIA® Instant® Pumpkin Spice Latte; Starbucks® Cinnamon Dolce Flavoured Ground Coffee K-Cup® Pods; and Starbucks® Maple Pecan Flavoured Ground Coffee.
There are several convenient ways to enjoy Starbucks new fall menu line-up, including using the Starbucks app to order ahead and pick-up options in-store, and at drive-thru. Those looking for Starbucks without leaving home can place an order for delivery via Uber Eats (check the Uber Eats app for availability and restrictions). For more information on Starbucks menu, visit here. The Starbucks Fall menu is available in stores while supplies last.
In addition to making it easy for customers to enjoy their fall favourites, Starbucks is celebrating the season of pumpkin craze with its new Pumpkin Love O' Meter, a fun and quirky digital pumpkin personality quiz that invites Starbucks customers to find out just how much of a pumpkin lover they really are. Take the quiz and share your results on Facebook, Instagram and Twitter.
Media release and images provided by Dane Gergovich, Media Profile.