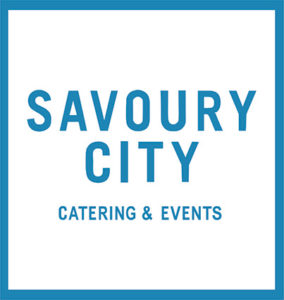 SAVOURY CITY CATERING ANNOUNCES SIGNATURE 'TURKEY TO-GO' PACKAGE AND TOURTIÈRES FOR HOLIDAY SEASON
Vancouver Caterer Opens Orders for 'Heat and Eat' Holiday Feast Available for Pick-Up December 23 and December 24
Award-winning Vancouver caterer Savoury City Catering is taking the stress out of the holidays with a gourmet Turkey To-Go dinner package available for pick-up on Thursday, December 23 and Friday, December 24.
The most sophisticated take-home holiday package Savoury City has ever offered, the Turkey To-Go spread features a selection of chef-prepared holiday favourites, perfect for sharing with friends, family and holiday guests. Celebrate being able to once again gather with your nearest and dearest this holiday season with a pre-carved Slow-Roasted Turkey, brined with herbs and lemon, and sides including Roasted Garlic Mashed Potatoes, Classic Herb Stuffing, Green Bean Almondine and more, finished with an abundant selection of seasonal sweet treats, squares and cookies. All items are conveniently packaged in oven-safe containers and come with simple heating instructions for effortless preparation and minimal clean-up.
Designed to feed gatherings of up to six, Savoury City's Turkey To-Go holiday dinners are priced at $275 and will be available to pick-up at the caterer's East Vancouver headquarters (3925 Fraser Street) on December 23 and December 24 from 9 a.m. to 3 p.m. Traditional Québecois Tourtières are also available to order fresh or frozen for pick up from December 20 until December 24 to ensure you and your family are well-fed even on the busiest of days.
HOLIDAY TURKEY TO-GO MENU
$275 | Serves six
Includes heating instructions for all dishes
Herb & Lemon Brined, Slow-Roasted Turkey
Fresh and juicy, herb lemon-brined, slow-roasted boneless turkey
(white and dark meat)
Classic Herb Stuffing
Artisan bread stuffing with roasted vegetables, caramelized squash, toasted pumpkin seeds, fresh herbs and butter
Roasted Garlic Mashed Potatoes
Mashed Yukon Gold potatoes with roasted garlic, butter and chives
Green Bean Almondine
Green beans with toasted almonds and brown butter
Roasted Local Carrots
Roasted baby carrots with orange, brown sugar and butter glaze, served with red wine macerated figs
Gougères
Baked savoury choux pastry filled with parsnip, sweet potato, white cheddar and thyme
Sauces
Traditional turkey gravy
Housemade cranberry chutney
Dessert
Assorted holiday confections, sweets, shortbreads, tarts and truffles
HOLIDAY TOURTIÈRE PIE
$45 | Serves six
Available fresh or frozen
Double-crusted, classic French Canadian pie made with ground pork, potatoes, onions and spices
HOW TO ORDER
Savoury City's signature Turkey To-Go Package and Holiday Tourtière Pie can be pre-ordered now at savourycity.com/holiday-packages. Tourtières will be available for pick-up starting on December 20 until December 24 from 9 a.m. to 3 p.m. while Turkey To-Go Packages will be available for pick-up on December 23 and December 24 from 9 a.m. to 3 p.m. at 3925 Fraser Street. As quantities are limited, all Turkey To-Go orders must be placed before the cut-off deadline on Monday, December 20 at 4 p.m.
For more information on Savoury City Catering, go to savourycity.com, become a fan of /SavouryCity on Facebook or follow @savourycity on Instagram and @SavouryCity on Twitter.
ABOUT SAVOURY CITY CATERING | Founded in 2003 by food philosopher and farm-to-table advocate Donna Wadsworth, Savoury City Catering has built a reputation as one of the Lower Mainland's leading catering companies by designing bespoke event menus and unforgettable culinary experiences that embody a sense of relaxed elegance. Savoury City's experienced hospitality professionals work one on one with clients to deliver personalized and custom catering services for weddings, corporate engagements and social occasions of all styles and sizes. From refined multi-course plated dinners to relaxed family-style BBQs, Savoury City's tailor-made menus showcase the highest-quality, chef-driven cuisine with a focus on seasonal ingredients sourced from local farms and producers. Food is Savoury City's passion. Vancouver is its city. | www.savourycity.com
3925 Fraser St., Vancouver BC V5T 4E5 | 604-875-8484
Facebook: /SavouryCity | Instagram: @savourycity | Twitter: @SavouryCity
Media release and images provided by Allie Darwin, SMC Communications Inc.