'TIS THE SEASON TO EAT CHICKEN! FA LA LA LA LA…
Vancouver's Freebird Chicken and New Westminster's Longtail Kitchen
announce take-home festive roast chicken meals for the holidays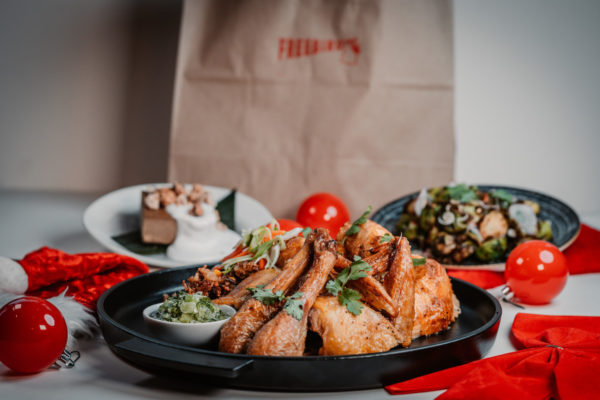 This holiday season, take home Southeast-Asian style roast chicken from two of Chef Angus An's casual eateries: Freebird at Home by Maenam (Kitsilano) and Longtail Kitchen (New Westminster).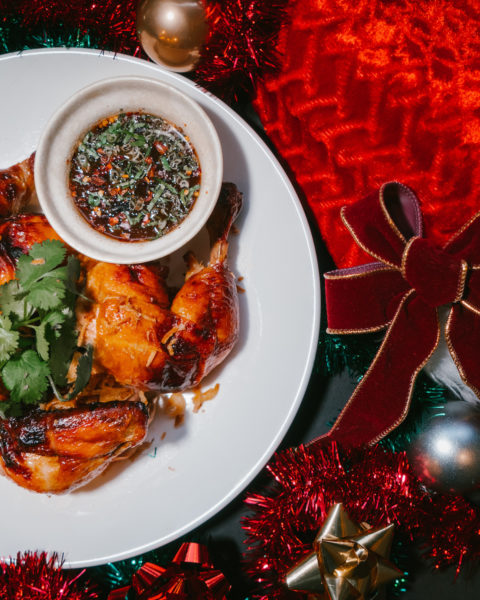 Longtail Kitchen's Holiday Rotisserie Chicken
Exclusively available for the holiday season, Longtail Kitchen is offering a slow-roasted Farmcrest chicken marinated in coconut cream, fish sauce and palm sugar. Inspired by the flavours of her home country, Longtail's head chef and restaurant manager Bonnie Khummuang is excited to share a taste of Thailand for Christmas. Guests can take home a whole chicken with a side of nam jim jaew dipping sauce for $32, or make it a set meal of a half chicken with rice, house-pickled carrots and daikon, and fresh cucumber and lettuce for $18.
On the menu from December 18 through December 24 only, Longtail's Holiday Rotisserie Chicken is available for dine-in and takeout, and can be preordered by calling 604 553 3855; 24 hours' advance notice is strongly encouraged. Takeout orders can be picked up at Longtail Kitchen, 116-810 Quayside Drive, New Westminster.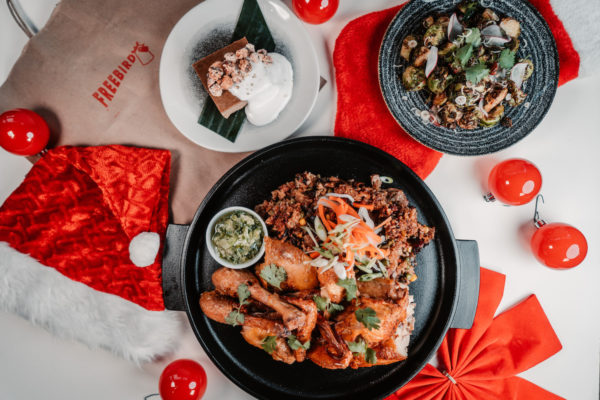 Freebird's Festive Feast
Freebird at Home by Maenam spices up the season with its exclusive takeout Festive Feast, available Tuesday through Saturday from December 7 through 31*. Freebird's holiday meal set provides at-home comfort and joy with a whole Asian-style salt-cured roast chicken, crispy sticky rice made with chicken drippings and other delicious seasonal fixins, fried Brussels sprout salad, and hazelnut Mor Kaeng custard for dessert.
Priced at $70, Freebird at Home by Maenam's Festive Feasts feeds two to three people and must be preordered by calling 604-730-5675 with a minimum of 24 hours' advance notice. All takeout orders can be picked up at Maenam (1938 West 4th Avenue).
*Please note that Maenam will be closed for the holidays from Dec 24-27 and Jan. 1.
About Chef Angus An
Chef Angus An is one of Vancouver's most influential chef-restaurateurs, with a slate of seven restaurants and eateries in his restaurant family: Fat Mao Noodles, Freebird Chicken Shack, Longtail Kitchen, Maenam, Popina Canteen, Popina Cantina, and Sen Pad Thai. Chef Angus's flagship restaurant, Maenam, has received many local and international accolades, among them 2016 Restaurant of the Year (Vancouver magazine) and 2018's Top 25 Restaurants in Canada (En Route magazine), as well as being named one of Zagat's Top 200 restaurants in the world. Chef Angus has also been honoured with two prestigious invitations to showcase his cooking at world-renowned James Beard House.
In May 2020, Chef Angus published his first cookbook, Maenam: A Fresh Approach to Thai Cooking. A flavour-driven chef, Angus creates dishes that are rooted in impeccable technique. His combined fine-arts and French culinary training give him a unique perspective on cooking as a balance of art and science, resulting in recipes that seamlessly blend tradition, innovation, and presentation.
For more information visit chefangusan.com or follow him on Instagram @chefangusan. .
Media release and images provided by Katharine Manson, Katharine Manson Communications Feature image: Photo Octane Collective