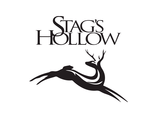 Valentine's Day is just around the corner, give the gift of wine and let Stag's Hollow take care of the rest.
Stag's Hollow is offering a couple of different SHIPPING SPECIALS on orders of six bottles or more through Tuesday, February 4th, 2022.
Because Valentine's falls on a Monday this year we want to make sure everyone receives their wines in time so order before February 1st to ensure delivery!
Just a reminder that shipping boxes are for increments of 6 bottles, so overall orders must be for 6, 12, 18, etc. For shipping addresses in BC or Alberta there is a limited flat rate of $10 and for other provinces to the east the limited flat rate is $25. The special discounted shipping rates will automatically be applied at checkout.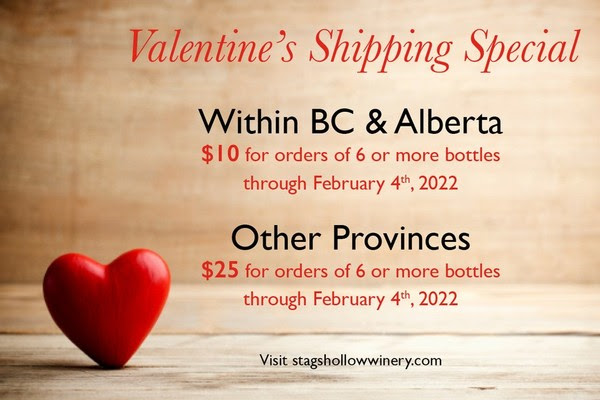 Galentine's 6-Pack
For those of you who may not be familiar with the term "Galentine's", it is a celebration of friendship on February 13th. It's a time to pamper yourselves and enjoy some time together (either in-person or via Zoom) over brunch, some wine and cheese, sharing stories and laughter!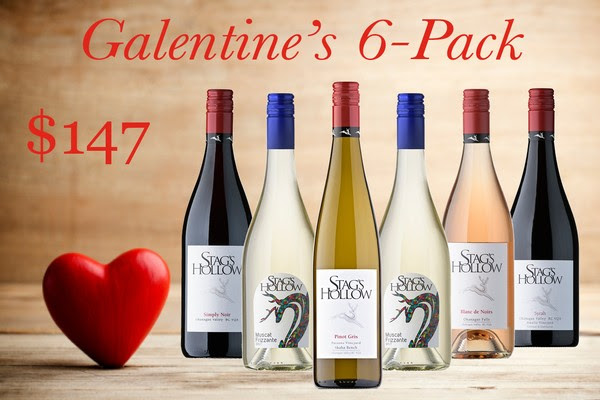 Our Galentine's Pack is $147 (+ tax and deposit) and contains two bottles of our 2019 Muscat Frizzante (the ultimate breakfast wine) and a bottle each of our almost sold out 2020 Blanc de Noirs, 2020 Pinot Gris, 2019 Simply Noir, and 2019 Syrah.
Roses are Red. So is WINE!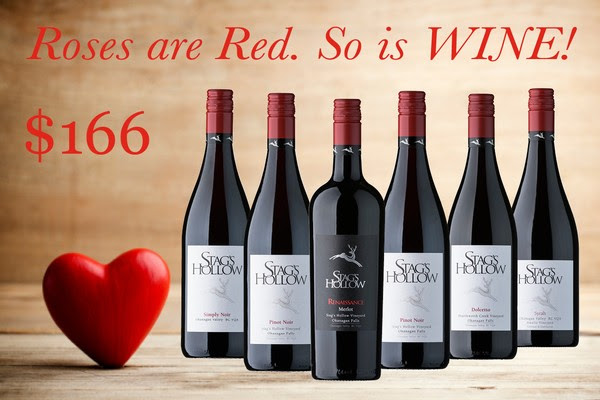 The "Roses are Red. So is Wine" Pack is $166 (+ tax and deposit) contains one bottle of each of some of our favourite red wines: 2019 Simply Noir, 2015 Hest Vineyard Pinot Project Pinot Noir, 2015 Kozier Vineyard Pinot Project Pinot Noir, 2019 Syrah, 2019 Renaissance Merlot and 2018 Dolcetto. Perfect for sipping with some charcuterie, a special roast dinner or even some dark chocolate.
Although this is a quieter time at the winery in terms of customers through the door (we are still open for sales Monday through Friday from noon to 4pm by appointment), we are busy with all of our planning for the year and vintage ahead. Winemaker Keira is getting everything lined up to bottle the new 2021 whites along with some of the 2020 reds. Stay tuned for some exciting new things that will be coming out this year!
If you are shipping any of these as gifts, please include a gift message within your order and we are happy to include a card with your message in the box.
Information and images courtesy of the winery.