SAVE THE DATE MAY 6TH
We are excited to announce that our annual Mother's Day Luncheon is back! We have missed seeing you all in person and look forward to celebrating motherhood in a brand new venue, while enjoying a beautiful meal and raising money to empower single mothers in our own community.
Visit the pop-up shop from our Presenting Sponsor, Blue Ruby Jewellery, and shop our biggest selection ever of gifts that give back – for all of the mothers in your lives (yes, including yourself!) Keep an eye out for future newsletters, and follow our social media channels for more details about what is going to be a very special day!
DATE: Friday, May 6th
TIME: 11:30am – 2:30pm
PLACE: The A-OK Commissary, 611 Alexander Street
Tickets will go on sale in April. Save the date and we'll see you there!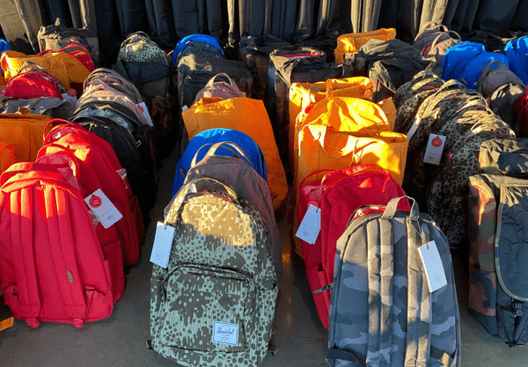 CARING CORNER
Vancouver-based Herschel Supply Co. has been a generous supporter of our Holiday Care Package Drive for the last two years, providing 2,200 brand new backpacks to families in need so far. These backpacks have been an amazing addition to our holiday hampers – a useful, practical (and stylish) bag filled with much-needed gifts – and representing hope and a bright spot for single mothers and their children over the holidays and beyond. Cause We Care is proud to partner with this locally based company, whose generosity and commitment to giving back has made a world of difference to single mother-led families in our community.
We sat down with Co-Founder Lyndon Cormack to find out why giving back to our community is such a big part of what they do. Here's a sneak peek:
Q. Herschel has been an instrumental partner for the Cause We Care Holiday Care Package Drive the past two years, donating 2200 backpacks to single mother-led families. Why did you decide to partner with Cause We Care on this initiative?
A. While our corporate impact programs are centred around creative education, we recognize that there are other important causes that deserve attention in the community. We're fortunate to be in a position to support the amazing work Cause We Care is doing and contribute to these types of initiatives that have a lasting, positive impact on the lives of single mothers and their children.
Q. Why is giving back to the community important to you? How does it impact your team at Herschel Supply Co.?
A. There is no better feeling than helping others, especially when it concerns those in our own backyard here in Vancouver. The city is our home and means so much to all of us at Herschel Supply—it's only fair that we do our part to give back and ensure we make a positive impact in our city. We're big believers in momentum at Herschel and that extends to building momentum for doing good. Cause We Care inspires us and we hope that our participation inspires others to do the same. We're in it together.
To read the full story, click here.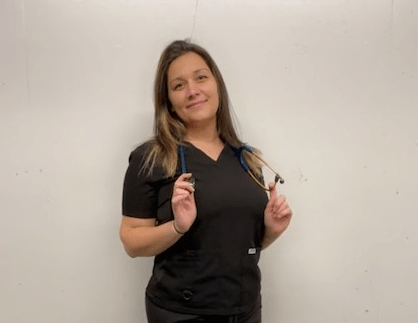 SUCCESS STORY
Meet Cindi.
After being laid off from her job as a Support Worker at the beginning of the pandemic, Cindi decided to finally pursue her dream of becoming a nurse. As a single mother of two boys, she was worried about the financial aspect of going back to school. Thankfully she was introduced to Cause We Care Foundation, and in the Spring of 2021 was awarded a $10,000 grant from the Single Mothers Support Fund to help cover her living expenses while she is a nursing student. She is currently halfway through her nursing program and well on the way to living her dream.
We asked Cindi how she feels the grant from the Single Mothers Support Fund contributed to her success. Here's what she had to say:
"Receiving the funding has taken a huge weight off my shoulders while in school. It essentially allowed me to attend this program and follow my dreams! I am currently halfway through the program – if it wasn't for the funding opportunity, I am not sure that I would have made the choice to go back to school." Cindi is excited by the opportunities this new career path will create for her and her boys. "Going to school for nursing is going to allow me to have a stable secure career where I will always have a steady income. It is going to give me the ability to provide for my children independently, and reduce a lot of the financial stress that comes with raising children on my own."
To Cause We Care donors, Cindi wishes to express a huge thank you. "It is amazing to know that there are people out there that understand how hard it is raising children on your own and we are often limited in our options due to financial constraints. With their generosity, I have been able to work towards providing a better life for my sons and I."
To see Cindi's story on our website, click here.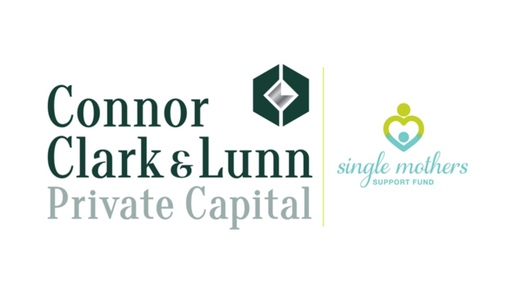 THANK YOU
We are excited to announce that the Connor, Clark & Lunn Foundation has made a three-year commitment of $20,000 per year toward our Single Mothers Support Fund. This generous donation will make a significant difference in our ability to reach more single mothers with this unique funding which fills financial gaps as they continue education, pursuing a more stable life for themselves and their children. Cause We Care is so grateful for the generous support Connor, Clark & Lunn has shown to our organization.
"Connor, Clark & Lunn is committed to building strong and vibrant communities by supporting causes that are important to our clients, employees, partners and stakeholders. We believe that our success as individuals and as a company depends on the health of the communities in which we live and do business," says Angela Huck, Vice President of Connor, Clark & Lunn Private Capital Ltd. "I am happy to be donating a portion of my annual charitable budget to the Single Mothers Support Fund because I really believe in the value of their work and the direct impact the funding has on the lives of the women and their families, and I am grateful to the CC&L Foundation for their continued support and generous three-year commitment of $20,000 a year."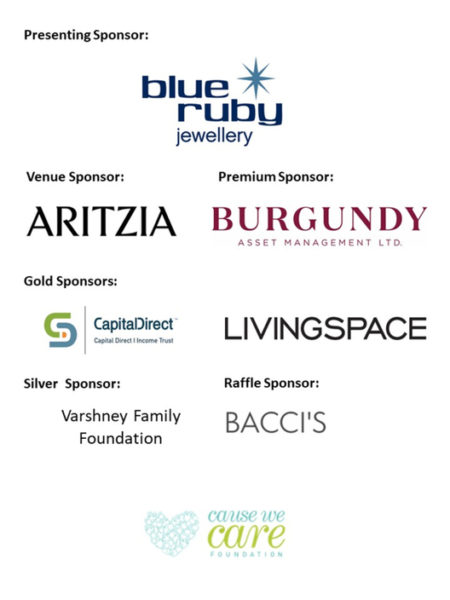 Information and images provided by Cause We Care Foundation.