"In this series I will be reviewing wines shared with friends"
From time to time I am the fortunate recipient of wines sent to me for review. It is especially nice to share these wines with friends. Not only does it make for lively conversation, and often diverse opinions, but it also makes for a very enjoyable occasion. So thanks to my wine loving friends who join me from time to time for a glass of wine.
"The road to a friend's house is never long." This is especially true when the purpose of the visit is to discover the secrets of a new wine. This is the first of four wines from il Molino di Grace that I will be reviewing.
The wine I was sharing with friends is a 100% Sangiovese grape 2018 il Molino di Grace Chianti Classico.
il Molino di Grace Chianti Classico 2018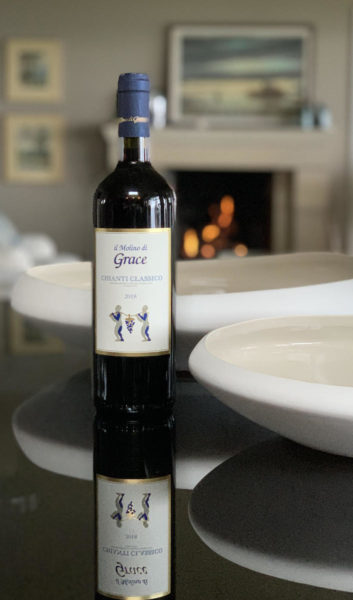 GRAPES
Sangiovese
POSITION
Between 280 and 400 metres above sea level
TRAINING SYSTEM
Spurred cordon with between 6–8 buds per cord
HARVEST
End September to early October by hand
VINIFICATION PROCESS
20 days of maceration at a controlled temperature of 28-30°C with soft extraction process and frequent punch-downs
AGING
12 months between stainless steel, Slavonian oak casks, French barriques and tonneaux of second use
RATINGS
2017: 91 pts, James Suckling
2016: 92 pts, James Suckling
2016: 92 pts, Wine Spectator
2015: 91 pts, Decanter
2015: 92 pts, Wine Spectator
2015: 90 pts, Wine Advocate
2014: 90 pts, James Sucking
Although still in its youth this Chianti is well balanced, with pleasant aromas of ripe fruits, Bing cherries and wild blackberries come to mind. Followed by floral scents, light but distinctive. Also pleasant scents of nougat, pomegranate, and cherry pie, with some spice and green pepper, sawdust and a touch of ginger. Quite complex.
Medium in colour with somewhat lighter than expected tannins. The organically grown Sangiovese grape speaks through the wine and easily meets expectations for the price point.
Classically there is some spice, pipe tobacco and a hint of leather. Warming flavours of dates and stewed plums make a good finish. I enjoyed the spiciness and flavours of tangerines, adding to a ripe lingering finish.
The wine was paired with Asian cuisine which included tangy ginger beef and traditional black bean, spicy dishes that challenged the wine. The Chianti Classico definitely met the challenge.
More traditional pairings would be a hardy beef stew, a spicy meat sauce with pasta, the Chianti Classico would also be a good choice to pair with an Italian salumi board and strong cheeses, with perhaps a few figs or fig jam.
This will be a good wine to cellar as it will keep well for a few years yet.
il Molino di Grace wines are available at select Ridgeway Wine; Firefly Fine Wines; Gull Liquor; Central City Liquor; Legends Liquor; Neighbourhood Liquor stores. and LCBO.com.
il Molino di Grace
A treasured Tradition, a lasting legacy
Il Molino di Grace is steeped in the historic Chianti Classico tradition producing old world Classico and Super-Tuscan wines for the modern age.
Founded by Frank Grace in the 1990's, the winery of Il Molino di Grace was built with a simple vision: to bottle the most authentic expression of this rocky terroir and succulent Sangiovese fruit that the picturesque Chianti hills deserve.
The vineyards that now produce Il Molino di Grace's wine have been doing so for over three and half centuries. Harvested first by monks from the local monastery, these Chianti Classico vineyards have amazed winemakers and wine enthusiasts every harvest since. Today, an awe-inspiring 9 meter statue tall of an out-stretched, sun and moon holding San Francesco della Vigne stands proud over the rolling vines, blessing all those who have toiled and will continue to toil in this rocky Galestro soil.
The winery's active founders, Frank Grace and his two sons Tim & Daniel, instilled and infused the science and technology of modern organic wine production with the artful tradition of old world wine making. Il Molino di Grace celebrates this delicate balance of creativity and innovation – the rocky, sloping south facing fields that bear the Sangiovese fruit, the cellar produces it, the artwork showcases it, and the wines embody it.
Wine notes courtesy of the winery. My notes (in bold italics). I received complimentary wines to facilitate this feature.