VIVA L'ITALIA VINO: CIBO TRATTORIA HOSTS EXCLUSIVE SERIES
OF ITALIAN WINE DINNERS BEGINNING APRIL 25
Trio of Events Pair Multi-Course Communal Italian Feasts with Wine
from Such Renowned Regions as Piedmont, Tuscany and Trentino
Cibo Trattoria General Manager Murray Saunders and Executive Chef Curtis Luk will preside over an exclusive trio of wine dinners showcasing the unique wine-growing regions of Italy at the downtown restaurant throughout spring and summer.
Each of the three events highlight wines selected by Saunders, who will welcome special guest speakers to provide a casual, informative overview of the wines and a spirit of conviviality while guests enjoy a communal, multi-course menu featuring Luk's signature brand of rustic Italian-inspired cuisine for $89 per person plus tax and gratuity.
Cibo Trattoria's series of Italian wine dinners comprise the following three events:
WINES OF NORTHERN ITALY, APRIL 25
On
Thursday, April 25
at 7 p.m., Cibo welcomes special guest speaker
Ksenia Tsybina
to co-host an event spotlighting a list of Northern Italian wines that includes Fattoria Casalbosco Chianti DOCG, La Ladra Barbera d'Asti Superiore DOC and Gancia Prosecco DOC in addition to a welcome Gancia Americano cocktail.
MENU
—
WINES OF TUSCANY, MAY 23
On
Thursday, May 23
at 7 p.m., wine representative
Les Jung
will join the Cibo team to showcase an array of wines hailing from the Tuscany region including Danzante Prosecco, Pomino Blanco DOC, Nipozzano Riserva Chianti Rufina DOCG and Tenuta Frescobaldi di Castiglioni IGT.
—
WINES OF TRENTINO, JUNE 27
On Thursday, June 27 at 7 p.m., wine representative Stefania Piacentin and Alessandro Angelini of Ethica Wines will bring the Trentino region into focus and the wines of the Frescobaldi family that includes Villa Di Corlo Grasparossa Di Castelvetro Lambrusco Emilia Romagna, Cantina Lavis Pinot Grigio Trentino DOC and Cabernet Sauvignon Trentino DOC, and Villa Cafaggio Chianti Classico Toscana DOCG.
TICKETS
Tickets to each of Cibo Trattoria's three communal Italian wine dinners on April 25, May 23 and June 27 are available for $89 per person plus tax and gratuity and may be purchased online at
cibotrattoria.com/events
.For more information about Cibo Trattoria, go to
cibotrattoria.com
, become a fan of
/CiboTrattoria
on Facebook and follow
@CiboTrattoria
on Twitter and
@cibotrattoria
on Instagram. Cibo Trattoria also offers private dining spaces available to be booked for evening and weekend functions. For more information, enquiries and pricing for private functions, call 604-602-9570 or email
info@

null

cibotrattoria.ca
.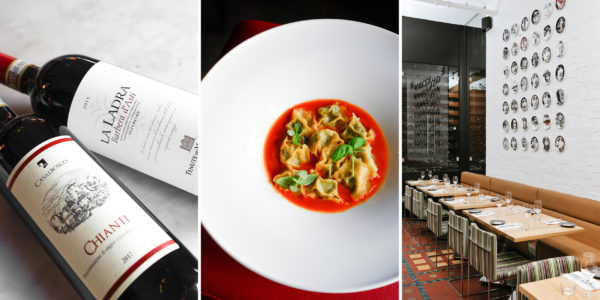 ABOUT CIBO TRATTORIA | Paying homage to the experience of an authentic Italian trattoria — where simple, rustic food, casual service and good wine goes hand-in-hand — Cibo Trattoria presents an unforgettable dining experience and memorable outing in the heart of downtown Vancouver whether for daily breakfast, lunch or dinner service or weekend brunch. Located in the city's vibrant theatre and cultural district, Cibo's cozy and inviting dining room is the perfect spot for any occasion or social gathering — a warm and intimate enclave where guests can relax and enjoy a wide-ranging list of Old- and New-World wines and sample hearty, Italian-inspired dishes and daily specials made from scratch and prepared in a traditional manner that showcases understated elegance on each plate.
900 Seymour Street, Vancouver, BC  V6B 0A8 | 604-602-9570 | cibotrattoria.com
Hours: Mon – Fri: Breakfast 7 to 11 a.m. | Lunch 11 a.m. to 2 p.m. | Dinner 5 to 10 p.m.
Weekends: Brunch 8 a.m. to 2 p.m. | Dinner 5 – 10 p.m.

ABOUT UVA WINE & COCKTAIL BAR | Located within the chic Moda Hotel in the heart of downtown Vancouver, UVA Wine & Cocktail Bar has built a long-standing reputation as one of the preeminent wine and cocktail bars not only in the city but across the country. Winner of the prestigious gold medal for Best Wine Bar in the Georgia Straight's annual Golden Plate Awards from 2010 through '17 and more recently singled out for a spot on the 2018 compilation of Canada's 50 Best Bars, UVA Wine & Cocktail Bar offers an elegant gathering spot for wine and spirit connoisseurs seeking a sanctuary that tempts both eye and palate alike. Pairing Cibo Trattoria's Italian-inspired cuisine, choice charcuterie and artisanal cheese with an eclectic menu of enticing cocktails, refined wines and import and local craft beers, UVA is a relaxed-yet-cosmopolitan interpretation of an authentic Italian enoteca.
900 Seymour Street, Vancouver BC  V6B 0A8 | 604-632-9560 | uvavancouver.com
Hours: Mon – Sun 2 p.m. to 2 a.m.
Media release and images provided by Michelle Lan, SMC Communications Inc. 
[wdi_feed id="2″]