The very name of Tuscany evokes warm idyllic images of rolling green hills dotted with villas, lush gardens, vineyards, and olive trees.  For years it has been a get-away destination for Italians and foreigners alike.  It was long known for its rustic charm which included simple plain food and unimaginative traditional wines.
Starting about 45 years ago, however, things began to change. Now the famous, straw-covered Chianti fiasco is rarely seen. (What do people use as candle holders now?). The bonds of tradition began to be tested and a new generation of winegrowers, winemakers, and chefs embarked on change.  Now, Tuscany is highly respected for its wines and its cuisine.
"Food and wine belong in that order in the Tuscan – in any Italian – mind.  Put too much stress on wine and you upset the balance.  It is simply bad manners for a wine to assert itself too strongly."  Hugh Johnson in Tuscany
If you are unfamiliar with the Italian region of Tuscany, or Toscano as it is known locally, it lies south of Genoa and north of Rome on the Central West coast with Florence as its capital.
There are many grapes native to the region, chief among these is Sangiovese, 'sanguis Jovis', or 'sangue di Giove', the blood of Jupiter.  Sangiovese is Italy's most well-known grape and the chief ingredient in Tuscan wines such as Chianti, Vino Nobile di Montepulciano, and Brunello di Montalcino.  It is also widely used in the neighbouring regions of Umbria and Emilia-Romagna.
The quality of Sangiovese can vary greatly, from lowly and ordinary to sublime, depending on the clone and where it is grown.  In terms of flavour and structure the grape shares some characteristics with pinot noir.  In terms of food, it is one of the most versatile red wines.
Sangiovese Grosso is the most commonly grown clone in the region.  Its wines tend to be fruity and aromatic, with bright acidity and good structure.  Because it tends to be light in colour, other deeper coloured and softer red grapes have become a part of the blend – Canaiolo, Mammolo, and Colorino.   Malvasia, a white grape is also used to soften the wine and give it more body.
Traditionally, DOC rules dictated that Chianti wines, ". . . could be composed of no more than 70% Sangiovese and had to include at least 10% of one of the local white wine grapes."
"D.O.C. stands for Denominazione di Origine Controllata (literally Controlled Designation of Origin). It is a certification applied to Italian wines that, under the law, have distinctive features of superior quality, determined by the grape varietal and the production area as well as the techniques for processing and ageing."  (https://www.lacucinaitaliana.com/glossary/doc)
Tenuta San Guido, an estate owned by Marchese Mario Incisa della Rocchette, created the first Super Tuscan, Sassicaia, in 1944, a wine made entirely from cabernet sauvignon.  The vines were sourced from Chateau Lafite in Bordeaux.   Sassicaia was also aged in small French barriques, rather than the traditional larger Slovenian oak barrels.  For many years, this wine was unknown to anyone outside of the family as they made such a small quantity, it was just for themselves to enjoy.  It wasn't until 1971 that a 1968 vintage was released to the public.
Sassicaia means a 'place of stones' and when the cabernet vines were first planted in Bolgheri, the general consensus was that no wine from that area would be viable.   The region was marshy and covered with woodlands and often much hotter than the hills of central Chianti.  Its success shocked the established wine industry.  Then, in 1985, Lodovico Antinori, Piero's younger brother, planted a vineyard next to Sassicaia and called it Ornellaia or 'ash trees'.  His wine was also a cabernet sauvignon-based wine with a little merlot added to round it out.
Today, there are over 22 Super Tuscan wines including names such as Masseto, Orenellaia, and Solaia.  Sometimes sangiovese is the main grape, while others lead with cabernet sauvignon, merlot, or canaiolo.  Some contain no sangiovese at all.
When Tignanello made its appearance in 1971, it was the first Chianti made almost exclusively from sangiovese with no white grapes in the blend.  Later on, cabernet sauvignon and cabernet franc were added to the mix.  When people discovered Tignanello, other producers jumped in on the popular trend.  While this break from tradition was rather scandalous at the time, the move proved to be very beneficial as it encouraged others to make similar improvements to their own Chianti wines.  The Super Tuscan wine was born.
Currently, the DOCG rules have been amended.  White grapes are no longer required in Chianti wines and other international varieties may make up to 15% of the blend.  These changes mean that while some Super Tuscan wines can now be labelled as Chianti, many have opted not to and retain their 'outsider' status.  The Super Tuscan brand has an international cache.
At first glance, sangiovese and cabernet sauvignon seem an unlikely combination.  True, cabernet is easier to grow, but it is distinctly different from sangiovese which tends to be more delicate and higher in acidity.  Cabernet is known to be more bold, dense, and tannic and can overwhelm sangiovese even at relatively small amounts, which can result in awkward, unbalanced wines, therefore the sangiovese grapes must be of top quality.
What can you expect from sangiovese?  Any of the following – cherry, red currant, raspberry, blackberry, black tea, bramble, capers, cloves, dried leaves, dried orange peel, herbs, leather, licorice, pepper, plum, raspberry, rhubarb, roasted tomato, strawberry, dust, sweet balsamic, oregano, earthy, cedar, chocolate, spicy, coffee, salami, vanilla, tar, tobacco, savoury, and soy.
I was fortunate enough to taste some Super Tuscan wines at our most recent tasting group session.  New member, Chris, had travelled to Tuscany some time ago and decided to revisit these special wines for his first presentation.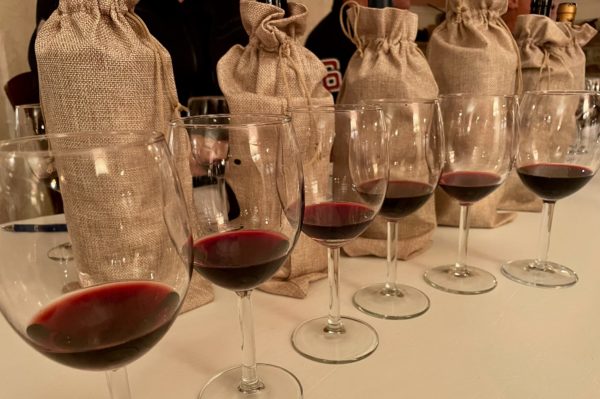 The following points and initial comments (in italics) are from the BC LDB catalogue.  My comments follow theirs.
The taster: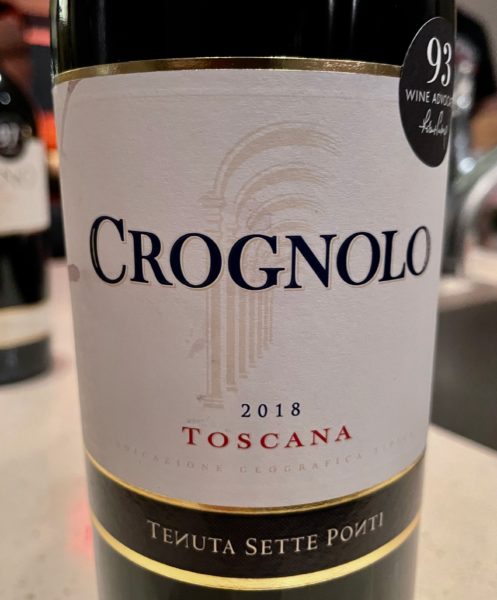 2018                Crognolo         13.5%ABV                 $39.99                         BCLDB
Sangiovese and Merlot
95 Points, James Suckling: "Aromas of rosewood, cherries and blueberries follow through to a full body, tight and focused tannins and a long and flavorful finish. This is linear and bright. The tannins are wonderfully polished and poised. Hard not to drink now, but it will improve beautifully in the bottle. A blend of mostly sangiovese with a touch of merlot." (July 2018)
A good introduction to Super Tuscan wines and tied for fourth place for me.
The wines in our flight: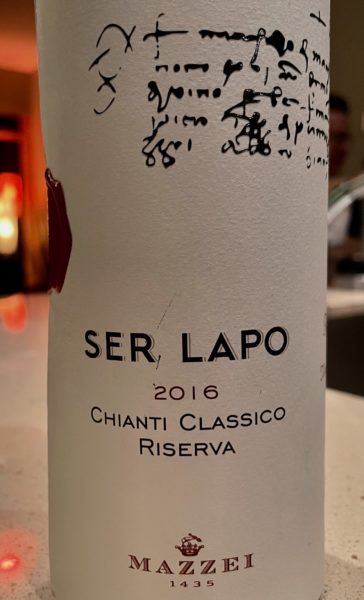 2016                Ser Lapo                      13.5%ABV                 $32.99             BCLDB
Chianti Classico Reserva
Sangiovese and Merlot
94 Wine Spectator, 95 Points, James Suckling: "There's cedar and tobacco here, but it's backed up with lovely, fresh wild strawberries, raspberry cheesecake and redcurrants. Full body, polished tannins and beautifully linear acidity. Finishes long and elegantly. Drink now." (July 2018)
Darn good bang for the buck.  One of my better scores.  Two of us liked it more than the others.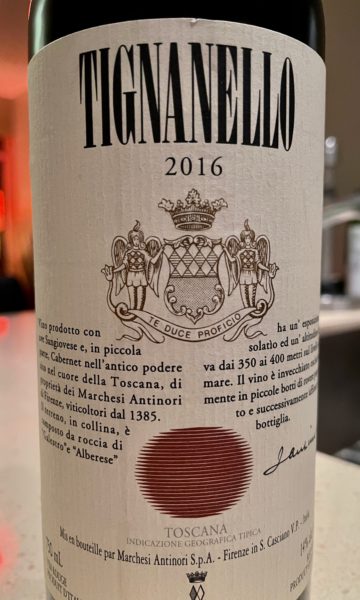 2016                Tignenello                   14.0%ABV                 $135.99           BCLDN
Toscana
Sangiovese, Cabernet Sauvignon, and Cabernet Franc
97 Wine Spectator 93 Decanter, 95 Vinous, 96 James Suckling, 96 Wine Advocate; Made by Marchesi Antinori, one of Italy's most important producers, Tig has given many a connoisseur that aha! moment: Experiencing the body, structure and finish of truly fine wine.
Tied for second place.  My opinion is that this wine will show much better with time to age.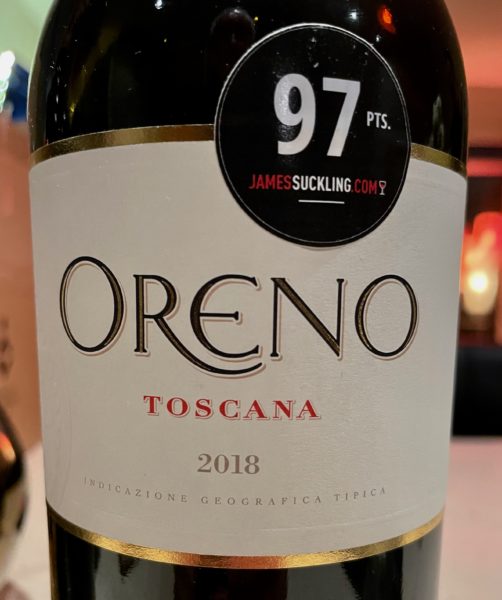 2018                Oreno                          14.0% ABV                $115.00           Legacy
Toscana
Merlot, Cabernet Sauvignon, and Petit Verdot
91 Wine Spectator, 98 Points, James Suckling: "Plenty of blackcurrant, blackberry and dark chocolate character with oyster shell and walnut undertones. Full body, extremely tight and structured with blueberry and light vanilla and coffee highlights. A gorgeous Oreno. Give this wine two or three years to come together." (July 2017)
Fifth for me and the group.  I found the nose rather muted and a slight harshness on the finish.  Again, too young to drink now.  Probably needs decanting for 4 hours or so.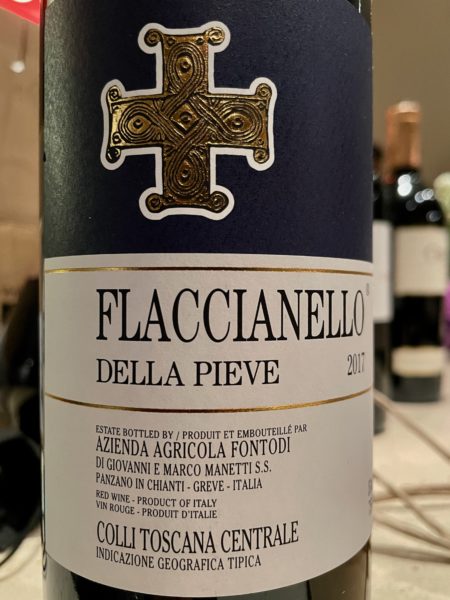 2017                Flaccianello                15%ABV                    $165.99           BCLDB
Toscana Centrale
Sangiovese
95 Wine Spectator, 95 Points, James Suckling: "Very high-toned and muscular red with crushed cherries, blackberries and walnuts. Some dried earth. It's full-bodied and chewy with solid tannins that form the wine. Beautiful ripe fruit in the center palate."
I was very impressed with the nose on this one which showed a lot of depth including aromas of red and black fruit, vanilla, tar, and soy.  With better balance, it would have been my favourite.  Tied for second place for the group.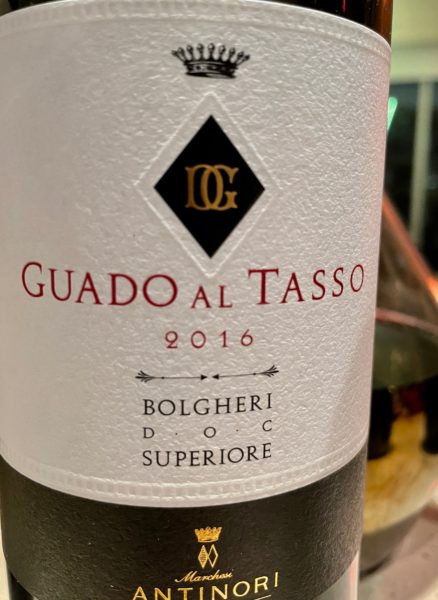 2016                Guado al Tasso           14.0%ABV                 $163.00           Legacy
Bolgheri
Cabernet Sauvignon, Cabernet Franc, and Merlot
Guado al Tasso 2017 is intensely ruby red in colour. Its nose is intact, clean and powerful and has hints of small red ripe fruits such as raspberries, wild strawberries, arbutus, wild blackberries and pleasant notes of laurel and mint.
Overall, the clear favourite of the evening.  Approachable now and will only improve with age.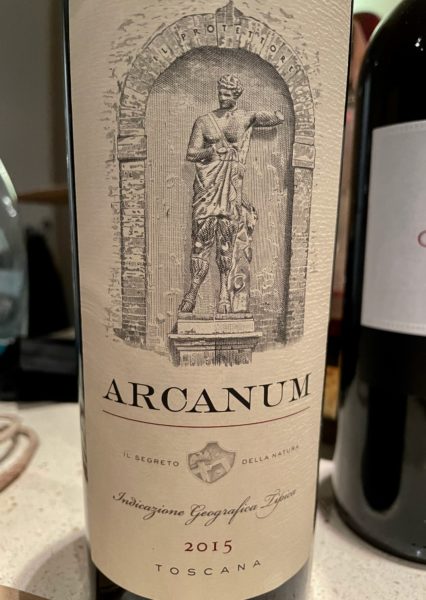 2015                Arcanum                                                         $118.00           Legacy
Toscana
Cabernet Franc, Merlot, Cabernet Sauvignon, and Petit Verdot
"93 Wine Spectator"
Tied for second for me.  The group had it in fourth place.  I liked the raspberry, cranberry, bramble, and vanilla notes.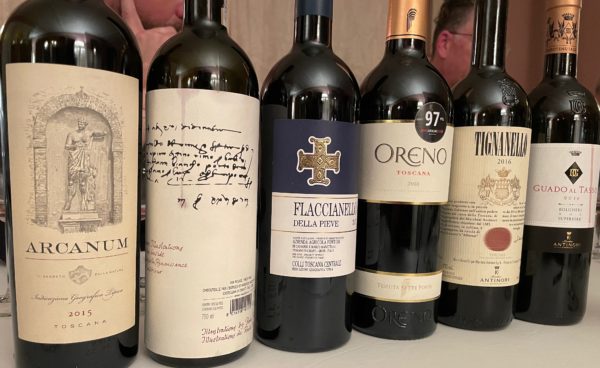 It needs to be said, that group averages tend to water everything down.  For most people, there wasn't a big spread between their first and sixth places.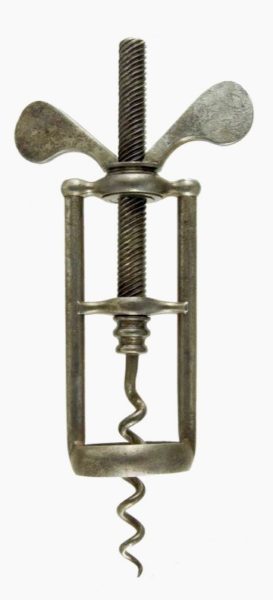 As always, Wayne, our host and internationally renowned corkscrew collector, had a show and tell for us – a corkscrew from 1795.  "One of the earliest British mechanical corkscrews. Made around 1795 +/- 5 years. Very early days for mechanical corkscrews, thus a bit clunky to use. One had to turn the complete corkscrew frame to make the worm go into the cork. Then turn the wing nut handle to lift the cork out.  The exceptional thing about it is that despite being 225 years old it is in pristine condition and works extremely smoothly."  Wayne Meadows
(All photos, except as noted – Sam Hauck)