The City's Largest Dinner Party Returns to Vancouver!
After a 2-year hiatus, Le Dîner en Blanc – Vancouver returns! The elegant and secret affair has become one of the most anticipated events of the year. Taking place Thursday, August 18, 2022, at a new secret location, guests are once again invited to dine and dance under the stars.
Participation to this unique event happens in three stages: Phase 1 is for members from the previous edition; Phase 2 is for new members who are referred by Phase I attendees; and Phase 3 is for people who signed up for the waiting list. To get the opportunity to be part of the experience, people can sign up now by visiting vancouver.dinerenblanc.com and clicking on the Register tab.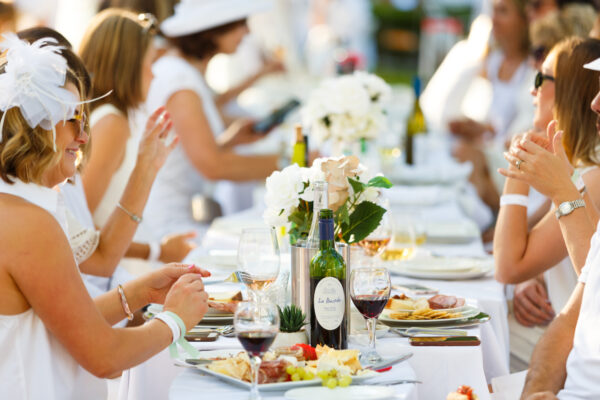 Le Dîner en Blanc is an event that transports us into another world. The sea of ​​people all adorned in white creates images that are instantly 'Instagram-able'. Whether meeting new people or reuniting with long-time friends, this year's event promises an evening à la française where conversation and champagne are essential.
Presented in partnership with The Social Concierge, Co-founder Tyson Villeneuve is excited to host in this year's iteration: "This chic and elegant affair is the perfect opportunity for our community to shop local and support neighborhood vendors. This year, the number of participants will be limited, so we strongly invite the participants to register early."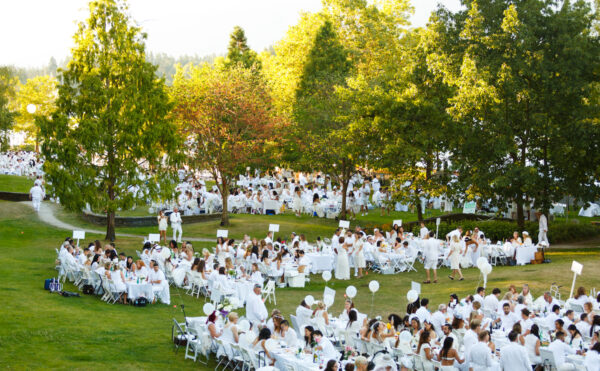 To maintain the uniqueness of Le Dîner en Blanc as well as staying true to tradition, guests must observe certain requirements and follow a few key rules:
Dress code: elegant and white only. Originality is encouraged as long as it is stylish and tasteful.
Table setting: all white!
Champagne and/or wine.
As per Vancouver, B.C. alcohol laws/regulations, guests cannot bring their own alcohol. Guests wishing to enjoy some wine or Champagne, must reserve online through Le Dîner en Blanc's e-store; however, guests are welcome to bring their own non-alcoholic beverages.
To ensure that the location secret is kept undisclosed until last minute, guests meet at assigned departure location and are escorted by a Dîner en Blanc volunteer.
In order to leave the event location as clean as when they arrived, guests are required to leave with all their belongings, leftovers and litter.
Guests must bring
A table, two white chairs and a white tablecloth.
A picnic basket comprising fine food, proper stemware and white dinnerware.
A catered picnic basket option, which can be picked up on site, will be available for those who do not wish to pack their own. Guests wishing to do so must reserve online through Le Dîner en Blanc's e-store.
To keep up to date on event announcements, visit vancouver.dinerenblanc.com
About The Social Concierge
The Social Concierge is a unique creative and event design agency that specializes in generating unrivalled anticipation, moments of happiness and lifelong memories. The team set the stage for both grand tales and personal highlights to emerge through our premium, accessible and immersive cultural experiences.
About Le Dîner en Blanc
Over the years, Le Dîner en Blanc has become a worldwide epicurean phenomenon. What was a "friends and word-of-mouth only" event has grown into an international sensation celebrated on six continents. Launched in Paris in 1988 by François Pasquier and a handful of friends, Le Dîner en Blanc de Paris marked its 30th anniversary in 2018 with a record 17,000 guests from Paris and around the world. While the technology behind the event may have changed over the years, the principle fuelling this fantastic event has not: guests dressed in all white continue to gather at a secret location for the sole purpose of sharing a gourmet meal with good friends in one of their city's most beautiful public spaces. Headquartered in Montreal, Canada, Dîner en Blanc International is responsible for developing this secret posh picnic in over 120 cities in 40 countries around the world. Each event is headed by passionate local organizers who fell in love with the concept and wanted to bring it to their city, giving this rendezvous a local flair. For more info, photos and videos of Le Dîner en Blanc events from around the world, visit dinerenblanc.com
DinerEnBlanc.Vancouver  
 @DinerenBlancVan    
 dinerenblancvancouver
#dinerenblanc #debvancouver2022
Media release and images provided by Kate MacDougall, Camber Communications.