"In the Spring a young man's fancy lightly turns to thoughts of love."
Alfred Tennyson, Works of Alfred Lord Tennyson
For those of us with our feet planted more firmly on the ground our thoughts just may be turning to wine, specifically the wines of the latest Spring Releases. In this series of features, I will endeavour to update you on the new spring releases from some of my favourite British Columbia wineries.
For BC Wine lovers this is an exciting time of the year! So many new releases to discover and enjoy. Featured here two new spring releases from Solvero.
The two new releases featured below join the previously released Solvero 2019 Pinot Noir. This Pinot Noir was deemed nothing short of outstanding in Wine with Friends. If you missed it you can read the feature here.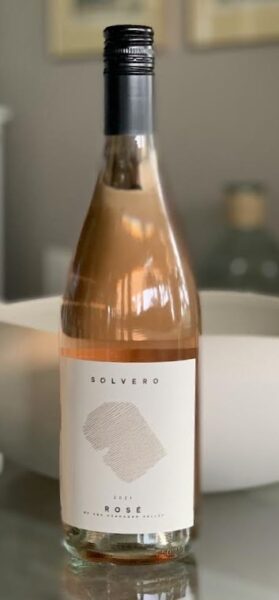 GARNET VALLEY, SUMMERLAND
TASTING NOTES
Fresh and bright, this harmonious rosé showcases both elegance and strength. The nose is layered with red berry fruit, rhubarb and distinctive minerality. Vibrant acidity frames the palate, leading to a dry, yet long and textural finish.
VINIFICATION
Pinot Noir from the Stag block on our Garnet Valley vineyard was hand harvested in mid-October and gently destemmed. The must was carefully assessed for flavour, colour and tannin during this phase of skin contact and after 3 hours the juice was pressed off the skins. The wine was then cool fermented to dryness in a mixture stainless steel and neutral French oak.
FOOD PAIRINGS
Our favourite food pairings include soft cheeses, charcuterie and paella.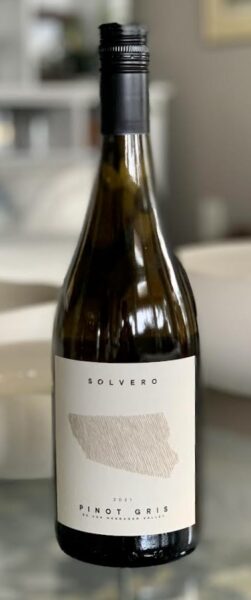 HAPPY VALLEY, SUMMERLAND
TASTING NOTES
This classic Pinot Gris is soft and inviting, with notes of stone fruit, pear and honey. Expressive fruit flavours are revealed in the glass, giving richness and refinement to the palate. A balanced wine with purity, length and focus on the finish.
VINIFICATION
Harvested from our 2001 planting of Pinot Gris in late September, the small clusters were gently whole cluster pressed to release a lower volume of juice with a high degree of clarity. The fermentation was cool and extended over a 3 week period until dryness. The wine was aged in neutral French oak barrels for 4 months prior to bottling.
FOOD PAIRINGS
Pairs beautifully with calamari, grilled fish,
SOLVERO
BUILT ON ONE SIMPLE PRINCIPLE – TRUTH
TRUTH IN SOIL
Our steep slopes, extreme elevation and unique soils largely define this site and the character of the wines we create. A rugged glacial landscape with sandy, rocky soils demonstrating the classic adage that labouring vines make great wines.
TRUTH IN NATURE
The balance of our natural environment exemplifies what we are dedicated to achieving in our vineyard and vines. Thoughtful farming is done in harmony with nature, producing grapes with purity and wines that elegantly showcase this special place in Garnet Valley.
TRUTH IN SCIENCE
Winemaking is a complex interaction of philosophy, artistry and science. The accuracy of the analyses, research and data we employ is crucial. From the evaluation of soil structure in the vineyard, to analyzing components of juice and wine in the cellar, a wealth of information informs and influences our choices.
TRUTH IN PRODUCT
Our commitment is to minimal intervention and transparency in all aspects of wine production. The result is exquisite Pinot Noir and Chardonnay that tell the story of the season and our Garnet Valley Vineyard.
OUR PHILOSOPHY
Integrity and honesty in all aspects of Viticulture and Winemaking is central to our ethos.
We take great pride in both protecting and promoting the biodiversity of this land. Grapevines are the central crop of a developing polyculture at our Garnet Valley Vineyard. Forests that border areas of the vineyard are a vital part of the landscape. A plot of fruit trees, an extensive vegetable garden and resident free-range chickens and ducks are all currently part of the agriculture program.
OUR MISSION
Crafting premium wines that capture the essence of our Estate Vineyards and farming philosophies. Respect, honesty and balance are central in every aspect of the process, from the soils, to the vines, to the finished wine in your glass.
OUR LAND
At almost 600m elevation, our Garnet Valley estate vineyard is one of the highest in BC. The elevation, steep slopes and well-draining soils define this extraordinary site. Pinot Noir and Chardonnay are showcased beautifully in this rugged landscape.
Solvero Wines
25585 Wildhorse Road
Summerland BC V0H 1Z3
Tasting Notes courtesy of the winery and Winemaker/General Manager Alison Moyes. Images: MyVanCity. I received complimentary wine to facilitate this feature.
The Solvero Pinot Noir was deemed nothing short of outstanding in Wine with Friends. If you missed it you can read the feature here.