"In this series I will be reviewing wines shared with friends"
From time to time I am the fortunate recipient of wines sent to me for review. It is especially nice to share these wines with friends. Not only does it make for lively conversation, and often diverse opinions, but it also makes for a very enjoyable occasion. So thanks to my wine loving friends who join me from time to time.
This is the first BC wine to be featured in Wine With Friends and I am especially excited to share my thoughts and  impressions, as well as those of my friends who joined me for the tasting of the Solvero 2019 Pinot Noir.
Although this may be the first release for this new winery in Summerland their winemaker, Alison Moyes, is no neophyte to the world of fine winemaking. By far, one of British Columbia's most noted winemakers, the recipient of numerous wine awards for her crafting of fine wines including Chardonnays and Pinot Noirs. Moyes brings a wealth of experience to Solvero and her first endeavour back into the realm of Pinot Noir is nothing short of outstanding.
"Thanks so much for including us in your sampling last night. Great to experience a taste of a new wine fresh from the winery. Though we are not regular Pinot Noir drinkers it was a refreshing change and very enjoyable. Interesting how it changed its complexity with the brie. Just shows how important pairing is." friends, B. & C.
2019 Solvero Pinot Noir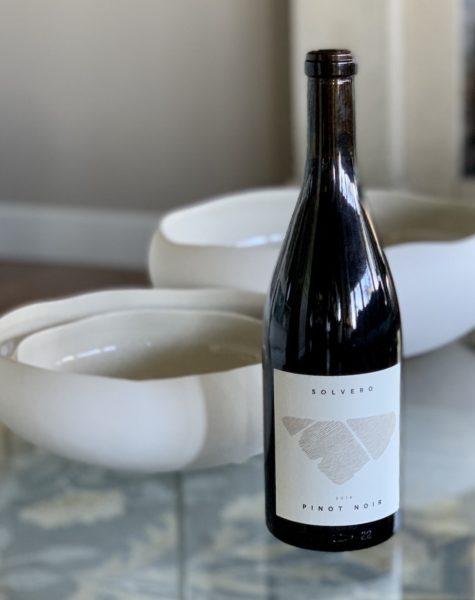 A pure expression of land and grape. Thoughtful farming. Gentle winemaking. Authentic Pinot.
WINEMAKER NOTES
In the winery, each block and clone of Pinot Noir were treated independently with gentle destemming to achieve whole berries in the fermenters. The skin contact and temperature of each fermentation was carefully managed before pressing off the finished wine to age for 12 months in French Oak barrels. Fermenting and aging each clone separately, in small batches, is an important step in translating the layers of flavour and complexity from this delicate grape variety into the finished wine.
TASTING NOTES
Expansive red berry fruit aromas evolve in the glass to reveal layers of earthy spice and saline minerality. Polished tannins frame the palate which lingers with subtle floral notes on the finish. Charcuterie, crispy pan-seared halibut and duck confit are excellent companions with this enigmatic wine.
Courtesy of the winery.
Light scents of nougat, followed by grass, cranberry, rhubarb, cilantro and raspberries presenting a complex first impression. 
An enriched taste of blackberries, figs and stewed Italian plums. Light, approachable tannins with a distinct minerality. Herbaceous and silky smooth on the palate. Lingering with extensive flavours of ripe fruit.
A beautiful clear ruby colour simmering in the glass. This wine is indeed something special. 
Only 450 cases produced. This is a wine you want to have a dozen of in your cellar. I urge you not to delay as this is a superb wine that will sell out quickly. A must for lovers of most excellent expressions of Pinot Noir.
my notes
I put this wine in the refrigerator for 30 minutes before decanting, it was then decanted for about 60 minutes.
Please don't fret over my decision to slightly bring down the temperature of the wine. My favourite wine educator, Anthony Giglio (aka The Wine Wise Guy) convinced me when I attended one of his seminars at Taste of Tulalip. "All it takes to impress imbibers is progression of red wines tasted from "room temperature" down to around 55 degrees. Every time, without fail, people prefer cooler red wines."
Much discussion took place between myself and hubby about the length of time to decant the Pinot Noir. He, a fan of heavier reds, usually decants BC reds for up to four hours. We have found this greatly enhances the enjoyment of the wine. In fact on one occasion we shared two bottles of the same wine, one decanted, and one not decanted. The differences definitely stood out and we are consequently even more convinced of the necesssity to decant wines for an optimum experience.
After some online research we settled on this suggested decanting; 30 minutes for Pinot Noir with 30 – 60 minutes for a young Pinot Noir. Hence the decision to decant the Solvero 2019 Pinot Noir for 60 minutes.
The wine was paired with a simple charcuterie plate with Brie, Gouda, Lesley Stowe crackers, chips and dates.
Solvero "truth in soil"
Integrity and honesty in all aspects of Viticulture and Winemaking is central to our ethos.
We take great pride in both protecting and promoting the biodiversity of this land. Grapevines are the central crop of a developing polyculture at our Garnet Valley Vineyard. Forests that border areas of the vineyard are a vital part of the landscape. A plot of fruit trees, an extensive vegetable garden and resident free-range chickens and ducks are all currently part of the agriculture program.
Pinot Noir 943
Our Garnet Valley vineyard is home to seven premium clones of Pinot Noir. Each clone was carefully selected for a variety of organoleptic properties and compatibility with this narrow valley, rocky soils and extreme elevation. The diversity of these clones in the vineyard and the balanced low yield produced, translate to unmatched complexity and intensity in the finished wine.
You can read the full article about the temperature of wine by Anthony Giglio here.
Winemakers and Tasting Notes (in italics) courtesy of the winery and Winemaker/General Manager Alison Moyes. My wine notes (in bold italics) Images: MyVanCity I received complimentary wine to facilitate this feature.