#BCWineMonth was off to a terrific start with the Tantalus Spring portfolio launch. Tasting the new releases of old favourites and sampling three new wines was the order of the day.
Up above the city in the Reflections Garden Terrace in the Rosewood Hotel Georgia we were treated to the always exceptional line-up of wines from Tantalus. An opportunity to meet owner Eric Savics, chat with winemaker David Paterson and catch-up on what's new with winery manager Stephanie Mosley.
The room was filled with many well know wine reviewers and wine media people as well as a few die hard Tantalus wine fans. It was a wonderful moment to discover and to enjoy the new releases as well as spend time with like minded wine lovers.
There were some tasty bites passed but I was really there to sample all of their wines and put together my virtual shopping list for an upcoming wine order. So many of the Tantalus wines, which pair beautifully with a variety of dishes, are so good just on their own and I wanted to be sure my list was complete with what I call my go-to, every day, easy drinking wines. Just because I describe them in these terms does not mean these wines are light weights, just wines that I can't resist. I never want to run out of good wine to drink and Tantalus sell out quickly. So a word to the wise, get on it!
The room was ideal for the tasting event, giving plenty of space to either sit and enjoy the company of others while tasting the wines, or do as I did and start at the beginning and go through the entire flight of delicious wines.
Already a fan it was reassuring to sample the wines I am acquainted with and note that I still love them this year as much as I did previous vintages. It was a chance to try the three new entries in the Tantalus line. All were superb but of course I had my favourites based just on my own personal preferences of wine varietals.
Tantalus Blanc de Blancs 2016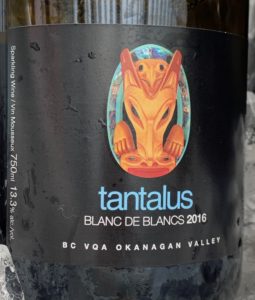 After two and a half years of patient, gentle handling we have arrived at the inaugural release of our new Traditional Method Blanc de Blancs and we are elated to finally share this wine.
Hand-picked from a single block of estate Chardonnay plantings, this bubbly is the third addition to our expanding sparkling repertoire.
A wonderful brilliant colour in the glass with a fine, persistent bead. Aromatics are bright and fresh with notes of lemon and golden delicious apple complemented by subtle undertones of brioche, baked pear and just a hint of oyster shell.
The palate is equally bright, with lifted notes of citrus and fresh peach balanced by a nervy minerality, crisp acidity and a creamy palate weight. Elegant, yet with no shortage of concentration and length. We see this new signature release developing beautifully over the next 5 to 7 years.
I really enjoyed this sparkling wine, it was fruity and full flavoured yet also delicate. A delicious start to my tasting experience. Great price point. One of three wines new this year. $27.83 from the winery or online.
Tantalus Old Vines Riesling Bruit 2016
Our Old Vines Riesling Brut was crafted from a handful of rows in a single block of our 1978 heritage plantings.
This wine is as distinct as our site and with only 100 cases made it's poised for special celebrations and those seeking something very unique from BC.
Pale straw in colour and with a delicate bead and mousse, this wonderfully effervescent wine bursts with aromas of new season apricots, preserved lemons, celery salt and sweet blood orange. A hint of white flowers and fresh baked bread lingers in the background. The palate is lean and focused but is bolstered by great texture – a result of two years spent on secondary fermentation lees.
Notes of limoncello, ginger-lime spiced tea, apple skin and kiwi abound. The wine carries the signature tension and energy found in our low-yielding, "Block 5" plantings. We see this sparkling ageing beautifully over the next 5 to 7 years.
Block 5 sits on a north slope of deep, silty soils. This 2 acre block is bordered by a mature Ponderosa pine forest on its western edge – which offers dappled late afternoon and evening sun exposure. The fruit's pristine acidity is preserved as a result of these gentle, slow ripening conditions.
Following primary fermentation, the base wine for this sparkling was put to bottle and left en tirage for 2 years to quietly undergo its secondary fermentation. Once ready the wine was awoken from its slumber and disgorged in late winter 2019 with a light dosage from our Old Vines Riesling.
$34.78 at the winery or online (good value for a top quality wine)
Tantalus Riesling 2018
There is something about the purity of Riesling that keeps us wrapped around its finger; but pure doesn't always equate to great. It still needs plenty of fostering in the vineyard and delicate handling in the cellar to allow that presence to shine through unimpeded.
It is our cellar team's faith in our viticulture, and in their years of working with our parcels of fruit, that allows this noble variety to express such vibrancy – and most of all to achieve balance.
A shimmering pale straw in colour, this wine exudes bright aromas of orange peel, white flowers, fresh pear and lime leaf. A slatey minerality adds lift and intrigue. The palate is lush and juicy with tangerine and lime juice, rounding out as the wine opens with richer tropical notes of guava, starfruit and kiwi.
Concentration abounds, with no shortage of fresh, natural acidity to offer the hallmark tension we seek in our Rieslings. Enjoy now, or watch evolve over the next 10 to 12 years comfortably.
The fruit for our 2018 Riesling was hand-picked at optimal ripeness from a variety of estate blocks, some of which date back to the late 70's. Gently whole-bunched pressed, once in the cellar, ferments were inoculated after a short settling period with a variety of yeasts.
Each parcel was fermented separately in stainless steel tanks with inidividual ferments handled uniquely as part of the overall "blend" and in order to achieve the best point of balance expressed from the vintage.
I love this wine. I could drink this anytime, anywhere, preferrably in good company. $21.74 online and at the winery. (while quanities last)
Tantalus Den's Block Riesling 2016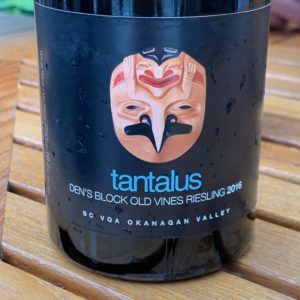 Our Den's Block Riesling is a special wine for our entire team, and made to honour our dear friend and BC wine industry pioneer, Daniel Martin Dulik – affectionately known to his friends and peers as Den.
A pale gold in colour, this wine is brimming with bright aromas of preserved apricot, ripe peach, honeycomb and white cherry. Notes of flint, caramel and marmalade are beginning to reveal themselves, a result of the two year bottle age before release. Fresh pear, warm citrus and roasted pineapple emerge on the palate, bolstered by a chalky texture and nervy minerality. This wine is built for decades.
The fruit for this 2016 Riesling was selected from a handful of rows of our Block 5, Clone 21B 1978 Riesling plantings. Clusters were handpicked and upon reaching the cellar, gently whole-bunch pressed. Fermented wild, in neutral oak puncheons at 12 to 15 degrees Celsius.
Fermentation was then arrested in the first window of balance, paying homage to Den's love of sweetness and made in a Mosel Spatlese style, inspired by the origin of the parent material planted. Bottling occurred after five months on lees. The wine was then aged for two years in bottle before its release.
Second of three wines new this year. $52.17 online and at the winery. You can read more about Den and his contribution to the BC Wine industry on the Tantalus website.
Tantalus Rosé 2018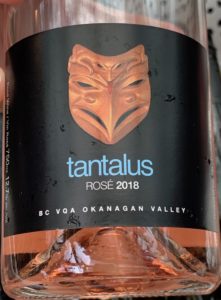 Oh Rosé, how we adore your Springtime arrival!
A delicate cherry blossom pink, this wine radiates big, juicy aromas of watermelon jolly rancher, rose petal, rhubarb and wild strawberry. The palate is alive with pomelo and pink grapefruit, white cranberry and plum. Bright, balanced and delicious not to mention ready for all the Spring and Summer time fare you have planned.
Our 2018 release is a 50/50 blend of young vine Pinot Noir complemented by more mature plantings of Pinot Meunier, first planted on our site in 1985. The Pinot Noir base was made with lightly pressed, whole bunch clusters giving us beautiful lifted aromatics.
The Pinot Meunier was also gently handled and spent just over 4 days on skins to give the wine its brilliant colour. By fermenting to near dry, the vibrancy of the fruit character shines through unimpeded.
Yes to patio weather and Tantalus Rosé. Yummy with citrus fruit and good acidity. Like a basket of early summer fruits. $19.13 online and at the winery.
Tantalus Bear Chardonnay 2018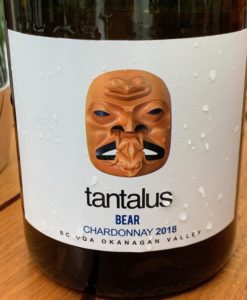 Our Bear Chardonnay was made in a crisp and lively style and named after Tantalus proprietor Eric Savics' eldest son, Eric – affectionately known to many over the years as "Bear".
A pale gold in colour, this wine is bursting with aromas of sweet white blossoms, crisp granny smith apple and lemon curd. Flavours of tart mandarin and lime leaf pair up with a hints of warm butterscotch. Light and bright with a lovely creamy back palate, and all juxtaposed with a refreshing lift of acidity.
Fruit for this wine was sourced from our young gun Chardonnay block and was handpicked and vinified in small lots using entirely wild fermentation. The wine was crafted in a combination of stainless steel and neutral French barrels, ensuring the purity of the fruit was maintained with just a wisp of oak present. At only 6 years old, this young vineyard is already showing incredible potential and we are very excited to see the site evolve and develop in years to come.
A very affordable $19.13. A great wine for those people, like me, that are just beginning to appreciate the Chardonnay grape. The third of three new wines this year.
Tantalus Chardonnay 2017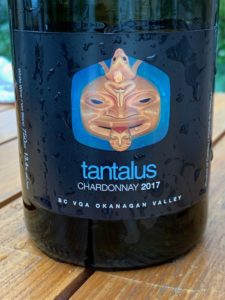 We've long been dedicated to our love of Chardonnay, and like anything worth its weight, this small but mighty piece of our portfolio has gradually and rightfully emerged as a touchstone for us; alongside its noble cousins, Riesling and Pinot Noir.
A bright golden colour, this wine exhibits a myriad of aromatics starting with fresh nectarine and apple blossom, moving through to spicy notes of clove, rye and nutmeg and then rounding out with what we can only define as warm stone.
Rich flavours of crème brûlée, vanilla and pie crust are juxtaposed by bright pear, tangerine and beeswax. The 2017 vintage gave us lovely complexity in our Chardonnays, with fantastic texture, a lengthy finish and great integration. Expect this wine to age gracefully over the next 5 to 7 years.
The backbone of our flagship Chardonnay is sourced from estate 1985 plantings of Oppenheim, alongside younger components of Dijon clones, planted in 2007 and 2013. The 2017 fruit was picked during a handful of days in mid-September at optimal ripeness. After pressing, the underwent 100% wild fermentation and was then aged for 10 months in primarily neutral oak barriques and puncheons, with 30% new oak incorporated.
Priced at $27.83 at the winery and online.
Tantalus Maija Pinot Noir 2017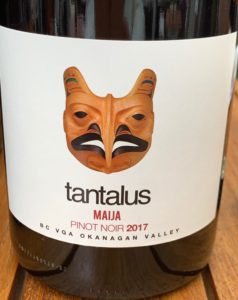 Vibrant and full of life, our Maija Pinot Noir is a true expression of this poetic variety, and named after Tantalus proprietor, Eric Savics', daughter.
Showcasing a bright ruby red in the glass, this wine exhibits classic Pinot aromas of raspberry, cardamom spice and wet earth, complemented by hints of black tea, lilac and a lovely, savoury tomato leaf.
The palate is lively with notes of ripe red fruits, fresh plum and a lingering pomegranate character – all brought together seamlessly with a wisp of French oak. Lively acidity here, balancing beautifully with the fine, velvety tannin structure.
Fruit for this Pinot Noir was handpicked from our youngest estate blocks of Dijon plantings, complemented by fruit sourced, for the first time, from a neighbouring vineyard in South East Kelowna of impeccable quality.
Vinified in small lots using 100% wild fermentation, the small batches were then placed into a selection of new (20%) and seasoned French oak barriques for 11 months and blended, just prior to bottling.
This is defintely a Pinot you should always have on hand. Great price $21.74 online and at the winery.
Tantalus Pinot Noir 2016 Reserve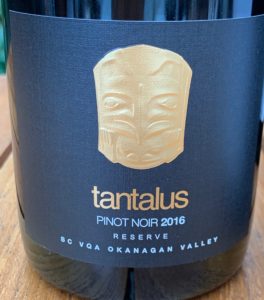 The second release of our reserve-tier Pinot Noir – a small lot wine made to honour our winemaking philosophy, our historic estate vineyard and the special relationship between Tantalus and artist Dempsey Bob.
Deep garnet in the glass, subtle notes of violet and wild bramble berry balanced by earthy beetroot and forest floor, brim forward as the wine opens. The palate is refined, with bright, ripe cherry, cranberry and sage, pulled together with a lush, silky finish. Great length, and only just beginning to show its charm. This wine was built to age.
The 2016 reserve follows our inaugural release in 2015, and was made in a very similar vein – but with a twist. While once again based on our small mid-slope block of Dijon Clone 667, this vintage's "salt and pepper" components came from our 2006 plantings of Clone 777 and unique to this year, a parcel of our Clone 115 fruit. The 115 showed such remarkable presence in barrel, it needed to be included, thus making this wine an ever evolving representation of our most impressive Pinot Noir from any given year.
The 667 was fermented wild with only foot treading and incorporating 40% whole bunches. The 777 and 115 each received the same treatment but with 30% whole bunches. The wine underwent natural malolactic fermentation in the Spring of 2017 and spent 16 months in French oak (30% new) before being gently racked. It was then bottled unfined and unfiltered in the Spring of 2018. Enjoy this wine in its youth, or watch it evolve over the next decade.
Something special this way comes. This Pinot will only get better and better. Only 110 cases produced.  $60.87 online and at the winery. Receive a Tantalus wood crate with your six-bottle Reserve Pinot Noir purchase.
Learn more about artist Dempsey Bob on the Tantalus website.
ABOUT TANTALUS VINEYARDS
Tantalus was established in 2004 when Proprietor Eric Savics was presented with the opportunity to acquire one of the Okanagan Valley's premier vineyard properties. Originally known as Pioneer Vineyards, the site was first planted to table grapes in 1927 by renowned, local horticulturist JW Hughes.
After tasting several vintages of wines made by the former owner, Eric felt this was indeed a very special vineyard. He, along with his team, established the site's ultimate potential would be fully realized by focusing on a small, terroir-driven line of wines made from Riesling, Pinot Noir and Chardonnay.
The old vine plantings – 1978 Riesling and 1985 Pinot Noir and Chardonnay became the backbone of the vineyard. Other varietals were removed and new plantings of the 3 flagship varietals commenced in 2005. The vineyard would not only have considerable vine age as its anchor, it would grow to have superior clone variation as well.
Tantalus' inaugural 2005 vintage immediately attracted the attention of national and international wine critics and Tantalus was quickly added to a short list of Canada's very best Riesling producers. Today, in addition to Riesling, Tantalus is also recognized for consistently producing high quality Pinot Noir and Chardonnay.
With the success of the wines and the increase in production, came the need to build a new winery. Tantalus' sleek new facility was completed in March 2010 and has the distinction of being British Columbia's first LEED-certified winery.
With its spectacular lake views, historic old vineyard and new state-of-the-art LEED winery, visiting Tantalus is a one-of-a-kind experience. Enjoy premium, single-vineyard wines in a stunning, gallery-style tasting room, surrounded by works of art from some of Canada's most highly-acclaimed artists.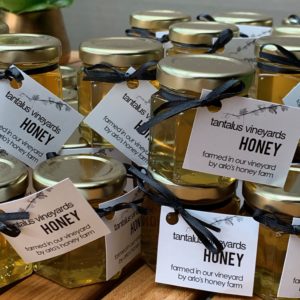 Tasting notes and "about Tantalus" courtesy of Tantalus. All images MyVanCity.
[wdi_feed id="2″]