QUINI Launches Proprietary Analytics Platform
High Performance Environment Delivers New Intelligence Capabilities And Supports Wide Market Adoption Strategy
Quini® (www.quiniwine.com), the leader in wine consumer sensory data and analytics solutions today launched its next generation platform for wine producers and industry stakeholders. QUINI DATA™ 2.0 leverages Quini's growing consumer wine tasting and rating sensory data set, unique data capture and wine tasting event management software applications, consumer tasting panel network and machine learning algorithms to deliver deep, rich insight that enable better informed, faster decisions.
"QUINI DATA 2.0 is a proud milestone for Quini, our product management, data science and software development teams. The passion, commitment and tireless work bring to life Quini's vision for accessible consumer sensory data for winery professionals across business functions," said Roger Noujeim, Quini's CEO.
With today's launch, Quini has transitioned away from use of third party data visualization software, eliminating all related licensing costs. The new, proprietary environment enhances performance and user experience, improves design flexibility and security, and enables Quini to grant user licenses widely to support the company's market adoption and expansion strategy.
QUINI DATA 2.0 offers simple, user friendly analytics to answer business, marketing, sales and product questions, as well as advanced dashboards for Business Intelligence and Innovation professionals.
Added Noujeim: " Anyone at a winery who can benefit from access to consumer sensory data should and can now have that access. The new QUINI DATA 2.0 platform enables a data-driven culture. A culture that values consumer insight based planning, risk reduction, pre-emptive intelligence and action, and success optimization.
QUINI DATA EXECUTIVE™ with MOBILE ACCESS
QUINI DATA 2.0 incorporates a new analytics dashboard designed to give the busy executive topline consumer insight about a product, at a glance. Also accessible via mobile, the dashboard enables wine professionals to get answers conveniently on-demand, such as for meetings and presentations.
"We recognize that busy executives don't always have time to dig deep into data. Product analysis at a glance, on a single screen via mobile, enables the professional to be better informed with consumer intelligence, where and when they need it."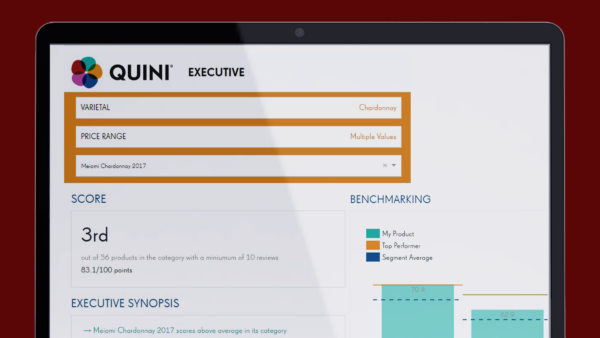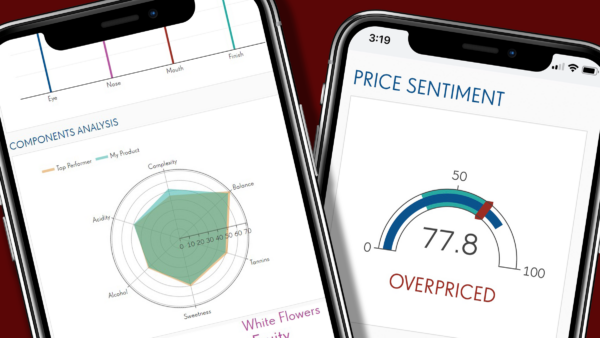 "Wine professionals can now instantly gain actionable perspectives on a product, in a single dashboard, much like analyzing a public company's stock. Just select a wine and EXECUTIVE provides the answers," concluded Noujeim.
QUINI DATA 2.0 encompasses multiple complimentary analytics dashboard clusters to support the various business functions in a winery. This includes marketing, business intelligence, wine making and innovation teams, consumer insight managers, direct to consumer (DTC) and wine club groups.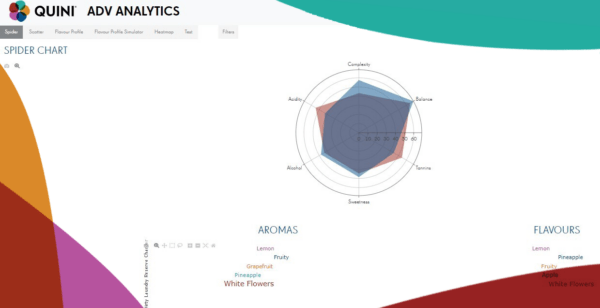 Wineries engage Quini to collect consumer data on products relevant to their business, to solve critical business and product questions. Leveraging Quini's national consumer wine tasting panels, data capture software and real-time analytics, Quini ensures the data is soon accessible for clients, on-demand.
ABOUT QUINI
Quini is the leader in sensory data and technology solutions serving the wine industry. Privately held, Quini is headquartered in Vancouver, BC. Quini's investor group includes OKR Financial (www.okrfinancial.com) and private investors.
Media release and graphics provided by Roger Noujeim, Quini