On a beautiful sunny June day, Anita and I attended a media/VIP event at Monte Creek Ranch, soon-to-be Monte Creek Winery.  Appropriately located in Monte Creek, it is just a short drive on Hwy 1, east of Kamloops and part of the Kamloops Wine Trail.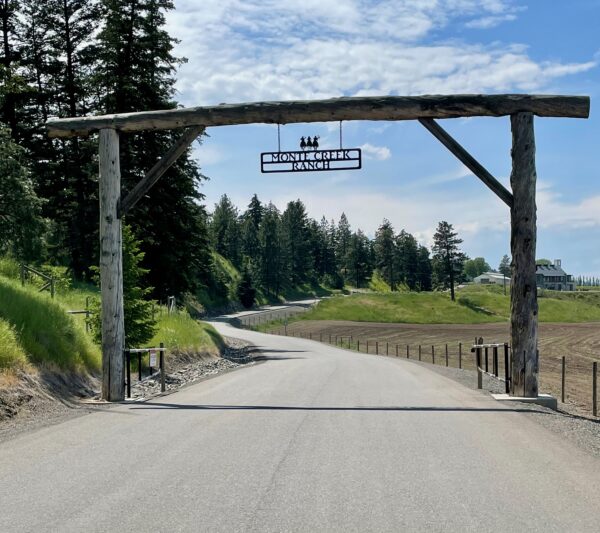 Entering the driveway, we immediately spotted some big changes since our last visit there; a new winery and a huge greenhouse.  Being a few minutes early, I wandered the grounds taking photos.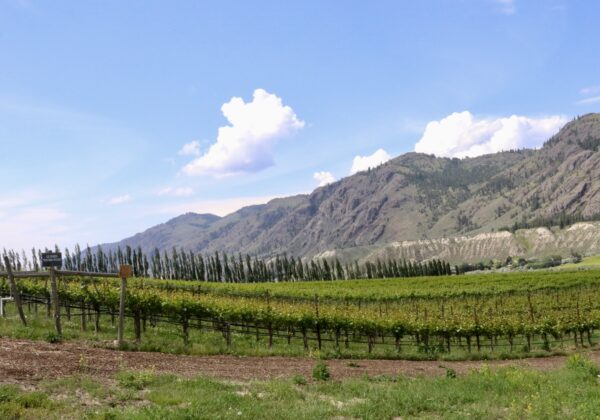 As we headed into the reception area, I noticed Minister of Agriculture, Lana Popham walking the vineyard rows with General Manager Eric Fischer and winemaker Galen Barnhardt.  With the cool late spring we have had, the vines had no grapes, just tiny green buds.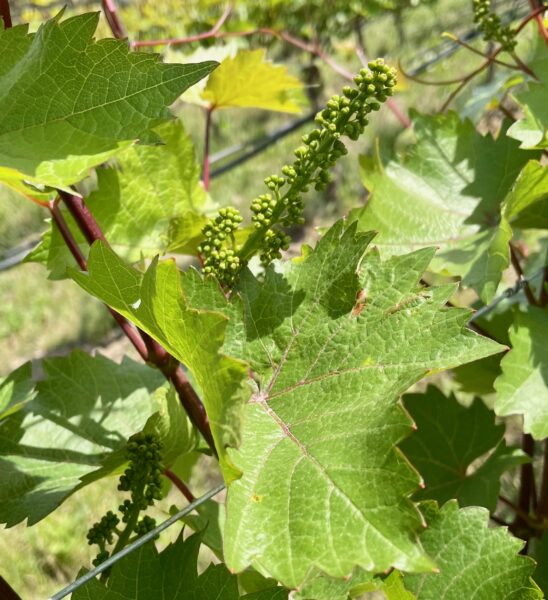 The reason for the event was to showcase their recent $10 million-dollar investment in infrastructure.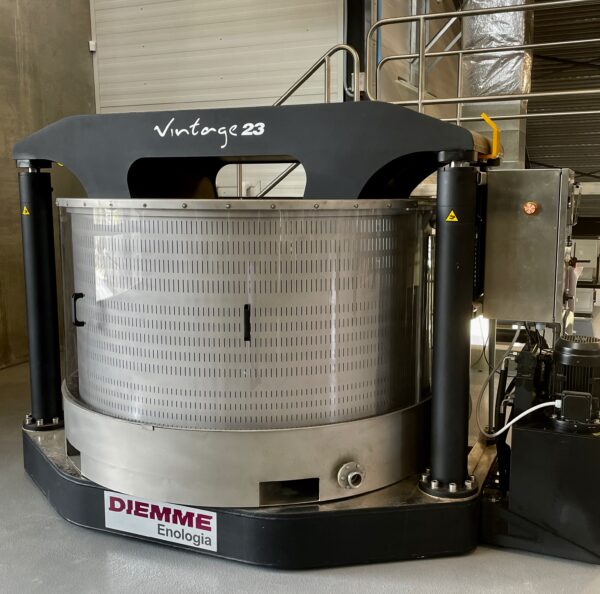 Along with the new buildings, they have also refined their brand with new labels.
The event showcased their commitment to quality, innovation, and sustainability and to ensuring that the Thompson Valley becomes a well-known wine-lovers destination.
The spacious five thousand-square-foot greenhouse is designed to allow for the propagation of new vines from January to May.  For the rest of the year, it will be used for a variety of purposes including community events, private functions, as well as educational classes and seminars.
After sampling their wines and enjoying some delectable bites, we mingled for a bit and then listened to speeches from:
Ashley Demedeiros Cox – Marketing Manager
Erik Fisher – General Manager
Miles Prodan – BC Wine Institute
Lana Popham – Minister of Agriculture
Acacia Pangilinan – Kamloops Chamber of Commerce
Trish Morelli – Kamloops Wine Trail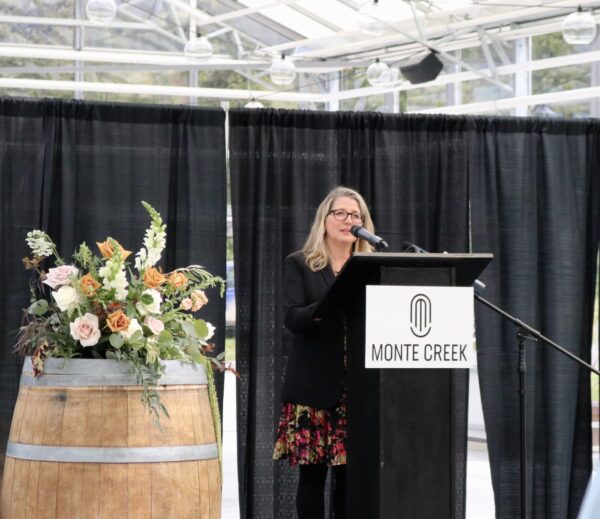 Next, we headed over for a tour of the new fifteen thousand-square-foot winery where we enjoyed their two sparkling wines.    The new facility is very impressive.  Gravity feed allows them to gently transfer wines rather than relying on pumps.  Building the winery into the side of a hill, allowed for underground recirculating air to keep the inside temperature constant year-round.  The building was also designed to maximize natural light whenever possible.
And the larger space allows them to increase their production three-fold as well as give them the space to separate their red and white wines when necessary.  The original wine room houses a mix of stainless-steel tanks, wooden vats and concrete eggs.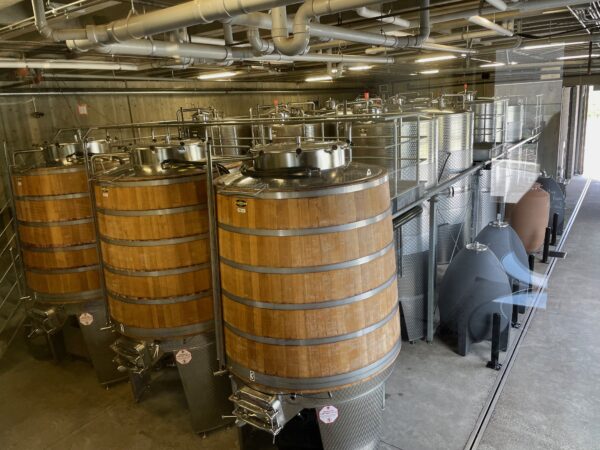 Minister Popham summed it up best when she said, "Each bottle of B.C. wine tells the story of the people and the distinct growing region that the bottle comes from. From the new sustainably designed buildings, cover crops and regenerative agriculture practices, to the great wine and elegant branding, Monte Creek Winery is building a memorable experience for all those eager to learn and share the story of wine making in the Thompson Valley."  Her passion and enthusiasm for this industry were evident.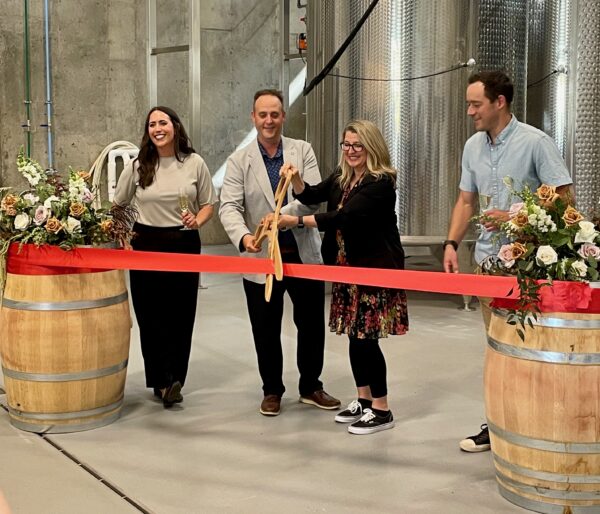 Minister Popham joined Ashley, Erik and Galen to cut the ribbon for the official opening of the new building.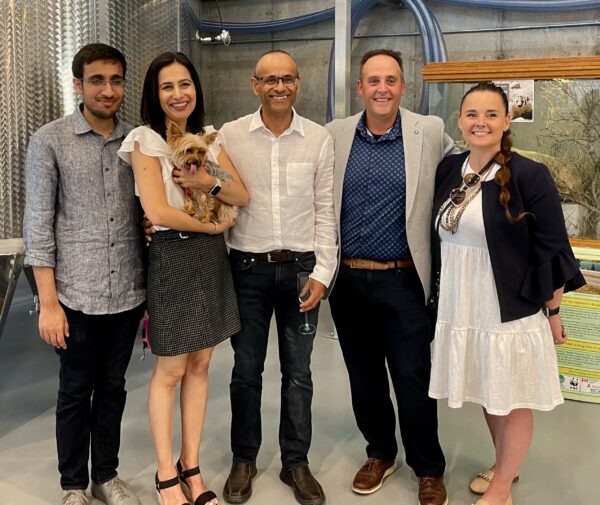 The Sidhu family was acknowledged for their significant investment.
Before leaving, Anita and I visited the wine shop and left with a case of our favourites.
Thanks to Ashley Demedeiros Cox, Marketing Manager, for the invitation.
Monte Creek is open year-round.
(All photos – Sam Hauck)