Have you ever heard of Sweet Tango, Domaines, Marie Menard, Yarlington Mill, Nehou, and Roxbury Russet?  How about Ashmead's Kernel, Muscat de Lense, Dabinett, and Karmijn de Sonnaville?  Until recently, neither had I.  These are some of the special heritage apples used to make apple ciders.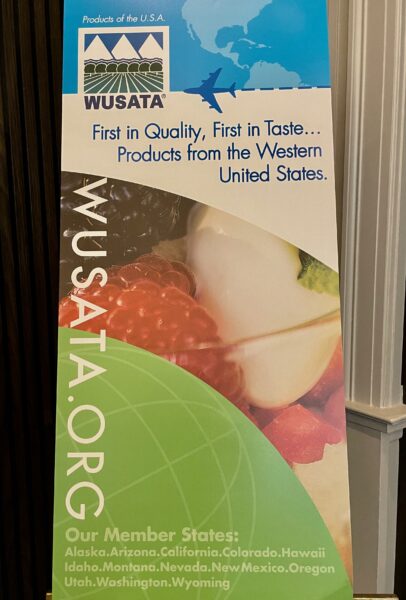 This is the final segment of a four-part series featuring U.S.-crafted ciders, distilled spirits, and wine.  The trade mission made stops in Calgary and Montreal.
With producers stretching from Arizona to Alaska, common themes in the room focussed on deep commitments to using local products, giving back to the community, reflecting terroir, sustainability, and regenerative practices.
Many of these people had previously held careers in law, banking, and engineering, but yearned for something that would allow them some artistic expression.
Fourteen vendors took part in this trade mission – one each from Arizona and Alaska, four from California and Oregon, three from Colorado, and five from Washington.  They consisted of four distilleries, one meadery, seven cideries, and two wineries.
Today we look at the cideries.
Eastern Washington is part of the Sonoran Desert that stretches from the Okanagan Valley down through Washington, Oregon, California, and Mexico.  Imagine rolling grass-covered hills, orchards and vineyards.  This is the heartland of the apple industry.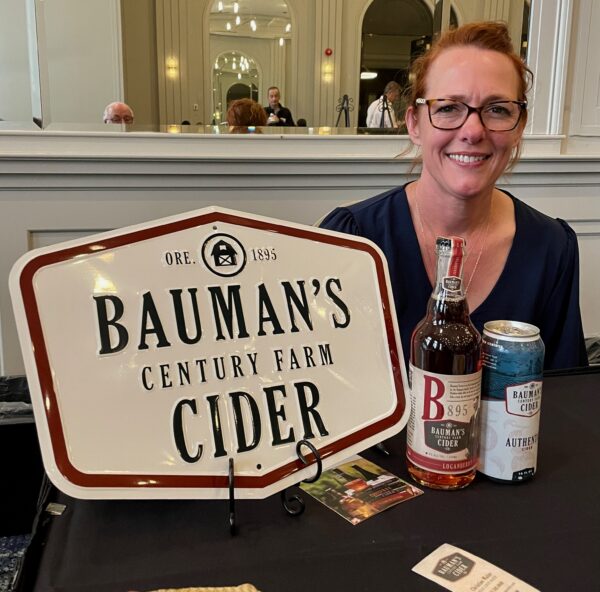 Bauman's Cider Company
Oregon
Bauman's Cider Company opened in 2015. The property had been in the family for five generations and the first apple trees were planted in 1895.  Over the years many of the family elders made fresh apple juice from time to time.   It was only about 8 years ago that Christine wondered why they had never fermented their (soft) ciders before.  After completing a degree in biochemistry from Lewis & Clark University, Christine Walter has revived the family tradition and modernized the process to ensure clean, balanced and flavourful craft ciders.  It quickly became a passion project for her.
Christine is a member of the American Cider Association, which is the world's largest cider association. She enjoys helping the industry improve its game and branch out into new regions.  She has been named the top cider maker in the Pacific Northwest for three years running and in the entire US for the last two years.  Christine uses a white wine yeast for fermenting and then back sweetens with fresh juice as needed.  Bauman's has just begun canning their products as the demand for glass containers is in decline and people are preferring the smaller size.  They make many single-variety apple ciders and offer about 14 different products at any given time including one methode champenoise-style cider.
Christine studied Keeving in Normandy and Brittany, France.  This technique is an alternative to using pectinase to break down pectin in the apples as is the standard practice.  Keeving involves leaving the juice on the skins for 12 – 24 hours which pulls the pectin from the skins. This then causes a brown cap to form and steal nitrogen from the must.  Less nitrogen means that the yeast cannot ferment to complete dryness resulting in a naturally sweetened cider.  No water or sugar is used.  Ciders produced in this method tend to be sparkling and semi-dry to sweet.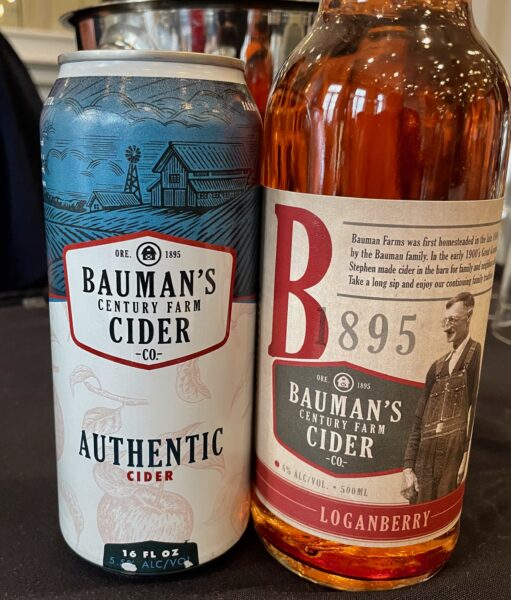 In addition to several apple-based ciders, their regular line-up includes intriguing flavours such as Loganberry, Peach Raspberry, and Guava Grapefruit, as well as seasonal ciders such as Boysenberry Lemonade and Peach Bellini among others.
The sample I tried was delicate with good mousse, almost champagne-like and made from estate-grown apples.
For more information, contact:
Christine Walter
Baumanscider.com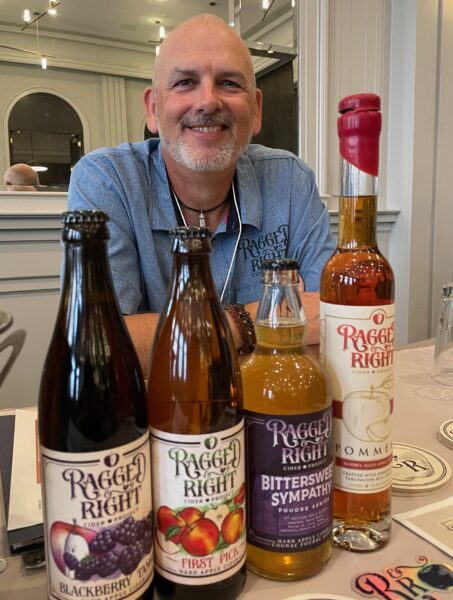 Ragged and Right Cider Project
Washington
Ragged and Right is the sister company of Farmstrong Brewing in the Skagit Valley.  Ragged and Right was established in 2019.  They work with Cedardale Orchards in Mount Vernon as well as Bellewood Farms & Distillery in Lynden.  Blackberry is their flagship cider and they also make a very tasty peach one.  They particularly like to make single apple ciders that taste of the variety.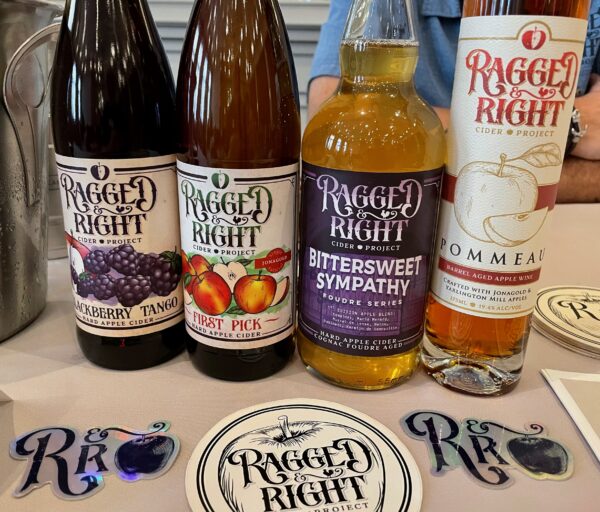 Bittersweet Sympathy is made from French and English traditional sharp cider apples and aged for 12 months in large cognac fouders which adds a slight oak note that shows up on the palate along with just a hint of cognac. These are dry and nuanced ciders, totally unlike the ciders of years ago.  The Johnna Gold cider was flavourful and refreshing.
Sweet Tango apples are used as the base for the Blackberry Tango.  It is crisp and tangy yet perfectly balanced and very tasty.
Pommeau (19.4% ABV) is a traditional fortified apple from Normandy.   Ragged and Right makes the cider for their version and then sends it to Bellewood Farms & Distillery in Lynden.  They turn it into Calvados (an apple brandy) which is then blended one-to-one with fresh apple juice and put into a barrel for two years.
Their other ciders include – First Pick: Jonagold, Wickerson & Friends, Cranberry Dream, Full Flat Peach and a limited-release apple, blueberry, and apricot blend called Tulip Fest '22, the official cider of the Skagit Valley Tulip Festival.
For more information, contact:
Stuart Todd Owsley and Joanne Owsley
Farmstrongbrewing.com
(no photo available)
Liberty Ciderworks
Washington
Liberty Ciderworks, based in Spokane, opened its doors in 2013.  Located in Washington's apple heartland, Liberty makes ciders from McIntosh, Gravenstein, and rare varieties such as Kingston Black and Dabinett sourced from three small family-run orchards.  Native yeasts are used in their fermentations to achieve rich, expressive flavours.
They say, "Cider is a form of art, expressing apples, yeasts, topography, and climate,"  and note that not all fruit is cider-worthy.
For more information, contact:
Benjamin and Jamie Pratt
Libertycider.com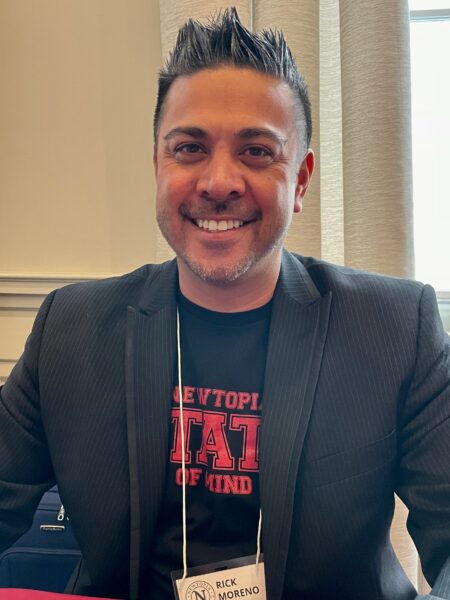 Newtopia Cyder
California
Newtopia describes itself as, a social, urban-minded company.  Their products are concocted from West Coast apples intermixed with exotic fruit or botanicals.
They claim that Newtopia is more of a state of mind than a product to consume.  The name is a blend of philosophies with a nod to Sir Isaac Newton, who had to be in a certain frame of mind to relate the falling of an apple to a universal principle, and utopia, the ideal society where everyone gets along is friendly and self-sustainable.   Many people experience this peaceful state of mind when they are at the beach, hiking, camping, or spending time in the desert – anywhere that is serene and affords people the opportunity to reflect on life.  Newtopia is a lifestyle-driven product.
Newtopia sells their product in cans for several reasons. First, there is zero oxidation.  Second, light cannot affect the contents. Third, they are easy to stack and ship. Fourth, cans don't break if dropped, and fifth cans are recyclable and can be taken to places where glass is not appropriate.  Research tells them that 80 % of their clientele are under 40, and 60% are female, highly educated, high-income earners, health conscious, and eager to try new products.  In San Diego, there are now 284 craft breweries so the time was ripe for a cider product to enter the market.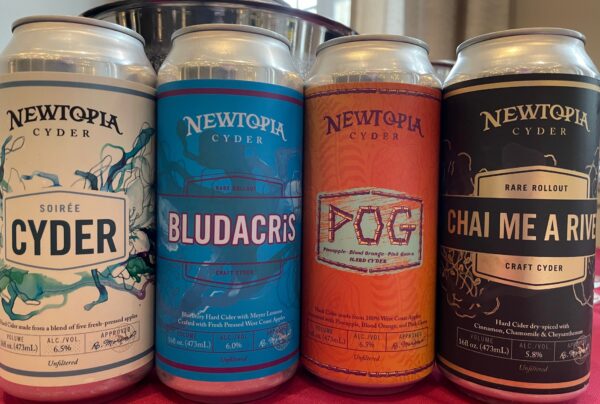 I was fortunate to taste their blueberry and Meyer lemon-flavoured Bludacris, the five-variety blend Soiree Cyder, the Chai Me a River that is infused with cinnamon, chamomile and Chrysanthemum, and the POG, made with a hint of pineapple, blood orange, and pink guava.  Most range from 5.8 to 6.5% ABV.  All were very tasty and refreshing, though my favourite was the Chai.
In addition to these four, they also offer an India Pale Ale Cyder which is described as a, " . . . dry-hopped cyder produced from an old world process with new world ingredients. A Dry Cyder with an apple-forward taste with a hint of hop."  A Belgian Pineapple, "A Belgian Saison cyder made with elderberry, cardamom and pineapple."  A Semi-Sweet, "An off-dry cyder with hints of eucalyptus and hibiscus.
For those looking for something with a little bit of a sweet edge, they offer Semi-Sweet Cyder which they claim "pairs nicely with sausage, cheese, and melon."  And finally, the rather intriguing Wyld, "Our Wyld cyder is an off-dry funky, earthy sweet and sour cyder made with marionberry."
Depending on the end user, Newtopia offers its products in a range of formats including kegs, growlers, crowlers, and traditional cans and bottles.
The folks at Newtopia have a lot of fun creating new and innovative flavours to tempt their followers.
For more information, contact:
Rick Moreno
Drinknewtopia.com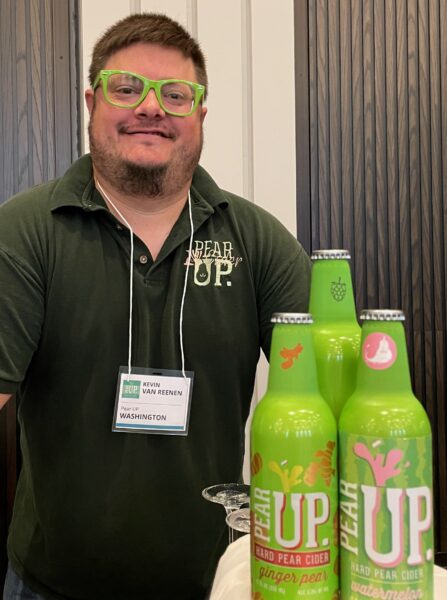 Pear UP
Washington
This family-owned cidery has been in operation for almost ten years. Pear UP uses native pear varieties from their orchard.  The ciders are low in sugar and flavour-forward. This region of East Wenatchee Washington is the largest organic pear region in the US.  The production facility lies beside the family's heritage home.
Kevin spent some time in Europe as an investment banker.  While there he tried Perry (as pear cider is called).  When he returned to Washington, he realized there was little in the US to compare it to.  Most local ciders were fruity, syrupy, and sweet.   When he inherited the pear orchard, he soon realized it was not big enough to be commercially viable as fresh fruit, so he decided to go into the cider business.  After a favourable first batch, he spent a lot of time perfecting the process.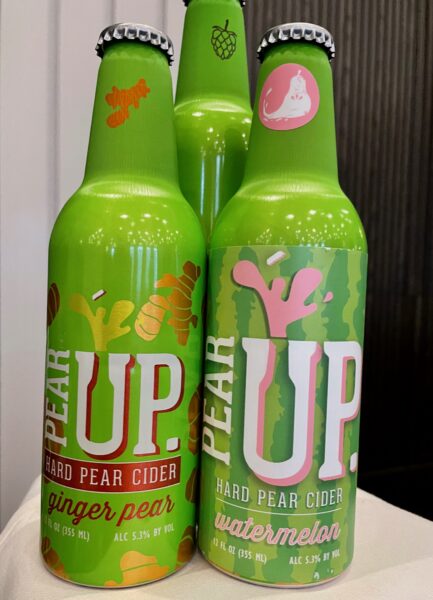 All his products are made from 100% Pear.  Pear UP is available in cans, tin bottles, and one-way kegs. They sell the tin bottles as singles and the cans in packages.  The lime green aluminum bottles attract a lot of attention, especially in bars.
Kevin is working hard to promote the idea of American Perry.  He feels pear cider chemistry offers an opportunity for greater diversity.  The natural sorbitol does not ferment and gives the drink a perceived sweetness, but with low residual sugar.  Wine drinkers like the complexity of flavours and lighter alcohol, and cider drinkers like having an apple option.  Beer drinkers, like the dryness, "You don't have to tell the flavour a bedtime story".  The flavour is pleasant but doesn't linger for hours.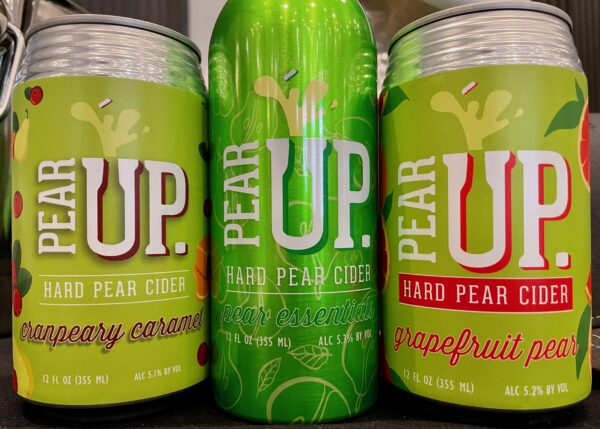 The Watermelon Pear is their best seller by a four-to-one margin.  They make several flavours, and he likes experimenting as pear compliments most everything though has had no luck working with bananas.
The Ginger Pear is their number-one seller in bars and restaurants, both as a stand-alone pint and as a mixer for cocktails – delicious when mixed with bourbon for a Kentucky Mule.  The Raspeary is the fruitiest but nicely balanced with the raspberry not overwhelming the pear flavours.
His Cranberry Caramel Pear is a big winter seller, especially on the ski hills. It is a seasonal offering and only available from November thru Valentine's Day.  The Pear UP lineup made a big splash when they were launched and so he has had to move to a facility that is five times larger to keep up with demand.
Kevin's most challenging project was the pineapple pear blend.  The big trick was to use just a tiny amount of pineapple so that the flavour does not dominate the taste.  After sampling it, I'd have to say he found the sweet spot on this one.  The Asian market loves this product.
And if all this wasn't enough, his proudest accomplishment is his Hoppin' Pear.  Cascade hops are used just to accent the flavour without adding bitterness.    Grapefruit Pear is another product he is especially proud of as he normally doesn't like grapefruit on its own as he finds it too bitter.  However, he found that the pear's mid-palate softened the bitterness.  I found it delicious and one of my favourites.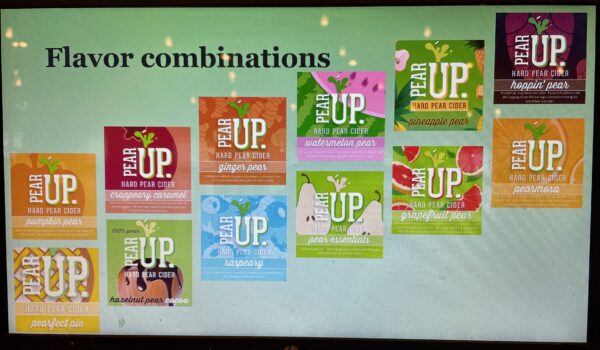 Kevin is not short on ideas and is constantly experimenting with new flavours and products.  These beverages are anything but boring and no matter a person's tastes there is guaranteed to be something for everybody. With their extensive offerings, they claim to have a pear cider to pair up with just about any meal or dish including, chicken, fish, Thai food, BBQ brisket and pulled pork, a variety of cheeses, and even desserts such as carrot cake and cheesecake.
You can find Pear UP's tasting room in Cashmere, Washington about 19 kilometres (12 miles) east of Leavenworth.
For more information, contact:
Kevin Van Reenen
Pearupcider.com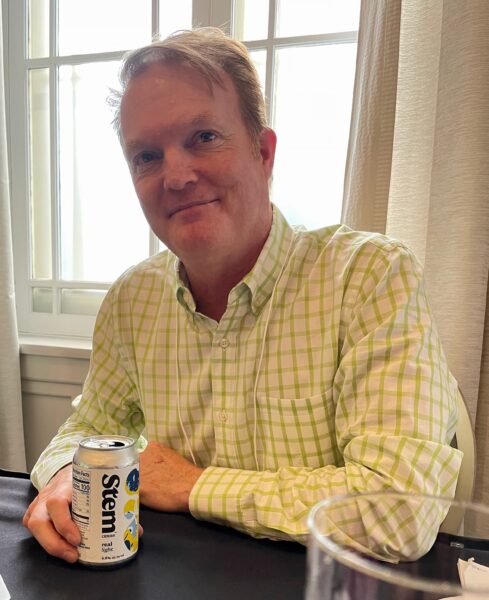 Stem Ciders
Colorado
Stem Ciders began in 2013 with two guys, Eric and Phil, who were originally from Michigan but met in Denver.  Eric had been a homebrewer for years and Phil had an engineering background.  Both were passionate about cider and noticed that there was no urban cider outlet in downtown Denver so they decided to start one up.  They invested in a press, and some apples, and began experimenting in Eric's garage.  Inspired by their initial success, they set about honing their skills and taking their cider to a higher level, thus Stem Ciders was founded.
They opened their cidery in a small taproom.  Their vision was to create clean classic ciders that were fun and full of flavour and character.  Stem grew rapidly and then moved to a large production and cider house facility in Lafayette Colorado.  It is full of barrels and home to the Acreage restaurant. Lafayette is also home to a Ghost Box Pizza restaurant where they serve delicious wood-fired Detroit-style pizza.
They believe that to survive, they need to offer a wide range of products to cover a wide range of tastes.  To that end, they also sell Boulder Beers as well as a domestic specialty beer called Howdy Beer.
Most recently, they acquired Howdy Beer and opened the Howdy pop-up bar in Denver.  "The state of Colorado is still in many ways the Wild West," said (Eric) Foster. "With Howdy Bar, we're hoping to channel that Western spirit of peanut shells on the ground, old school country music blasting, shots of whiskey, pitchers of Howdy Beer flowing, crisp refreshing ciders, and generally an approachable place for industry friends to come to hang post shift."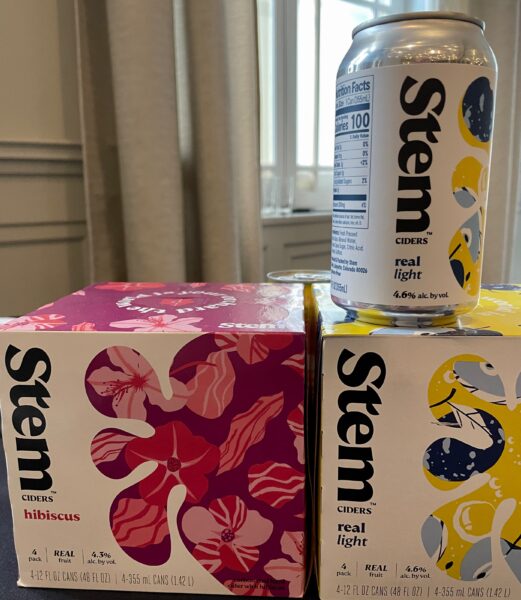 Stem Ciders distribute dry ciders to 20 states and export to Japan and Russia.  They use fresh pressed apple juice from the Pacific Northwest with no preservatives or concentrates.  They aim to appeal to wine drinkers, beer lovers, and those looking for something new.  Their portfolio includes Real Dry (6.8% ABV), Real Light (4.3 ABV and 100 calories), a spicy Chile Guava, a Salted Cucumber (made in collaboration with The Real Dill, a pickle company), a Carrot Ginger Turmeric, and even Hibiscus a cider made with apples and hibiscus tea!
For more information, contact:
Dave Duffy
Stemciders.com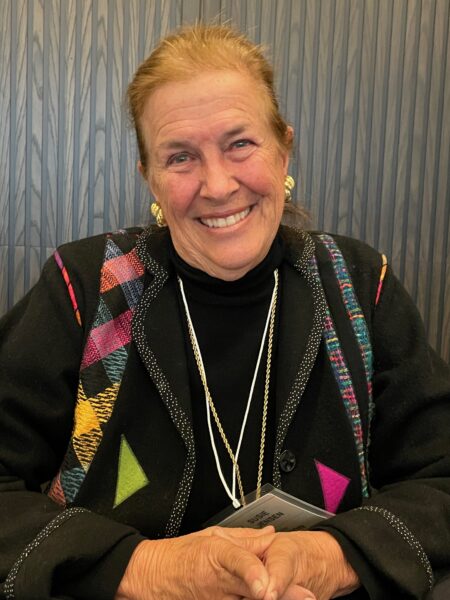 Wheel Line Cider
Washington
After twenty years of growing Timothy and Alfalfa hay in Ellensburg, and a career as an art teacher, matriarch Maryanna retired.  Bored with retirement, she planted some of their 9 acres in bittersweet and bitter-sharp apples, half French and half English thus sowing the seeds for Wheel Line Cider.  She now has 23 varieties and 2000 trees growing in Ellensburg, right in the middle of Washington's apple country.
Maryanna and her daughter Susie Jensen run Wheel Line.  Susie makes the dry, crisp refreshing ciders.
They opened in 2018, and the name 'Wheel Line' comes from her father-in-law who bought a property in Idaho shortly after the war.  In those days they used hand lines to irrigate their field.  These had to be assembled by hand, watered, drained, unassembled and moved.  He thought there needed to be a better way and developed irrigation lines mounted on wheels which can be moved very easily.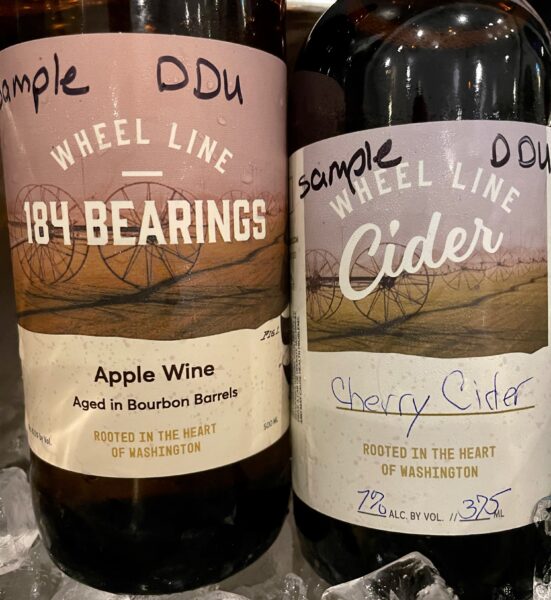 Korea, China and Taiwan are their biggest export markets for fresh cherries so that is where Wheel Line has targeted their Cherry Cider.  It is a nice blend of Bing and Santina cherries with a good interplay of apple and cherry.  7% ABV.
Wheel Line had produced cider for the holidays but when COVID shut things down they could not get their labels approved in time, so they put the cider into bourbon barrels.  Thus, was born 184 Bearings.  The bourbon notes are delicate on the nose, but more pronounced on the palate yet it remains well-integrated overall.   Aged for 9 months, it has become a big hit for Wheel Line.  A problem became a bonus.  At any one time, they have about eight or nine products in their lineup.
Maryanna is a big fan of rodeos and is considering a cider product, Rodeo Cider, to appeal to rodeo people and will help raise funds for local communities.  Keep your eyes peeled for this release.
For more information, contact:
Maryanna Schane
Wheellinecider.com
Thanks to Elisa Daun, Trade Specialist for the Washington Department of Agriculture for organizing this tour and to Henry Vega of Montreal-based Congressum for the invitation.
(All photos – Sam Hauck)