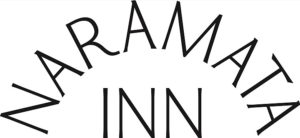 Wrap the Holidays up in Good Cheer
Let's put some sparkle in the season
Naramata Inn's 3rd Annual Holiday Glow Up is Set for Saturday, November 19
Kicking off the holiday season, Naramata Inn will flip the switch on more than 25,000 thousand twinkling lights and decorations illuminating the historic Inn and grounds. Dress warm and join us on the front lawn from 4:15pm to 5:00pm for a neighbourhood meet and greet, complimentary hot chocolate and cookies* and a pretty show of lights signalling the start of the festive season.
*Refreshments available for 50 people on a first-come, first-served basis.
Make a night of it and join us for our Dine Inn $49 prix-fixe dinner menu in the Restaurant (reservations required), or drop in to Eliza – A Naramata Wine Bar for a glass of wine, cocktail and some welcoming seasonal fare. Both the Restaurant and Eliza are adult-primary environments but are welcoming to well-behaved kids.
Naramata Christmas Market
Friday, November 25 and Friday, December 2
Naramata Inn will be joining the Naramata Christmas Markets on Friday, November 25 and Friday, December 3 to give shoppers first dibs on all our holiday items. From 5pm to 8pm, wander a European-inspired community winter market just in front of the Inn on lower Robinson Avenue. We will be selling some of our most popular items at special market prices including cookbooks, tote bags, cookie decorating kits, homemade granola, Naramata fruit preserves, house-made fruit cake and more. Thanks to the amazing Naramata Slow Association, there are a LOT of delicious things happening at the market and it will be full of #NaramataLove.
Make a night of it and join us for our Dine Inn $49 prix-fixe dinner menu in the Restaurant (reservations required), or drop in to Eliza – A Naramata Wine Bar for a great glass of wine and tasty seasonal fare. Both the Restaurant and Eliza are adult-primary environments but are welcoming to well-behaved kids.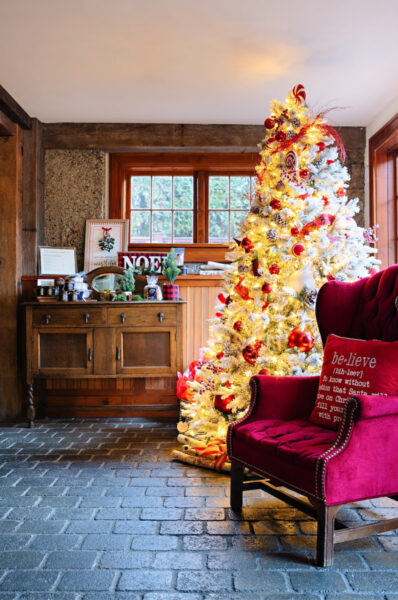 Ho Ho Holy Rudolph! Santa's Coming to Naramata Inn
Get a photo with Santa while supporting local families on Saturday December 3
Skip the mall and enjoy photos with Santa the easy way while doing good for one of the most fundamental services in Naramata. In partnership with the Naramata Childhood Development Centre, Santa will be in residence in his temporary grotto (Eliza Wine Bar) to hear what your kids would like for Christmas this year. And snap a photo of course. Payment is by donation with the goal of raising lots of funds for the kids.
Details:
– Photos with Santa
– Santa's Naramata Grotto (Eliza Wine Bar) at Naramata Inn
– Saturday, December 3, 2022
– 10am to 2pm
– Onsite photographer will email photos to participants
– Each participant will be emailed 3 photos
– Photos taken on a first-come, first served basis. No appointments or reservations taken
Visit www.naramatachildcare.com for more information on the beneficiary.
Dine in December and Enjoy 50% off Accommodations*
Bring Groups, Family & Friends to Naramata Inn
Holiday luncheons, festive family dining, office cocktail minglers and more. Naramata Inn sparkles in her Christmas finery with an abundance of holiday spirit. Click holiday offerings, festive meals & venues and sample private dining menus for details.
And yes, of course we can offer wine, cocktail pairings, and even room night for guests who want to "take the stairs" home. In fact, any individual or group dining with us in December is invited to "sleep over" and enjoy 50% off accommodations. This offer is valid for individuals and/or groups who dine at either Eliza or the Restaurant.
Select promo code "DineInnDec" to book. *Some restrictions may apply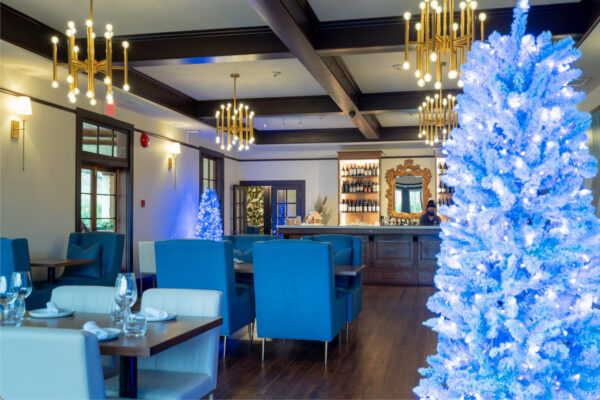 Festive Dining
Celebrating the "best of the season" has more than one meaning at Naramata Inn. Throughout the holidays, the Restaurant at Naramata Inn is a special place to celebrate and is open for dinner reservations Thursdays through Mondays showcasing hyper-local, seasonal menus sure to bring good cheer. Click here to reserve online.
Our team also looks forward to continuing to welcome guests to Eliza – A Naramata Wine Bar – throughout the end of the year as well. Also open Thursdays to Mondays, from 4pm to 9pm, the wine bar offers a warm and cozy atmosphere for great wines, cocktails and welcoming fare. Eliza operates on a first come first serve basis and no reservations are taken. Click here to view menus.
**Eliza may have slightly different hours on occasion to accommodate festive celebrations. Click on our Instagram stories and/or call the Inn for details for 100% clarity at 778.514.5444.
New Year's Eve
Bid 2022 adieu very well fed! Join us for Chef Ned Bell's final French Naramatian* menu of the year – teamed up with marvellous wine selections** from Wine Director, Emily Walker. This dinner is available at three seatings, 6pm, 6:30pm, and 7pm, each with limited availability. At $225, the experience includes six-courses of our premium hyper-local, hyper-seasonal fare, along with a variety of wine pairings that range from benchmarks, local favourites and impossible to buy finds that wineries save just for our guests.
Click here to book. *French Naramatian = deeply rooted French culinary techniques and the best ingredients available at the closest source.
– **Non-alcoholic pairings also available at the same price
– **Guests requesting vegetarian or gluten-free menu options must provide a minimum of 48 hours advance notice to anna@nullnaramatainn.com.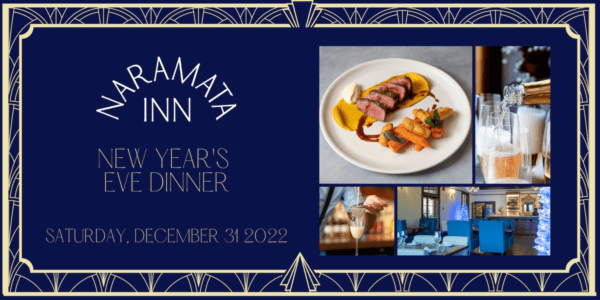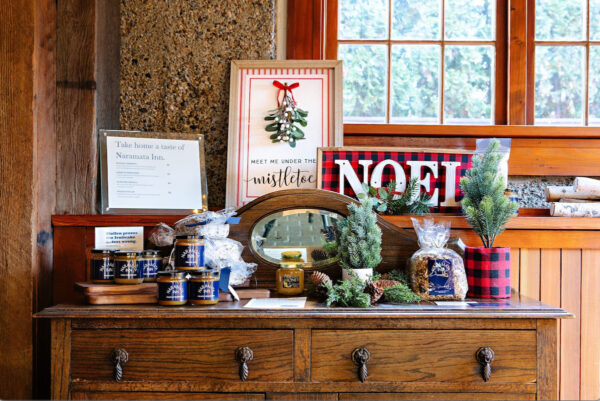 Gifts for the Whole Flock
Gift cards – Not everyone will be able to make it to Naramata Inn this holiday season, so give the gift of an "Inn Real Life" experience. Pay it forward with a gift card that your loved ones can use towards their own "Inn Real Life" Naramata experience next year. Even better: spend over $500 in total on gift cards in the one transaction, and we'll give you a $100 GC to treat yourself.
Click here to purchase a gift card in any denomination.
Peach Preserves – Our guests and fans LOVE our jam. So we made a lot more to meet demand. We've made a mouthwatering line up of preserves using luscious, in-season Naramata fruit. The result is a sweet addition to breakfast toast, afternoon scones or a cheese plate! $5
*Other flavours may also be available upon request.
Apple & Cherry Granola – A Naramata Inn favourite, our house-made granola is great for breakfast, snacks, parfaits and more. The perfect host gift and Christmas morning secret weapon, our granola features sun-dried cherries and Okanagan apples, is nut-free, vegan and full of healthy seeds. $14
Chef Ned Bell's Lure Cookbook – Give a signed copy of Chef Ned Bell's cookbook, Lure: Sustainable Seafood Recipes from the West Coast. Eating sustainable seafood is about opening your mind (and fridge) to a vast array of fish and shellfish that you might not have considered before—and the Pacific Coast is blessed with an abundance of wild species. With Lure, readers embark on a wild Pacific adventure and discover the benefits of healthy oils and rich nutrients that seafood delivers. $30
Signature Tote – Our signature tote bag is made of stylish-but-sturdy canvas, and is perfect for toting around whatever you need, from the beach to brunch. Along with a zippered pocket, there are also four handy wine slips for your purchases. Available in cream or navy. $40
Bread Board – Boost your grazing board game with our signature wooden bread board made of solid walnut. When you enjoy our famous Naramata apple sourdough in the restaurant, we present it on this very same bread board, which is made in Vancouver, and laser-engraved with our icon in the corner. $50
Visit naramatainn.com/store to view all gift giving options. Shipping is available Canada-wide.
Naramata Inn Closes for Winter
January 1 though Mid-March 2023
Naramata Inn will be preparing for our best season yet with a number of upgrades and improvements in 2023. The Inn will close to this winter to bring an even better experience to our guests.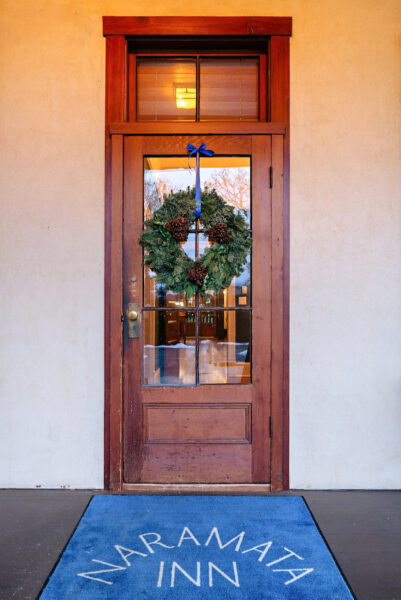 Now Booking for 2023
Book Now
Information and images provided by Kate Colley, Naramata Inn.