Festive Greetings!
It's (almost) the most wonderful time of the year at Naramata Inn. The tree has been trimmed, the gifts are wrapped and the lights are hung and soon to be lit at the Holiday Light-Up..
The team at Naramata Inn is looking forward to putting the sparkle in the season, and is delighted to share a few items to be considered for upcoming holiday gift-guides, print-ready holiday recipes, and holiday happenings at the Inn.
Holiday Gift Guide:
Christmas shopping made easy for lovers of local food and wine. Naramata Inn is offering a variety of holiday treats and gifts that bring the Inn experience to those on your naughty-or-nice list, list. Shop the online store for stocking stuffers like homemade preserves, along with signature beach towels and robes, and much more—sure to please even the trickiest people on gift lists.
Peach, Apple & Pear Preserves – A sweet addition to your toast or cheese plate. Using the Okanagan's seasonal bounty of fruit, our kitchen makes its own preserves that we serve our hotel guests with our farm-to-table Continental breakfast each morning.
Bonus – we are sharing our Baker, Dana Ewarts recipe for the perfect Pain Rustique.
Apple & Cherry Granola – A Naramata Inn classic, our housemade granola is great for breakfast or snacks. It features sun-dried cherries and Okanagan apple, is nut-free, vegan and full of healthy seeds.
Stollen  – Let's be honest: no one ever says fruitcake is their favourite holiday treat. But this is stollen—fruitcake's bready, marzipan-stuffed, sugar-dusted German cousin. Our stollen comes from Swedish royalty via the now-closed Four Seasons Hotel Vancouver, and is produced by our friend Mark Burton at his new Best Kind Bakeshop using the original recipe.
Pastry Chef Gerhard Weitzel was passed the recipe by a friend of his who had previously worked for the King of Sweden. He started making the traditional Christmas bread himself at the Four Seasons back in 1991, producing up to 900 loaves per year, even after he had officially retired. With hotel closing, the recipe was passed to Mark, along with some of the original wooden frames used for baking.
Each 80-loaf batch calls for 6.6 pounds of butter for the marzipan centre alone and another 10 pounds of butter for the dough, along with golden raisins, 12 two bottles of rum, and the zest of 25 oranges and 25 lemons.
NOTE: This item is only available for local "Inn person" pick-up
Chef Ned Bell's Lure Cookbook – Give a signed copy of Chef Ned Bell's cookbook, Lure: Sustainable Seafood Recipes from the West Coast. Eating sustainable seafood is about opening your mind (and fridge) to a vast array of fish and shellfish that you might not have considered before—and the Pacific Coast is blessed with an abundance of wild species. With Lure, readers embark on a wild Pacific adventure and discover the benefits of healthy oils and rich nutrients that seafood delivers.
Signature Bath Robe – Wrap up and relax in the Inn's signature waffle weave cotton robe, embroidered with the Inn's icon. One size fits all.
Signature Steak Knives – Dine in style with a set of four Naramata Inn Savoir Laguiole steak knives. These are the very same knives as we use in our restaurant, with stainless steel blades finished with black Teflon, and our icon laser-engraved into the handsome wenge wood handles.
Gift cards – Not everyone will be able to make it to Naramata Inn this holiday season, so give the gift of an "Inn Real Life" experience for 2022 tucked in with a few of the treats available online.
Even better: spend over $500 in total on gift cards in the one transaction, and Naramata Inn will give the gifted their own bonus gift card worth 10% of the total.
Recipients will be thrilled to discover all Naramata and the Inn has to offer; history, beauty, and really good bread. If they haven't heard, Naramata Inn is a really great restaurant, with rooms. The best of the Okanagan's natural bounty can be found right here in one place.
Visit naramatainn.com/store to view all gift giving options. Shipping Canada-wide.
Holiday Recipes:
The kitchen team is pleased to brings a taste of Naramata Inn to guests' kitchens around the country. Why not start off with Chef Minette's Apple and Chicken Liver Parfait, Chef Stacy shares her Perfect Turkey recipe and Seared Steelhead and Apples for the main course, and Pastry Chef Liz shares her Whiskey Fruitcake, Bailey's Creme Brûlée, and Squash & Pumpkin Pie recipes.
Bar Manager, Laura Laundrie, shares holiday cocktails; The Naughty Naramatian, The Nutcracker, and Hot Buttered Honey Shine.
Pain Rustique
Recipe courtesy of Dana Ewart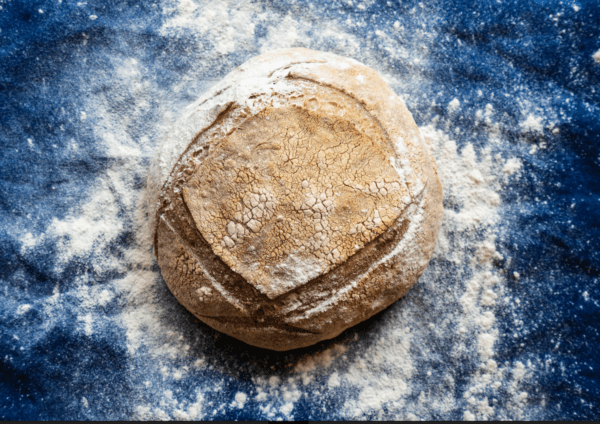 This recipe makes 2-3 large loaves. For best results, prepare the poolish* a day in advance. It will give you better flavor development and a better quality dough. If making in one day, prove the poolish in a warm place until doubled in size – about 3-4 hours.
Poolish*
350gm Organic all-purpose flour
500ml Water
1/4tsp Dried yeast
Main dough
500gm Organic all-purpose flour
150ml water
½ tsp yeast
+ all of the poolish
*What the heck is a Poolish?
Poolish is a highly fluid yeast-cultured dough. It's a type of pre-ferment traditionally used in the production of French bakery products. A poolish resembles a sponge for the sponge and dough system. The difference is Poolish is fermented much longer and uses a much higher hydration than a plastic sponge—which is why it's considered the liquid version of a sponge.
Day 1:
Mix the poolish together loosely in a bowl using a rubber spatula. Cover and allow to ferment overnight.
Day 2:
Mix the yeast, poolish and water together.
Add the flour and mix until all of the water has hydrated the flour. Turn off the mixer and allow to rest (this is called autolyze) for 30 minutes.
After 30 minutes, add the salt and mix on medium speed for approximately 5 minutes. Continue to mix until the dough "slaps" the sides of the bowl (you'll hear this), and is smooth and elastic.
Place the dough in an oiled bowl or container and cover. Leave in a warm area. After 15 minutes, give the dough a 4-fold by gently lifting it up from from each 'side' of the bowl or container and folding it over the remaining dough. After 15 minutes, repeat this step.
After the second folding, allow the dough to rest for 15-30 minutes, enough time that it doubles in size, then turn it out onto a lightly floured surface. Gently flatten it out using your fingers, to about a 1.5-2 inch thickness.
Cover and allow to rest for 15 minutes. After the 15-minute interval, gently stretch the dough by placing your hands underneath with the tops of your hands facing upwards, and tug it outward by about an inch on all sides. Repeat this step, including the interval, 2 more times.
During the final rest, preheat your oven to 500F. Place a baking sheet or baking stone inside – this will be the tray you will use to bake your bread. Next, place a shallow casserole dish on the bottom of the oven and fill with about 1 inch of water. This is called a water bath.
After the final stretch and rest, cut the dough into 2 or 3 rough rectangles. Gently lift onto a tray lined with baking parchment. Note: you may need to use more than one tray depending on the size of your oven.
Now for the exciting part: moving quickly and wearing oven mitts, remove the hot tray from the preheated oven. Gently slide the loaves from the other tray by pulling the paper holding the loaves onto the hot tray. Quickly place in the oven.
Bake the loaves for 5 minutes at 500F, then remove the water bath and reduce the temperature to 450F. Continue baking until the loaves are golden brown, about 15-20 minutes.
Enjoy!
These loaves are best consumed within 2 days but freeze really well too.
Happenings at the Inn:
Dining that's local, seasonal, and celebratory too.
Celebrating the "best of the season" has more than one meaning at Naramata Inn. Throughout the Holidays, the Restaurant at Naramata Inn is a special place to celebrate, and is open for reservations for lunch and dinner service, Wednesday through Sunday, offering seasonal menus sure to bring good cheer. Reserve online here.
Bring together the office to toast a successful year, invite favourite neighbours to share festive spirits, or plan a special night out for the family.
Naramata Inn is excited to welcome groups with a prix fixe menu that showcases seasonal favourites. Groups of 12 and under can be seated in the restaurant dining room, while larger groups can be accommodated in the lower dining room, with private dining options available.
Guests looking at spending the big day with Naramata Inn can visit the Holiday page for more information about Christmas Eve, Christmas Day and New Year's Eve offerings.
Media release and image provided by Krista Lochhead, Colley Communications.