Two Weekends of Weird: The Weirdos Holiday Market Returns
Greater Vancouver's most unusual holiday shopping destination is back,
Dec 4-5 and 11-12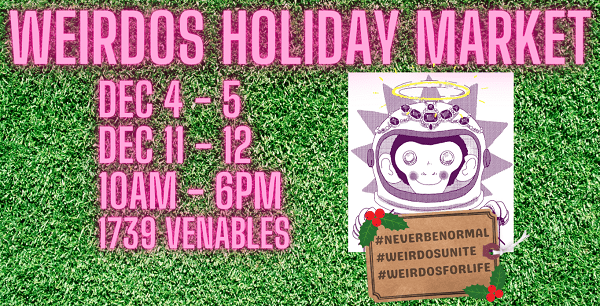 Since its launch in 2017, the Weirdos Holiday Market has been renowned throughout Vancouver and beyond for offering the region's most unique (and, indeed, weird!) selection of holiday gift ideas. It proved so popular that in 2019, the Market attracted more than 5,000 enthusiastic patrons in a single weekend.
Last year, to best ensure the health and safety of guests during an exceptionally uncertain time, the Market was transformed into a pop-up shop that occupied a West Broadway storefront for over a month.
And now, for 2021, the Weirdos Holiday Market returns in its original form at one of its original homes: December 4-5 and 11-12 at The Venables Hall (1739 Venables Street, Vancouver).
The 2021 Weirdos Holiday Market features more than 25 vendors, personally curated by founder and organizer Rachel Zottenberg, each of them hosting their own tables full of items – from witchy wares, anatomical curiosities, unique collectibles, quirky clothing and eccentric art to magical pottery, one-of-a-kind prints, candles, books, stickers and much more.
Returning fan favourites include Bonetique, Yolanda Mason's delicate and whimsical sculptures created with salvaged animal bones and found organic matter; Cailtin Ffrench, a pagan artist using wildcrafted pigments and plants to make into paint, dyes and charms; local queer artist Jaik Puppyteeth, whose illustrated prints and cards reflect his uniquely dark humour; Ultraviolet Oddities' wacky planters made from deconstructed plastic dolls; Mush Appreciated, beautiful jewelry created from real forest-foraged fungi; Dirt Spindle, unusual pottery pieces that have been fused into the shapes of human mouths, feet, and hands; Imaginary Friends, handmade one-of-a-kind gifts for anyone who appreciates nature. Plus, many more artists offering unique products!
The goal for this year's Market is to welcome new and returning guests while ensuring the safety and comfort of everyone. This is why Zottenberg and co. are thrilled to expand the event across two weekends. In addition, the Market will adhere to the following COVID-19 safety protocols: face masks are required for people ages 5+, and vaccination passports will be required for all patrons and vendors over the age of 12.
"It's our goal to help everyone fulfill the quirkiest needs on their holiday shopping list, as well as celebrate the love of collecting, the skill of up-cycling and the thrill of finding the perfect gift. We can't wait to welcome you back!" says Zottenberg.
Weirdos Holiday Market
Saturday, Dec. 4 and Sunday, Dec. 5
AND
Saturday, Dec. 11 and Sunday, Dec. 12
Hours: 10am – 6pm
Address: The Venables Hall (1739 Venables St., Vancouver; corner of Venables & Commercial)
Price: $4 per person at the door for ages 13+ (by donation for children 12 and under)
A portion of the door proceeds will be donated to the Urban Native Youth Association facebook.com/Weirdos.Market
Media release and image provided by Morgan Sommerville, Serena PR.