Vancouver's only free Christmas festival offers fun for the whole family 
with live music, arts & crafts and seasonal treats
Yaletown is set to transform into an enchanted winter wonderland with the arrival of Vancouver's beloved annual Christmas festival, 
CandyTown
. Back for its seventh year this November, Santa will have more surprises up his sleeve than ever before with a jam-packed selection of seasonal delights that will inspire even the most stubborn of scrooges to celebrate.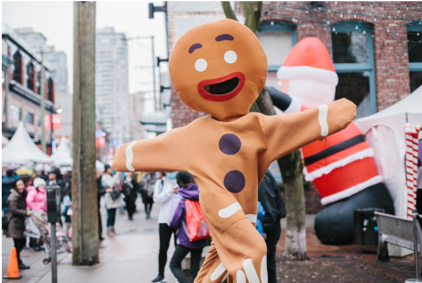 The one-day-only event will take place in the heart of Yaletown on Saturday, November 24, welcoming visitors to drop by any time between 12pm to 7pm to rejoice in the spirit of the most wonderful time of the year. Hosted by the 
Yaletown Business Improvement Association
, the Christmas-themed fête is free of charge and draws upwards of 15,000 partygoers to Mainland, Hamilton and Davie streets, with attendees of all ages equally enthusiastic to indulge in the wide variety of food, drinks and festivities.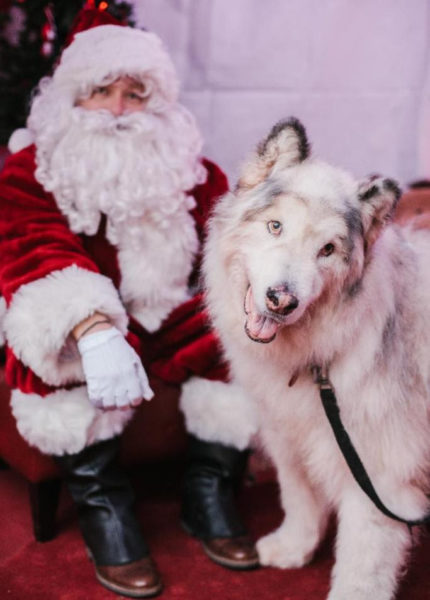 With no shortage of kid-friendly entertainment, CandyTown will be paid a special visit by a resident jolly old Saint Nicholas who will welcome children from 12pm – 3pm at his North Pole home, located at Bill Curtis Square at the Canada Line Station. Visits with the Ice Queen herself will follow from 3pm – 7pm for youngsters excited to come face-to-face with holiday royalty. Photo opportunities are free, though donations will be accepted for B.C. Children's Hospital (suggested donation is $5 minimum per family). Stilt walkers and roaming holiday characters will interact with revellers, to the wonderment of tots – while live music and carolling will set the stage for Yuletide cheer. An assortment of festive crafts & gifts along with a life-sized Santa sleigh ice carving, dancing gingerbreads and specialty cocktails will be available. Little tykes with a sweet tooth can also partake in the event's signature candy kebob-making workshop at the popular Candy Hut.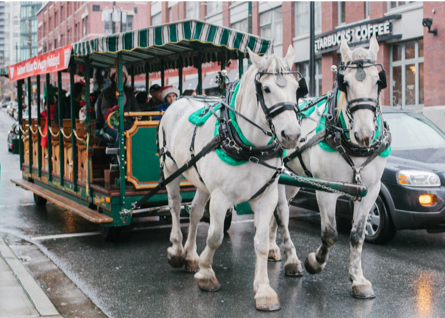 Visitors can plan a head start on holiday shopping at the All I Want for Christmas Gift Market, complete with unique artisanal goods that range from clothing and home décor to pet accessories, jewellery and flora. Neighbourhood vendors including 
Skoah
,
The Hive Printing
,
SweetLegs
,
Standout Boutique
and
Divine Vines
will also have their latest collections on display, giving guests a sneak peek into their nearby bricks-and-mortar locations. Embark on a magical horse-drawn carriage ride outside the Roundhouse Community Centre Turntable and be led on a relaxing seaside jaunt along Pacific Boulevard, Hamilton and Davie streets with a suggested $2 donation to the B.C. Children's Hospital to help spur on the horses. Sports fans can pay a visit to the Vancouver Whitecaps 'Caps Cruiser', where there will be friendly soccer matches and opportunities to win prizes with one of the city's favourite mascots, Spike.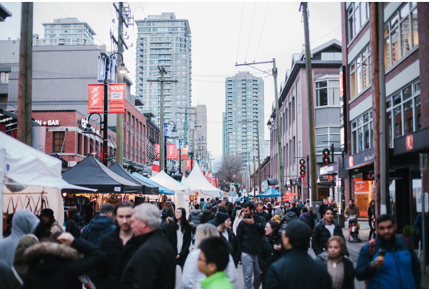 New this year, CandyTown will expand onto Hamilton and Davie streets. Adults will have their own set of attractions to choose from on Hamilton Street where festivalgoers can dance the day away at an interactive public disco decked out with a glitter station, take a stroll through a life-sized inflatable igloo or enjoy live ice sculpture demonstrations that will take place between 1pm and 7pm. Also on-site will be Aunt Leah's Christmas Tree Lot pop-up, where customers may pre-order trees for pick-up – and environment enthusiasts can check out the Vancouver Aquarium AquaZone Program and Science World's 'Science on the Spot' demonstration station. 19+ guests can eat, drink and be merry with a self-guided CandyTown Cocktail Tour, kicking off at the Vietnamese hot spot, 
House Special
. Hearty appetites can flock to a diverse array of food trucks that will satisfy every craving, including Gary's Kettle Corn, Sable Shortbread, Cannoli King, Damien's Belgian Waffles, Sweet Thea Bakery and more. The excitement continues onto Davie Street, where there will be an extension of artisan vendors and gift tents. Guests may also enjoy visits to
Engine 374
– Canada's most historic steam locomotive – decked out in twinkling Christmas lights for the holiday season.
"CandyTown has expanded with more holiday jolliness for everyone with two new blocks at Hamilton and Davie," says Annette O'Shea, executive director of the Yaletown Business Improvement Association. "More fun, more dancing in the streets, and more reasons to visit Yaletown with Vancouver's first Christmas igloo!"
CandyTown takes place on Saturday, November 24 from 12pm to 7pm along Mainland, Hamilton and Davie streets in the heart of Yaletown. The event is free and open to the public, and attendees are encouraged to bring cash donations for the B.C. Children's Hospital, Starlight Children's Foundation and the Rotary Club. For more information, visit Yaletowninfo.com.  
About Yaletown
Yaletown is Vancouver's trendy and upscale renovated warehouse district. This fresh urban neighbourhood is just an easy walk from the centre of downtown Vancouver or a quick ferry ride from Granville Island. Yaletown's converted heritage buildings are home to some of the city's top fashion and design shops, as well as cutting edge restaurants and bars. Old loading docks act as giant sidewalks and create a unique setting for wandering, shopping, or lounging at one of the many outdoor patios.
About Yaletown Business Improvement Association
The Yaletown BIA is an independent non-profit association of commercial property owners and business tenants who join together to promote and improve the economic vitality of the Yaletown neighbourhood. Today, the Yaletown BIA is an organization capable of handling top-tier international opportunities such as the 2010 Olympics, hosting well-heeled travel writers from around the world and producing outstanding public events that attract thousands of shoppers and diners annually.
Yaletowninfo.com